Discover more from AFK
Insight and analysis on all things console gaming.
"The Best Lineup Ever"
The PS5 is coming out swinging
Fortnite vs. Apple/Google, controller leaks, and a comparison of launch lineups.
Also, the "Two Games to Play" section will only appear on Fridays. Ideally, this will give interested parties at least a week to play the games suggested if they choose to do so. If you'd like to see it more often, make sure to let me know by replying to this newsletter.
Let's get into it.
---
Read Time: 9 minutes
Quick Tidbits
Throughout the early stages of this newsletter, I'll be experimenting with different content formats. The goal of this section is to provide quick news on some small or developing stories. Whether this section stays around is up to you, so let me know what you think!
Fortnite v. Apple/Google: there is A LOT to unpack here, but since much of the controversy between Epic Games and these two giants is because of the mobile version of the hit BR, we won't cover it too much. What we will mention is that Epic Games has now sued both Apple and Google for pulling Fortnite from their stores. In what Epic considers antitrust violations (claiming both Apple and Google have a monopoly over their mobile platforms), the lawsuit is just another of several aggressive actions towards Apple and Google. Last week, Epic Games released a spoof of the 1984 Macintosh commercial dubbed "Nineteen Eighty-Fortnite." This week, we'll be seeing the Free Fortnite Cup, with the hashtag #FreeFortnite tagged on to it. For more detailed analysis, this article by Gamespot does a wonderful job covering the on-going situation.

Gamescom 2020: The annual event starts this week on Thursday, August 27 at 2 pm ET and 11 am PT and goes until Sunday, August 30. Gamescom is another great opportunity to learn more about your favorite games and get important industry updates, so I highly recommend you check it out. You can view the event here.

More Gotham, Less Batman: Gotham Knights was officially announced on Saturday, placing players in the shoes of Batgirl, Nightwing, Red Hood, and Robin as they step up to defend Gotham in the wake of Batman's death. Players can go at it solo or team up with a friend in two-player co-op. The game will be released for all major consoles in 2021, including the PS4 and Xbox One.
---
Console Updates
As of now, the current major console manufacturers are Sony, Microsoft, and Nintendo. This list may change as new competition arises but for now, these three reign supreme.
Sony
And the marketing push continues. Along with the latest video ad, Sony is now sending promotional emails to prospective buyers. With that said, nothing new is introduced in these emails, as much of the content covered is what was mentioned in the video ad (haptic feedback, adaptive triggers, etc.).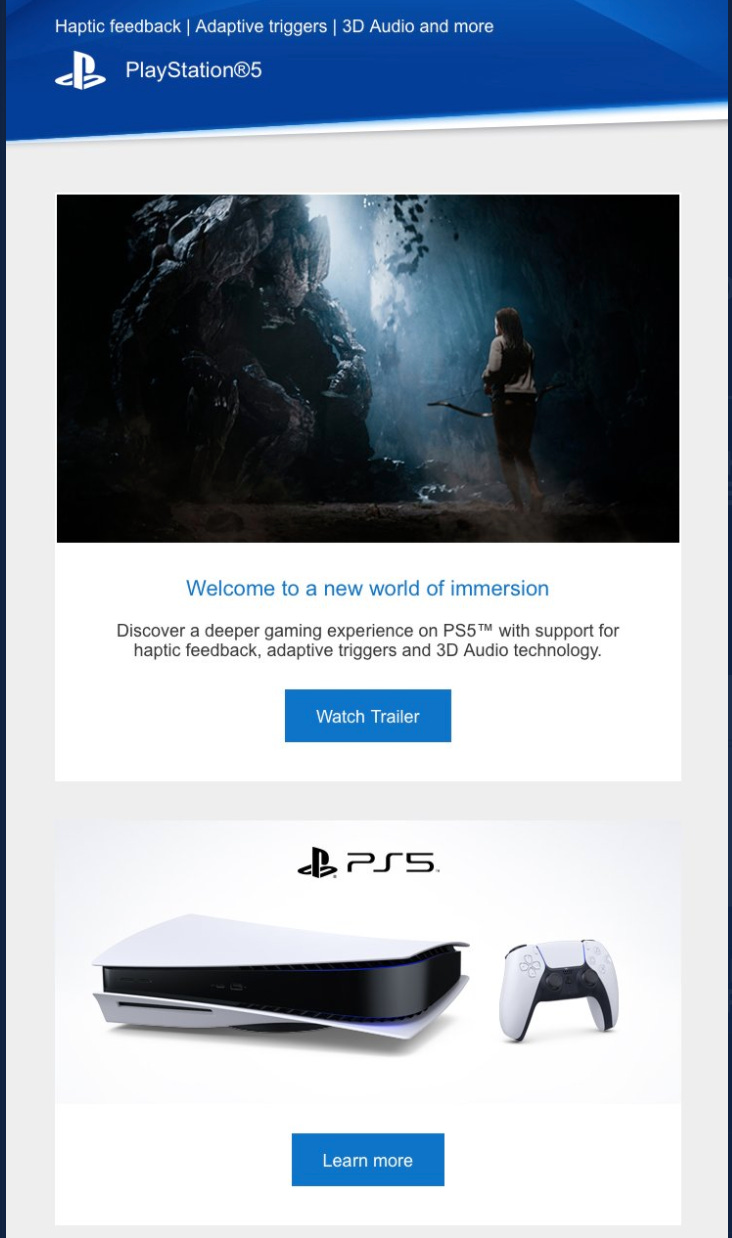 So, why is this important?
Promotional materials like this provide great insight straight from the console manufacturer, giving people an inside look into what they can expect from the console. For those that understand market psychology, it's a strong, calculated move by Sony to send these emails shortly after the release of their video ad. They continue to build excitement around the console, and they're hoping to have that excitement come to a climax on the holiday release date.
If you haven't already, make sure you sign up for Sony's Playstation emails!
Microsoft
For months, rumors have been swirling about a second, cheaper version of the next-gen Xbox that will be released alongside the Xbox Series X. It's considered the "worst-kept secret" in the industry today, and the rumor has more or less been confirmed with the latest leak. This time, it comes in the form of not only a leaked photo of a compatible Xbox controller but an actual copy of it as well.
The story was first reported by The Verge, as they were able to confirm a legitimate Seris X controller being advertised and sold. The text on the packaging mentions the controller's compatibility with not only the Series X but the "Series S" model as well. Although there is no solid news on what the Xbox Series S will be, there has been speculation that this model will be the cheaper version of the Series X. Some people have also mentioned that the Series S will be a "digital-only" console, similar to what's being provided by Sony and the PS5.
More info is scheduled to be released later this month, so it won't be long before we find out more.
Nintendo
With all the news about the PS5 and the Xbox Series X, it's easy to forget about what's going on with Nintendo. The Japanese console and video game developer hasn't released and announced much, but they're still going strong as many of their units have been sold out since the COVID-19 pandemic started.
More exciting times may be ahead though, as we've learned more information about Legend of Zelda: Breath of The Wild II. For context, it's been nearly a year since the official trailer for BoTW II was released. Since then, we haven't received any major developments…until French retailer WT&T leaked a Collector's Edition version of BoTW II. There wasn't anything special about the leak, as it's already confirmed that the game will be released. The leak does provide insight into when it will be released though, as the WT&T listing has it scheduled for December 31, 2020. Whether the game is actually released on that date or not is unknown, but I'd take it with a grain of salt.
With all that said, we may learn more details about BoTW II directly from the developers very soon. There has been a recent precedent of developers leaking information about their games days or weeks before an official announcement (i.e. Assasins Creed: Valhalla), so make sure to keep your eyes open.
---
"The Best Lineup in History"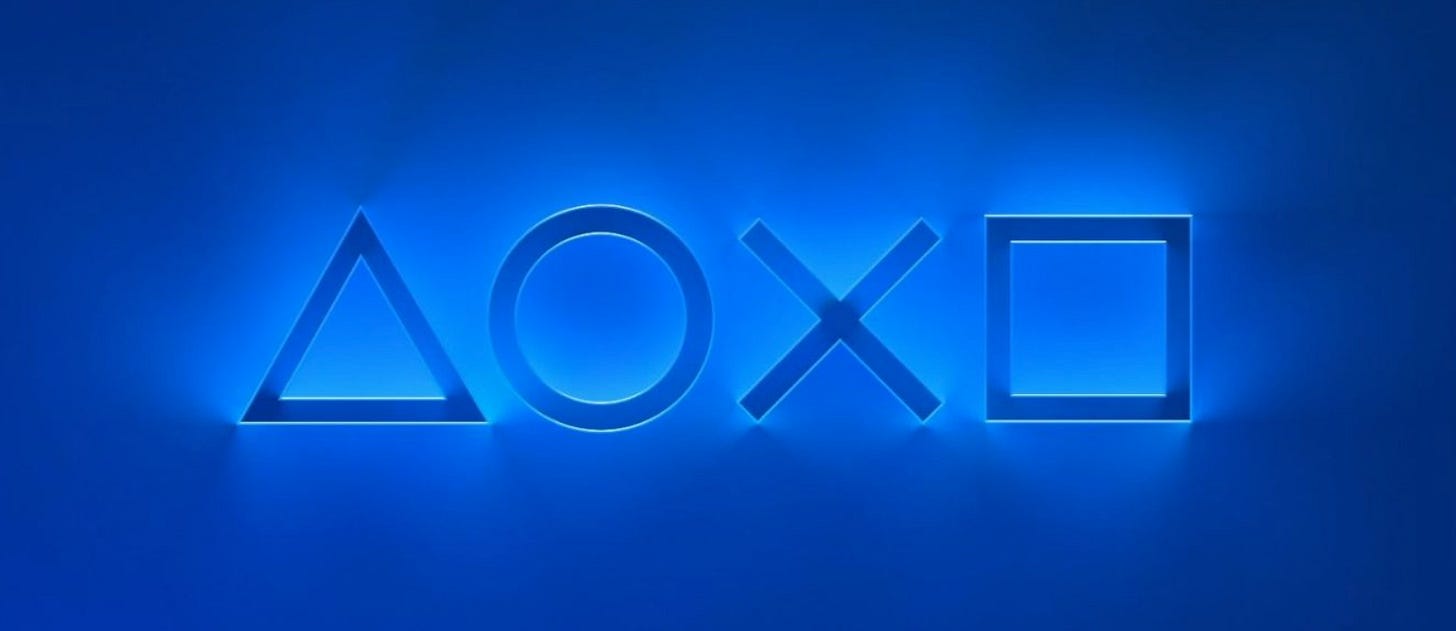 Eric Lempel, Senior Vice President and Head of Global Marketing for Sony Interactive Entertainment, recently sat down with gamesindustry.biz to chat about the Playstation 5, the challenges of a console launch with COVID restrictions, and how things would've been approached differently if things were normal. The interview provided great insight into what goes behind marketing a next-gen console, and it's a must-read for anyone interested in the PS5.
But despite the great information, there was one statement that stood out from the rest:
"The content that will be in the launch window and beyond is incredibly exciting. I would say that this is the best line-up that we've ever seen in the history of PlayStation…"
Although this a bold claim, it isn't an outrageous one. Many people remember Sony's "Future of Gaming" live event because of the PS5 announcement, but that was only part of what was announced during the live stream. We also got to see a laundry list of great games, as trailers for Horizon II: Forbidden West, SpiderMan: Miles Morales, and Ratchet & Clank: Rift Apart were all announced (and that's only scratching the surface of what was shown).
This only supports Lempel's statements, and it's looking like Sony and the PS5 will be coming hot out the gates this holiday season.
---
My Thoughts
Microsoft and the Xbox Series X are in trouble.
The launch titles that come with the release of a next-gen console, as well as the games that come shortly after, are extremely important. It can quickly dictate what console will be "top-dog" for the next generation.
We saw it with the Xbox 360 and PS3, as the Xbox 360 capitalized on the early mistakes of the PS3. The PS3 did eventually recover (they now have a better exclusives library and more units sold than the Xbox 360), but they could've had a stranglehold on the industry right out the gate.
To a lesser extent, we also saw it with the PS4 and Xbox One. Although both systems came out with some great titles, it's the games that came afterward that helped separate the PS4 from the Xbox One. Along with criticism for trying to be an "all-in-one entertainment package," the Xbox One also got grief for its lack of titles and exclusives. Meanwhile, the PS4 continued to pump-out hit-after-hit. Sony and the PS4 didn't just beat Microsoft and the Xbox One, they wiped the floor with them (108.9 million units sold vs. 46.9 million units sold).
For the last two generations, Sony has 1) recovered from their slow start with the PS3, and 2) came out of the gates strong with the PS4. This is two consecutive generations where Microsoft has faltered and it looks like that may be the case again, at least early on. The team behind Halo Infinite, 343 Industries, has already announced that the game will be delayed until 2021, which is a big blow as the first Halo (a launch title) is one of the reasons why the original Xbox launch was so successful.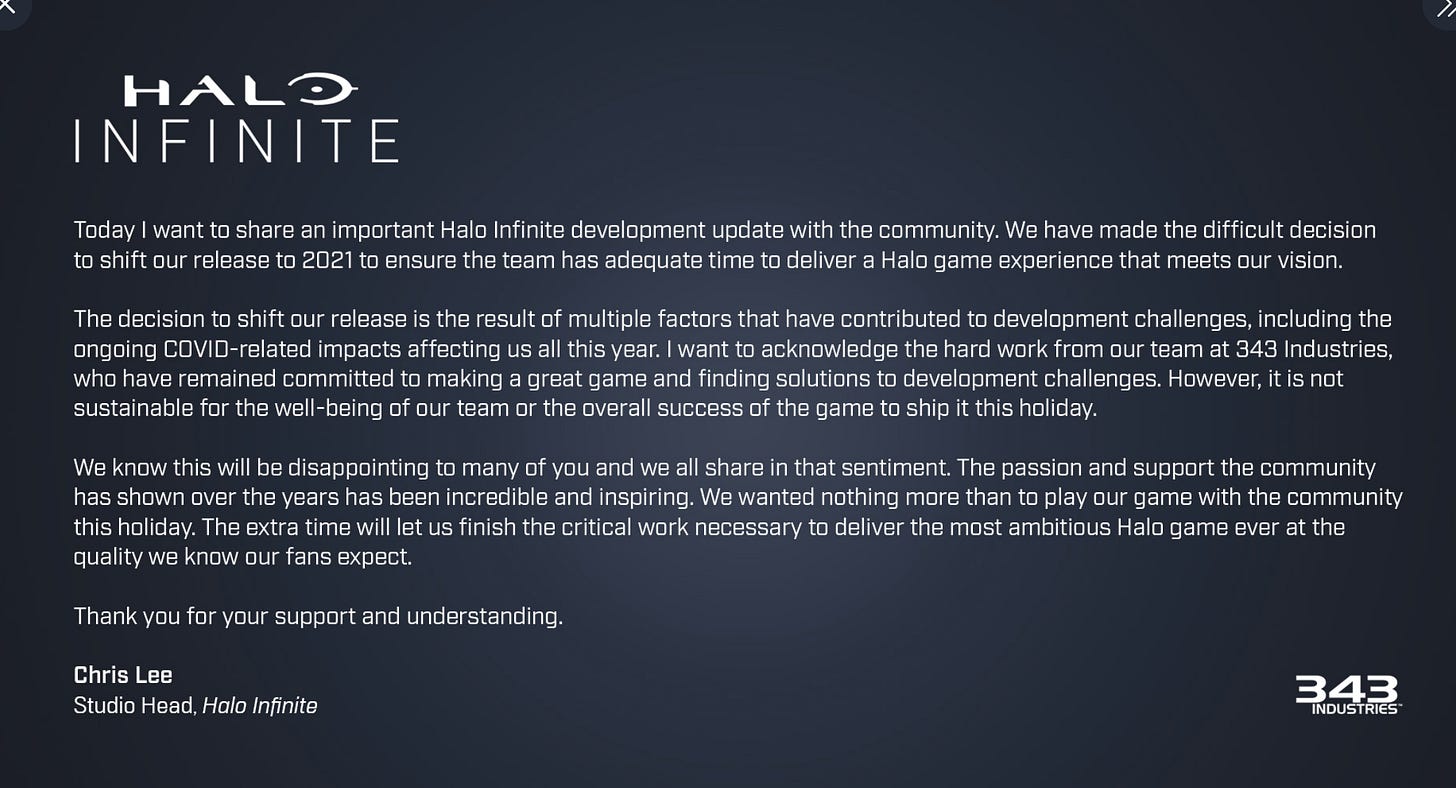 When that's paired with some great PS4 titles getting sequels (Marvel's Spiderman and Horizon Zero Dawn), as well as brand new exclusive titles (Deathloop looks awesome), that leaves the Xbox Series X in a difficult spot.
Back in February, we got this interesting little gem from Head of Xbox, Phil Spencer.
"When you talk about Nintendo and Sony, we have a ton of respect for them, but we see Amazon and Google as the main competitors going forward."
Although this may be technically true in regards to other products and services each company provides, it's false in the world of gaming.
Right now, Sony and the Playstation is winning the competition. Microsoft and the Xbox need to start taking them seriously if they want to catch up.
---
Certified Game Bar
In Japan, video game bars are popular destinations for gamers looking to drink, game, and socialize. But many of these bars have gotten in trouble, as they operate under a "morally-gray" area. Video game bars typically let visitors play the games they offer for free while charging for drinks. Under the Association of Copyright for Computer Software (ACCS), this is a violation of copyright laws, as the bar must request permission from the creators first. This has led to multiple bars being shutdown (three were closed in 2018) in Japan.
Well, a new bar — Tokyo Video Gamers — is the first officially licensed video game bar in Japan, as they have received official consent from various game developers and creators. The bar looks similar to what we see in the U.S. with our "barcades," but it still looks great nonetheless.
Congrats to Tokyo Video Gamer! I hope my partner and I can make it there soon.
---
Some Help
Outside of sharing this letter with my colleagues and friends, I rely on my readers to spread the news about AFK. If you like what you've read, consider sharing this with someone! The growing readership helps support the newsletter and allows me to continue producing great, quality, and timely content for you.