Discover more from AFK
Insight and analysis on all things console gaming.
Sony's transparency issues
Why the PS5 manufacturer dropped the ball.
Large consoles, J.K. Rowling, and why Sony's preorder nightmare highlights a big issue with the company.
---
Read time: 11 minutes
Quick Tidbits
Here are small and developing stories you should keep your eye on.
The biggest console in history: it's looking like the upcoming PS5 is going to be a "chonky boy." Photos released by Taiwan's National Communications Commission gave gamers, as well as measurements released by Sony, gave gamers an idea of just how massive this console is. The console will just be under 10 lbs (less than half of the PS3) and will come in at 39 cm in width, 10.4 cm in height, and 26 cm in depth. Sony says that the console was created this way to allow for customizations down the line, instead of having to create "PS4 Pro" style consoles after a few years. What that means is uncertain, as Sony hasn't clarified if customizations will be going into the console (and if they'll allow owners to do so) or if they'll add external features. Regardless, this thing is massive, and it's cool to see Sony is moving closer in the direction of PC gaming, as this could lead to better longevity for their consoles and more money saved for their consumers.

Credit: Taiwan National Communications Commission

JK Rowling not involved with upcoming HP game: since her controversial transphobic comments back in June, J.K. Rowling has felt the ire of not only the trans community but the general public as well. Her comments have even angered the actors who played characters in her book, as it led to comments from Daniel Radcliff and Emma Watson amongst others. As a result, thousands of people have vowed to not purchase products or books that could give her royalties. So when Hogwarts Legacy was announced last Wednesday, people were understandably disappointed. Why? Because the game looks great, and people are excited to play it, but J.K. Rowling would more than likely benefit from sales financially. WB Games recently came out that Rowling was not involved in the development of the upcoming RPG. Although this is great news for some people, it doesn't paint the entire picture. It's wise that WB Games made this announcement but, it's more than likely that Rowling does see some royalties from it. It's a game based on her creation, and it's naive for anyone to think that she wouldn't see financial compensation. There have been some reports saying Rowling donates her royalties to charities, but that's unconfirmed. But regardless, this is important information to know moving forward for anyone hesitant to support any creation from or based on Rowling's beloved series.

PS Plus Collection Revealed: although the PS Plus Collection won't have nearly as many games compared to Xbox' Ultimate Game Pass, it's still going to be a great feature to have. Why? Because the lineup is INSANE. For absolutely nothing (unless you don't own a PS Plus subscription), PS5 owners will be able to download titles such as God of War, The Last of Us, Until Dawn, and Persona 5 for free. That means along with their PS5 console and the pre-installed Devil May Cry 5: Special Edition, owners will quickly be able to play any games from this list. I know we've discussed this before, but this is an incredible value worth highlighting, as players will have free access to 19 games immediately after installing their consoles. Sony knows their strength is in their games, and they're doubling down that this will be what pushes their console sales forward.

Credit: IGN/Sony

---
Sony's lack of transparency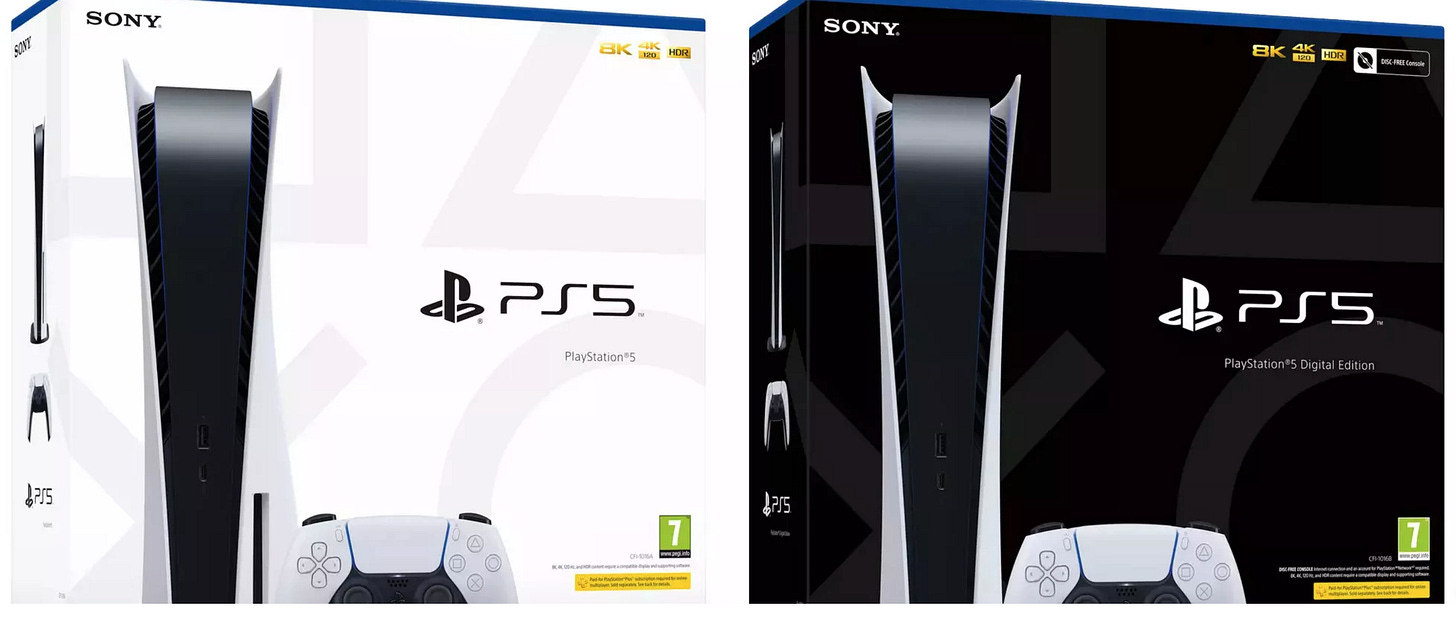 Credit: Sony
On Wednesday, we saw the official announcement of the PS5 and PS5 Digital's costs, as well as a plethora of new games and updates on games we've already seen. The announcement, by all accounts, was a massive success and lit up video game Twitter. Thousands of fans were reacting to announcements on their favorite games, the God of War sequel teaser, and, of course, the PS5 price announcement. It left a lot of people excited about this holiday season, but the 45-minute event also had people wondering (amongst other things):
When could we start pre-ordering?
Well, people flocked to the internet to find out and, naturally, the internet delivered. But it wasn't Sony that announced the preorder date: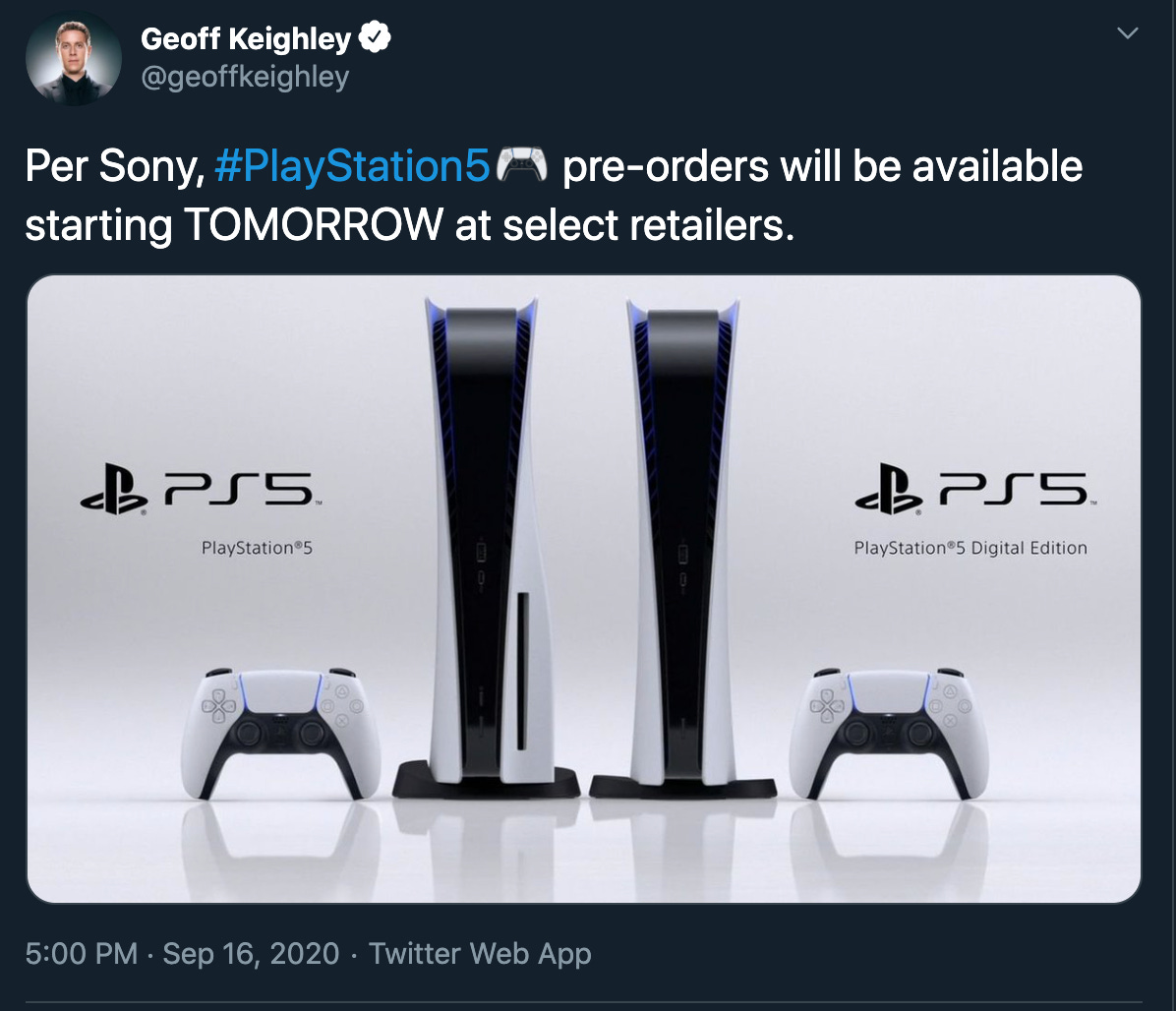 The GamesCom host broke the news, and it was the beginning of a hectic 72 hours, as thousands of people flocked to different websites to get their hands on a console. Stores such as Walmart, Amazon, and Target saw an overwhelming amount of people visit their online stories, with some store's sites crashing in the process. GameStop not only saw a huge spike of online pre-orders, but they also had eager consumers visit their locations in-person. GameStop managers in particular were caught off-guard, and it led to many of these managers navigating the situation on-the-spot (which I've heard they did quite well).
It was a mess, and many people criticized Sony's approach, but it wasn't the only thing that Sony had left out.
In a blog post later that day, Sony had mentioned that their games were making a transition to a $70 price tag. This left consumers furious, as they heard no justification from Sony as to why this was happening, especially since there was no indication from Microsoft and Xbox that their games would be priced at $70. Along with that, games that many fans believed would be only for the PS5 (Spider-Man: Miles Morales and Horizon Forbidden West are clear examples) actually had PS4 versions that were also being developed, which led to gamers thinking if these titles weren't taking advantage of the PS5's capabilities.
Sadly, the news doesn't stop.
Various reports around the industry have also shared that there are significantly fewer PS5 Digital consoles being distributed when compared to the standard edition. Per ARS Technia, roughly 24% of GameStop's stock consisted of the PS5 Digital, while the remaining 76% was the standard PS5, and this was based on nine store locations across the U.S. GameStop stores averaged around 20% in regards to PS5 Digital stock, with some stores as high as 33% while others were as low as 13 percent.
Naturally, this has led to a lot of frustrations from consumers, as many were planning on opting for the cheaper PS5 Digital console.
While excited, many consumers have been left extremely frustrated by the situation. Although Sony put on a great event, the lack of transparency and communication has dampened the hype around the next-gen consoles.
---
My Thoughts
Big yikes.
Look, by the time the PS5 and PS5 Digital come out this will likely be a small footnote in console launch history, but there's a part of me that hopes it's not.
I get it, people are more than willing to look past issues if that means they get a really good product. We see it everywhere and in every profession. Our willingness to compromise on certain values and ideals is something we all do. I'm doing it myself, as I still plan on buying a PS5 despite my frustrations.
It's not always the best thing, and many of us find ourselves rationalizing things that should be a little more black and white.
But just because companies like Sony create a good product, doesn't mean they shouldn't be held accountable.
Throughout this whole year, we've looked at Sony as the "golden boy" of console manufacturers. While Microsoft and Xbox were stumbling right and left, Sony was able to stay quiet and was methodical about their approach to console information.
You can find the Sony praise everywhere on the internet, including this newsletter. I've been one of the more outspoken fans of Sony and the PS5, with my criticism only coming within the last week or so.
But hindsight provides perspective, and I'm starting to see that Sony's discretion was not only a strength but a flaw as well.
We could see evidence of this dating back to this summer. In an interview with GamesIndustury.biz, President and CEO of Sony, Jim Ryan, stated that the PS5 manufacturer wasn't interested in a cross-generation approach for its first year.
"We have always said that we believe in generations. We believe that when you go to all the trouble of creating a next-gen console, it should include features and benefits that the previous generation does not include. And, in our view, people should make games that can make the most of those features."
Clearly, that was a lie, as they've made titles such as Spider-Man: Miles Morales and Horizon Forbidden West cross-generation titles. Personally, I don't care if these titles are cross-gen. In fact, I think it's a great idea! Next-gen consoles are expensive, and by providing consumers with great titles like these two, it gives them time to save while still being able to enjoy the latest releases.
But how hard is it say that you'll be adopting a cross-gen approach? Why act all snobby to the idea of cross-gen, making statements like "we believe in generations," only to go back on your word? It's something that makes them look foolish and a little arrogant, and it's something that was completely avoidable.
And as for the console pre-order announcement:
Announce the pre-order date DURING THE EVENT.
Although shadow-dropping and shadow-announcing events, products, and services have worked in the past (Apex Legends being a great example), this was not a time to do that. As I've mentioned numerous times in this newsletter, people rely on pre-order dates to properly save. Not everyone can drop $499, $399, or even $50 on a pre-order.
By announcing pre-orders were live on the same day as the showcase (and without warning), this prevented thousands of consumers from getting a console that they wanted, and as a result, could push them towards their competitor.
From the outside looking in, this move seemed to stem out of greed and desperation. Sony saw Microsoft's pre-order date and console price tags and they wanted to get in front of it. Along with that, they wanted to capitalize on the hype generated during their showcase, instead of waiting till later when some of that hype had died down.
Yeah, they may have gotten a lot of pre-orders and brought in a ton of money, but I genuinely believe Sony lost a lot more money and fans by going this route.
It's disappointing to see that this level of misdirection will be rewarded and forgotten as the months and years go by.
I'll still love my PS5, but I won't feel as great about it.
Big kudos to Microsoft and Xbox. Regardless of the criticism they've received, most consumers know what's going on with them and their console. That level of transparency will help them greatly at the time of launch, and they may have made a legion of new fans in the process.
---
Wildlife sanctuary > video games
With everything going on in 2020, a lot of my faith in humanity has been put into question.
But it's stories like this that restore that faith.
Last week, Ubisoft veteran Michael Ancel, who was responsible for beloved titles such as Rayman and Beyond Good & Evil, retired from the video game industry to pursue his new passion:
Wildlife.
Yes, the mastermind currently in charge of guiding the development of Beyond Good & Evil 2 will now be working at a sanctuary in Montpellier, France, that's dedicated to wildlife protection.
It's a stunning decision by the 30-year Ubisoft veteran, but one that doesn't seem to come as a surprise to his colleagues, as he was described as a "passionate nature-lover."
You can see the whole story here.
---
AFK Updates
As you can tell, transparency is something I highly value in my professional work. In the spirit of that, I want to introduce a new section called "AFK Updates."
This is where I'll provide you, the reader, on how AFK is doing. I owe it to my readers for the growth this newsletter has seen so far, and I want you to be a part of this journey. Every Monday, I'll give you an update on how AFK is doing and what you can do to help push the newsletter forward.
With that said, this may be the first of my more "exclusive" content that comes out, so it may not be here forever. But for right now, you can expect an update every Monday.
So, how's AFK doing?
Well, it's getting close to two weeks since our official launch, and we've been rolling. We're continuing to see new sign-ups every week and although our community is currently small, we're seeing consistent growth.
In fact, the growth has been so substantial that I've set a few new goals for the newsletter:
Goal 1: 150 sign-ups and subscribers by the end of this year.
Goal 2: 500 sign-ups and subscribers by June 2021.
Goal 3: 50 paid subscribers by June 2021.
Ambitious? For sure, but it's something I believe is attainable.
But, what's in it for you?
Although many of you would say the growth of the newsletter is reward enough, I'd like to do something more for my readers. It's because of you that I'm slowly starting to make this a full-time commitment. So, when AFK gets to 150 subscribers, here's what I'll do:
I'll send a free copy of Call of Duty Black Ops: Cold War, Spider-Man: Miles Morales, or Cyberpunk 2077 (your choice) to one lucky subscriber if AFK can make it to 150 sign-ups by the end of this year.
Whether you own an Xbox Series X, PS5, or even a PC, I'll hook you up. Here's how you can help AFK get there:
Subscribe: subscribing is the best way to help support the newsletter. Whether you sign up for free or you opt for a paid subscription, you'll still get everything, but paid subscriptions do help in supporting the longevity of AFK.

Share: if you enjoy what you've read, please consider sharing this to five of your friends, family, co-workers, and more. The growing readership is another great way to support AFK's long-term growth.
But regardless of what you do, I just want to say thanks for all the support this newsletter has gotten so far. I can't wait to show you what else is coming down the pipeline.
It's going to be a fun end to 2020.