Discover more from AFK
Insight and analysis on all things console gaming.
Should streamers pay game devs?
Reopening this controversial argument.
Fridges, loading times, and if game devs should charge streamers for playing their games.
---
Read time: 8 minutes
Quick Tidbits
Here are small and developing stories you should keep your eye on.
PS5 in the wild: like the Xbox Series X earlier this month, units of the PS5 have made its way into the hands of media outlets, journalists, and influencers. Over the weekend, multiple people — including notable gaming journalist Geoff Keighley — were able to showcase footage of the newly arrived next-gen console. With that said, every lucky owner had to follow pretty strict rules in regards to what they could share, as they were not allowed to actually unbox the console. Jokingly, some owners decided to show the wrapping paper of the console, which led to some wild speculations *sighs*. After a bit of criticism regarding the lack of information regarding the PS5, Sony is finally starting to give people a bigger glimpse, and it's coming at a great time. There are only a few weeks left until the release of the PS5, and it seems that Sony aimed to release all necessary info closer to time. Unless Microsoft decides to release more information or surprises regarding the Series X/S consoles, it looks like it'll be all PS5 up until November.

Miles Morales footage: one of the titles that have been heavily advertised for the PS5 is the upcoming Spider-Man: Miles Morales. The sequel to Marvel's Spider-Man, the game will place players in the shoes of Miles Morales as Peter Parker travels to Europe with MJ for her work trip. Fortunately for fans, more gameplay was released, and it's left many fans "watering at the mouth" for the upcoming PS5 exclusive. The gameplay showcases Miles and Peter Parker fighting a classic Spider-Man villain — Rhino — as they steer him away from pedestrians and fragile buildings. It's a great look into not only what we can expect from the game, but also the PS5. And for Spider-Man fans, it's a great reassurance that this is more than an "expensive DLC," something that's been criticized about the title since it was initially announced.

PS4 loading time reduction: if you're trying to understand what loading times for the next-gen consoles will look like, you might not have to wait for their release. Patches for The Last of Us: Remastered and Until Dawn was recently released, dramatically reducing the load times for each game. TLoU: Remastered's initial load time was at 1 minute and 30 seconds and has now dropped all the way to 14 seconds. As for Until Dawn, the game loaded at roughly 40 seconds and has now dropped all the way to 0 seconds. Yes, Until Dawn now loads up instantly, instead of having to wait 40 seconds. It's an incredible feat by the game developers, and it gives owners of each game a great peek into what their everyday gaming experience will look like with not just the PS5, but the Xbox Series X as well.
---
Should streamers pay for playing?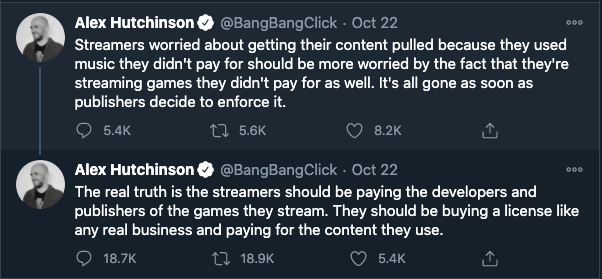 Last week brought up a discussion of a nearly decades-long argument:
Should streamers pay developers and publishers to play their games?
Creative Director at the Montreal Studios of Stadia Gaming and Entertainment Alex Hutchinson fired off a series of tweets (shown above) discussing why streamers should pay, and compared that to musicians and the royalties they enjoy every time someone streams their music.
This comes after Twitch was issued multiple DMCA takedowns and was forced to remove content that violated these laws — regardless if the streamer was able to save the content or not. This led to an uproar from the streaming community, as many streamers expressed frustration on their inability to save "their life's work" or submit a counterclaim.
DMCA Notice: a tool for copyright holders to get user-uploaded material that infringes their copyrights taken down off of websites.
Many comments and statements came out of the community after Hutchinson's tweets, all with various viewpoints around the topic. But one thread, in particular, caught the eye of gamers, and that came from long-time game dev Michael Hartman. In the thread, Hartman shares the pros and cons of streaming their games with limited restrictions and pay benefits, how streaming is viewed within marketing budgets, and the impact it had over the years. It's a fascinating read and provides greater insight as to how and why streamers have been able to play for so long.
Google recognized the controversy caused by Hutchinson's comments and quickly distanced themselves by making a statement to 9to5Google:
"The recent tweets by Alex Hutchinson, creative director at the Montreal Studio of Stadia Games and Entertainment, do not reflect those of Stadia, YouTube, or Google."
With Google's Stadia already struggling, it's interesting to hear such off-the-cuff comments from one of its directors, especially when it's a comment that can draw the ire of millions within the gaming and streaming community.
---
My Thoughts
It's taken me a little why to form my thoughts around this issue.
On one hand, I completely understand Hutchinson's point that game devs and publishers should be paid royalties by streamers that can make a living off their work. I can imagine it's frustrating to see streamers make significantly more than the game dev just by just playing the game when the dev spent a significant amount of time creating it.
On the other hand, I also see why streamers shouldn't have to pay, but this doesn't come in the defense of the streamers. Streaming, whether it's to five people or 5,000 people, provides free and easy publicity for games. In a market as saturated as video games, when hundreds of games are being added into steam and going into development each day, companies need to find a way to separate themselves where they can. Marketing a game is really hard, and finding the right channels where your consumers live is a part of selling the game. Streaming offers exactly that, as potential buyers get to see first-hand what they can enjoy before making the purchase. Streaming helps build trust, and the higher the level of trust, the easier it is for a consumer to buy.
If I have to pick one side of the argument, I'd have to lean towards the side of streamers not paying. Game devs are just one part of the process when it comes to creating a game. Unlike musical artists, where only a few people can be credited for the song and, therefore, can be paid, game creation is led by a massive team of people. If a streamer were to pay royalties, who would it go to? The game dev? The publisher? The company? A lot of people would need to be compensated to make this work. I'm sure there's an answer to this question, but I certainly don't know it.
But the big thing to focus on in regards to streaming is the marketing that comes with it. As Hartman stated in his tweets, the view on streaming in regards to marketing has changed over the last decade.
Back in 2012, streaming played a massive role in sales, and companies were more than happy to have streamers play their games for free. In fact, companies would pay certain streamers a lot of money just to play a specific game on their channel and help exposure. It helped boost sales and did so with little monetary investment.
But now, in 2020, that viewpoint has certainly changed. Streaming no longer provides the same level of sales impact it did back in 2012. In fact, narrative-based games have taken a big hit, as consumers no longer have to buy the game to experience the story. Just watch the stream or video of this person playing, and now you get to immerse yourself in the game without having to pay.
Nowadays, streaming is only viewed as a small part of a company's marketing plan, and it's frequently used to promote an upcoming game or provide additional information on a new mode, product, or service within an existing game.
I do think that, at some point, a model will be created to where streaming is beneficial to both the game dev and the streamer, and I hope it's soon.
Game devs spend a significant amount of time (with many devs working within crunch) just to put out a game. To see them not getting the compensation a streamer gets for just playing the game is a shame to see, and I'd love for them to get paid more for their work.
Oh, and as for Google's Stadia, this certainly doesn't paint a great picture for the streaming service. It's one thing to have these comments come from an employee, and it's another thing to have them come from a Creative Director.
The fact that Google had to release a statement because of Hutchinson's comments shows just how much frustration his comments have made. For the Stadia to work, it needs everything to go right within the next year, or it'll just be another failed attempt by a big company to get into gaming.
This negative publicity certainly doesn't help, and they'll need to continue distancing themselves from these comments if they want to get back on track.
---
Series X fridge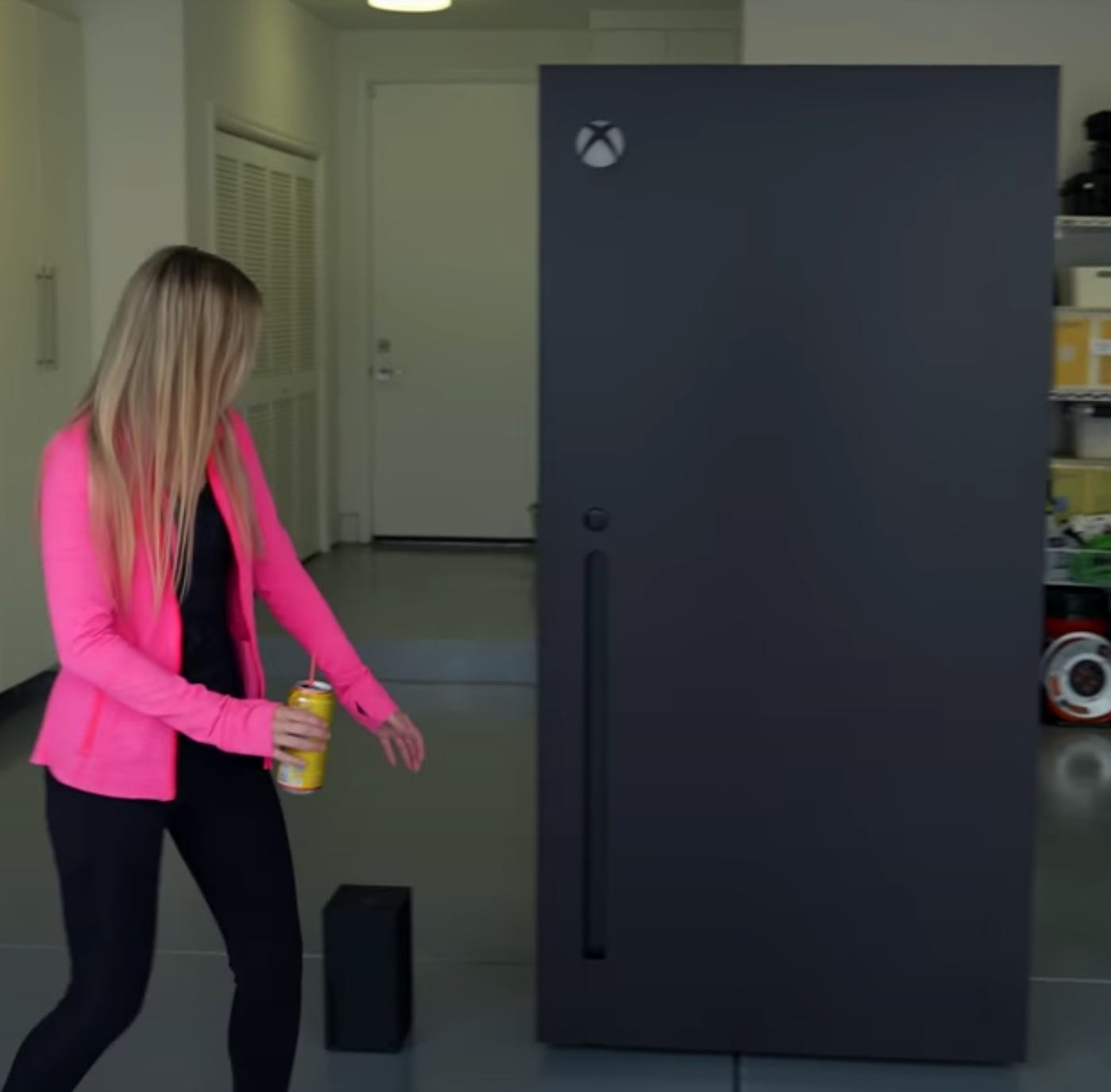 Credit: iJustine
When the Xbox Series X was revealed in December 2019, many people made jokes about how much the next-gen console looked like a fridge. This led to numerous memes being created online, and it looks like Xbox took note of those memes.
Both Snoop Dog and iJustine, an online influencer, received a copy of this "Series X fridge," which not only had the look of the upcoming console but sounded like it too, as the startup sound was triggered every time the fridge was opened.
It's a fun little gimmick that continues to build hype around the next-gen console, and it's the latest in a variety of actions Microsoft has done to ensure the Xbox Series X is the most popular console sold this holiday season.
And when the video went live regarding the Xbox Series X fridge, Head of Marketing Aaron Greenberg had only this to say:
"You knew we had to do this."
Nice.