Discover more from AFK
Insight and analysis on all things console gaming.
PS5 Showcase: What to Expect
A pivotal event for Sony and the Playstation 5.
xCloud, production issues, and my predictions on what will be announced at the PS5 Showcase.
---
Read time: 10 minutes
Quick Tidbits
Here are small and developing stories you should keep your eye on.
CEO not convinced with cloud-gaming: Maybe cloud-gaming is getting too much hype? That's according to Take-Two CEO Strauss Zelnick, whose company is responsible for creating notable titles including Grand Theft Auto V and Red Dead Redemption 2. In an interview with Protocol, he made comparisons to the virtual reality trend and was questioning whether cloud-gaming could even burst into a whole new market. Interestingly enough, he also mentioned that his statements on cloud gaming could be detrimental to his interests, which says a lot on his current stance. It's a great interview with a proven leader in the industry, and if you got the time, it's worth the read.

Trade for an…Xbox Series X?: Gamestop is firing up their trade-in deals again, and this time it's for the upcoming Xbox Series X and S. Consumers who have opted in for their promotional emails received an ad stating that potential buyers could trade-in their current console for money off on a Series X or S pre-order. The great thing about it? The notoriously stingy company actually placed the trade-in value for each console, with the Xbox One X and PS4 Pro providing the most value at $200. I'll be honest, when I first got this email I rolled my eyes. Anyone that has tried to trade a video game with the company knows just how bad they set their trade-in rates ($10 for Red Dead Redemption 2 and Borderlands 3? Seriously?). But to give them credit, this is a pretty sweet deal, especially if you own an Xbox One X or PS4 Pro. At $499 and $299 for the Series X and S respectively, you'll get nearly half off for the former and over 75% off for the latter. I'll need to see and hear what happens during this promotional period but, in the meantime, kudos to you, Gamestop. I see you.
---
Console Updates
Think I forgot about this, huh? Well, I haven't! After some reader feedback and some light testing over the last week, I've decided to make this section a weekly thing. So instead of getting updates every newsletter, you'll now get them every Wednesday. And if you don't like it, let me know! As always, I love reader feedback, and your input helps shape what the newsletter looks like (with this change being a clear example).
The current major console manufacturers are Sony, Microsoft, and Nintendo. This list may change as new competition arises but, for now, these three reign supreme.
Playstation
A report by Bloomberg stated that over 4 million units have been cut from production by Sony due to "production issues with its custom-designed system-on-chip for the new console."
This happens only two months before the rumored launch date and leaves the total units available around 11 million. To combat this, Sony is using air freights to meet the massive holiday demand per Daniel Ahmad. Although the Japanese manufacturer typically ships their consoles via barges to save on costs, air freights are much quicker and will help Sony meet consumer demands on time.
Sony was quick to reply, stating "…the information provided by Bloomberg is false" and "we have not changed the production number for PlayStation 5 since the start of mass production."
Quick thoughts: It's no surprise they've denied it, as they want to limit the worry that's building within the Playstation community, as well as prevent additional reasons why indecisive buyers should opt for an Xbox. Nevertheless, it's troubling, and this news coming out in the first place should have Sony concerned, as they've been having trouble with leaks coming out over the last few weeks.
Xbox
Yesterday marked the official release of the beta version of xCloud, Microsoft's first venture into cloud gaming. Over 150 games, including Gears of War 5 and The Witcher III: Wild Hunt, are immediately available for consumers, with more games planned for later in the quarter when EA Play and its catalog is installed.
For $14.99 a month (with new members getting the first month at $1), consumers will be able to play on not only their Xbox console but also Android phones and tablets. The beta will be available to 22 countries during the beta "to test stability," with plans for more countries in the future.
Unfortunately for Apple users, they will not be able to take advantage of xCloud. Apple has been stubborn with video gaming streaming services on their app store, and xCloud is no exception. It'll be a while (maybe never) before we see xCloud or other gaming streaming services available on Apple products, which is a shame, as nearly half of the U.S. population alone uses Apple's iPhone.
Quick thoughts: it'll be a little bit before any big judgments can be made on the xCloud, as it's just been released and is currently in beta. With that said, this is a huge step forward for the gaming industry. I've discussed cloud gaming and its potential in detail, and I'm a big fan of the concept. To see a major console manufacturer take the first step into this vertical is great, regardless of the concept working out or not. And if it does work out? Xbox could have a million-dollar idea in their hands.
Nintendo
Looks like we'll get a small look into what Nintendo is cooking up.
The Kyoto-based company recently announced the date of their Nintendo Direct Mini live stream: Thursday, September 17 at 10 am Eastern (aka tomorrow).
Streamed directly on Youtube, the event will provide consumers with updates on Nintendo's publishing partners, which means we'll mostly get information on upcoming games. With that said, no games were specifically mentioned.
Don't expect any updates on the console though, as Nintendo's last Direct Mini event in July only offered updates on upcoming titles for this holiday season.
Quick thoughts: nice! Nintendo has made it relatively clear that they'll be clearing the spotlight for Microsoft and Sony's next-gen console launches (a wise move), so they've been selective on when they announce new console or game information. With that said, they're doing a wonderful job staying relevant, as they've garnered attention for their upcoming Super Mario 3D All-Stars title. And depending on what's announced tomorrow, they may be getting more attention in the coming weeks.
---
Playstation 5 Showcase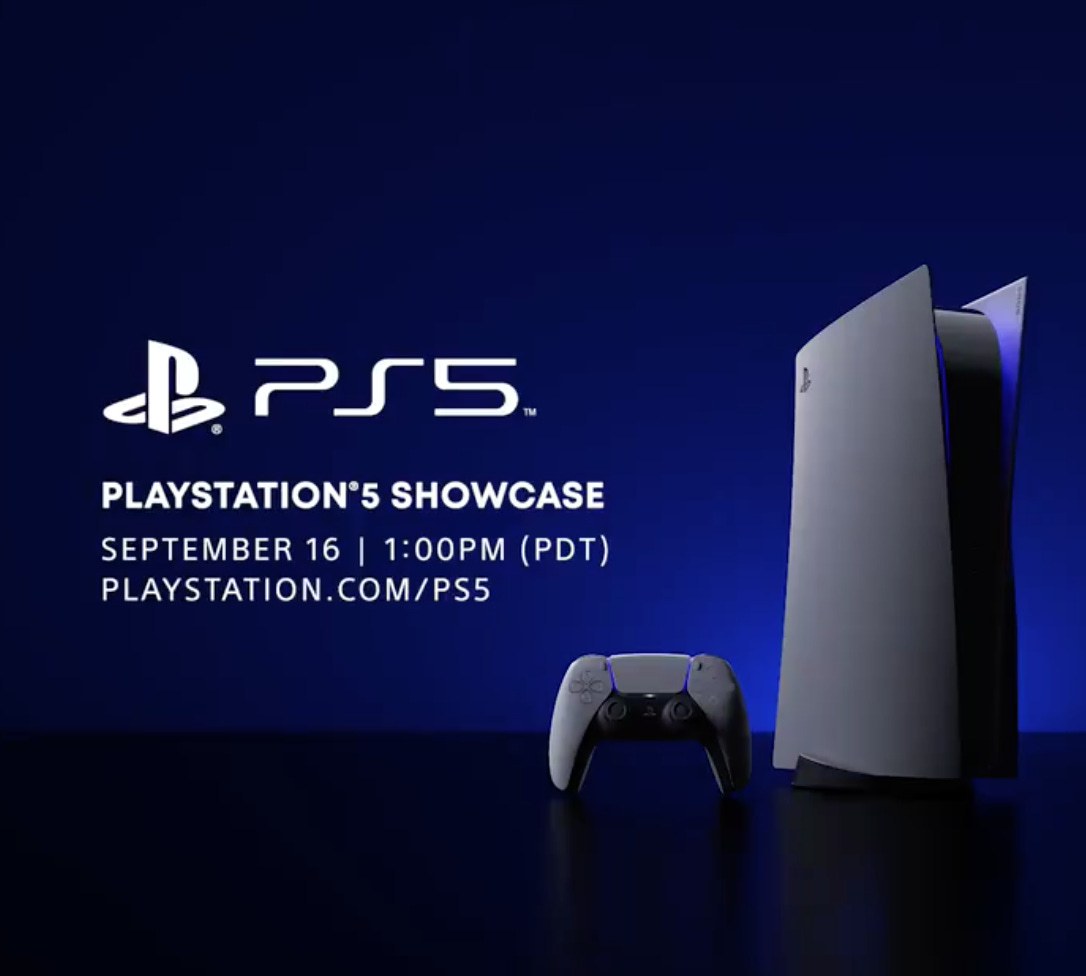 Today's the day!
After a week of Xbox dominating the news with its Series X and S, as well as its offerings, we'll finally get a look at the PS5 and PS5 Digital.
Today's showcase will be streamed from the Playstation Twitch channel and on Youtube, with the event starting at 4 pm Eastern and 1 pm Pacific. Viewers can expect the showcase to be around 40 minutes.
Along with providing updates on its next-gen console, Sony also plans on providing news on its latest titles coming with the system at the time of launch and into 2021.
It's widely expected that the price and release date, as well as the pre-order date, will be announced during this showcase.
---
My Thoughts
This will be a crucial moment for Sony and the Playstation 5.
The last week has been rough for the Japanese console manufacturer, with leaks coming out about production issues and last-minute price cuts. It hasn't instilled a lot of confidence in its current fanbase, and it's left a lot of people questioning whether or not purchasing a PS5 or PS5 Digital is a good idea.
Even the staunchest supporters of the Playstation have been a bit quiet, with the noise only picking back up because of today's showcase event.
Admittedly, I've also been questioning whether a PS5 is the best idea long-term, and I've been pro-Playstation since the PS4 first came out.
Despite them not confirming it, Sony needs to announce all information regarding pricing, release date, and pre-order date. A strong argument can be made that they waited too late (same with Microsoft and Xbox), and refusing to announce these key points will only lead to frustration from consumers.
People rely on this information to not only guide their buying decisions but also to shape their budgets moving forward. Not everyone can purchase a console right away, and people need this cost and date so they can create a savings plan to ensure they can afford a next-gen console without breaking the bank.
By waiting until mid-September — a little over two months before release — that doesn't give many people time to save, especially if Sony doesn't release a payment plan as Microsoft did. Under a bi-weekly payment schedule, that only gives consumers three-to-four paychecks to save, which isn't much time. Sure, an argument can be made that people could've been saving sooner, but it's hard to save without a specific number in mind, especially when that money could be going elsewhere (i.e. bills, education, loans, etc.).
Sony will also need to lean heavily into its exclusive titles. Having games such as Uncharted and God of War exclusively available to the Playstation is a big advantage, and it's looking like they'll have more exclusives on the way. Sony will need to leverage what players can miss out on by opting for a Series X or S, which can be a lot depending on what titles they choose to release.
The launch titles look good though, with some confirmed titles including Spider-Man: Miles Morales, Horizon Forbidden West, and Ratchet and Clank: Rift Apart all being rumored to be shown at the event. There have even been talks about another Final Fantasy title being shown, which will only bolster Playstation's already robust lineup.
But, I don't think this will be enough to completely sway people. I do think that Sony needs something more. Microsoft and Xbox offered exactly that by advertising a unique payment plan, as well as the aforementioned xCloud.
Currently, Sony doesn't have something comparable to either of those.
Sure, they could mention more about the PSVR2 (their virtual reality system) and show-off the UI, but I don't think it has the "sex-appeal" Sony needs. Virtual reality isn't something that excites people nearly as much as it once did, and a clean UI is something that's expected by Sony and Playstation at this point.
The big thing that comes to mind is their backward compatibility options. Info on the PS5's backward compatibility has been questionable, so releasing significant information on this feature could be a game-changer, especially if the next-gen console can support games from consoles older than the PS4. As mentioned earlier, the Playstation's robust exclusives library is a big strength, and if they can tap into older exclusives like the original Silent Hill and Metal Gear Solid, that could be the push consumers need to make the purchase.
It's going to be a big event, and I'm looking forward to seeing what they have planned.
---
Gamer Girl…Doll?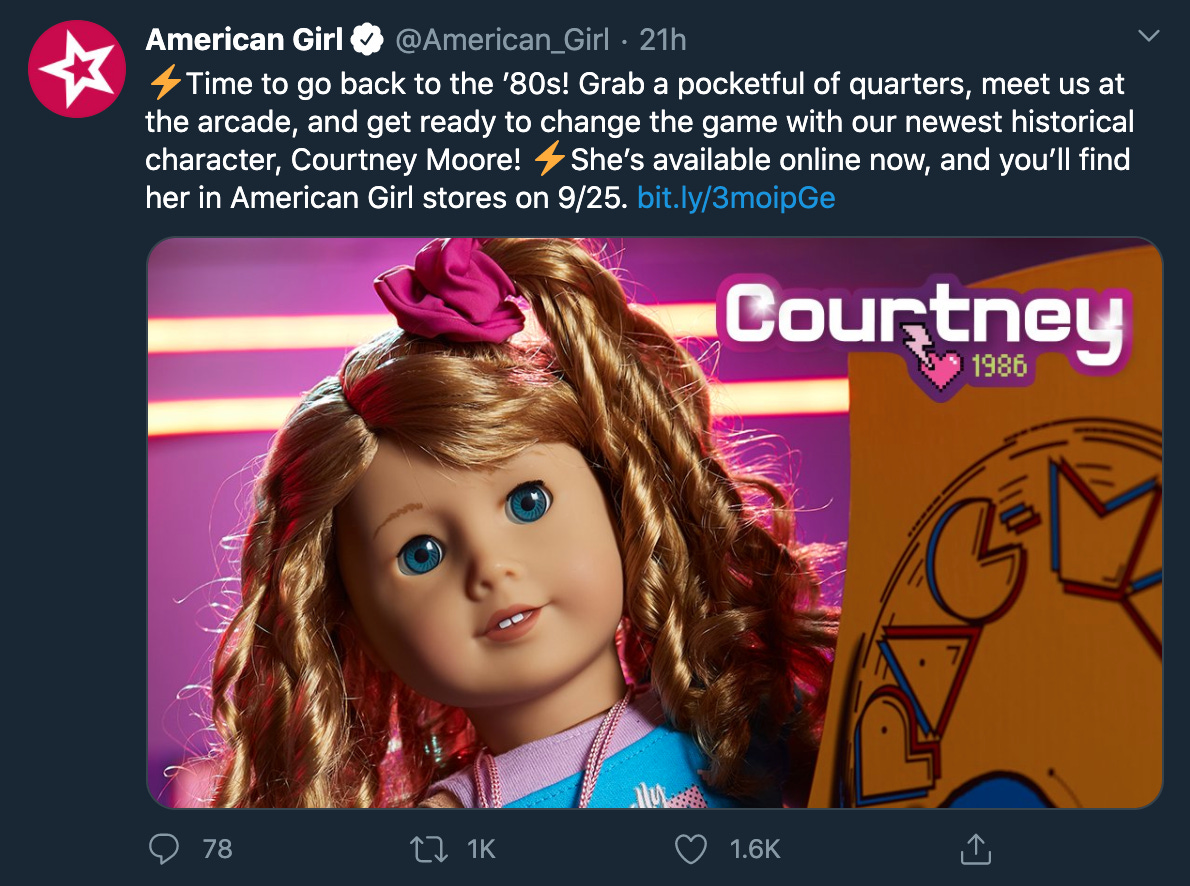 On September 25, you'll be able to purchase the latest addition to the American Girl doll collection, Courtney Moore.
What makes Courtney so special? Well, she's a "gamer-girl" from the 1980s who loves being in the "Smiley Arcade" and playing video games because she "likes to be in control of what happens." According to her backstory, she's also one of the top-scorers in Pac-Man (respect).
Oh, and she's also an aspiring game developer, and she wonders why more women aren't pursuing a career in game development.
Despite how much I rolled my eyes at the first part, I'll have to be honest, I LOVE the additional tidbit of her professional aspirations. Although the number of women playing video games has grown significantly (it's almost a 50/50 split between men and women), they are still heavily underrepresented in regards to employment in the game development vertical.
Additionally, American Girl has also partnered with Girls Who Code and will match every customer donation dollar-for-dollar until the end of the year.
Seriously, this is awesome, and the more women that get into game development and technology in general, the better the industry will be.
Big kudos to American Girl for creating this amazing doll, and it's a great gift for any youngster you may know this holiday season.
---
Support AFK
Since our official launch last week, we've had a flood of new subscribers come in. It's been amazing and humbling to see, and I thank each and every one of you for supporting me on this journey. Like other outlets, I rely on my readers to help support and grow the newsletter. Here's how you can do so:
Subscribe: subscribing is the best way to help support the newsletter. Whether you sign up for free or you opt for a paid subscription, you'll still get everything, but paid subscriptions do help in supporting the longevity of AFK.

Share: if you enjoy what you've read, please consider sharing this to five of your friends, family, co-workers, and more. The growing readership is another great way to support AFK's long-term growth.
I have a big goal of getting to 150 subscribers by the end of this year, and I hope you can help AFK get there! I have something special lined up for y'all when that time comes, and I can't wait to show it.
Chat soon!