Discover more from AFK
Insight and analysis on all things console gaming.
Politics and video games
Is there a place for politics within video games?
Loot box punishments, Black Friday, and my take on whether or not politics belong in video games.
---
Read time: 9 minutes
Quick Tidbits
Here are small and developing stories you should keep your eye on.
FIFA charged $500,000 per week: a Dutch judge recently ruled in favor of charging FIFA developers EA $500,000 per week after they determined the game had violated their gambling laws. Why? Loot boxes sold in FIFA's Ultimate team mode. EA will now need to disable loot boxes within the next three weeks in order to avoid the pricey weekly fines. With that said, EA has planned to appeal the decision and released a statement saying that they didn't believe their "products and services violate gambling laws in any way." EA also hinted at a negative consequence towards fans of the game, as they mentioned that they want to "avoid a situation impacting the ability of Dutch players to fully experience and enjoy FIFA ultimate team." It's an interesting development that may alter the way developers and publishers approach loot boxes. Although loot boxes don't technically violate gambling laws in other major gaming hubs like the U.S. and U.K., it has been a source of major frustration from gamers, as loot boxes have been integrated into many of today's most popular games. Let's hope it does change, as I can not stand loot boxes and microtransactions in general.

Ubisoft and PlayStation drama?: Sony has claimed that, outside of ten small and obscure titles, the PS5 will be fully compatible with the thousands of games available on the PS4. But apparently, Ubisoft says otherwise? Ubisoft originally stated in an article that nine of their titles were not backwards compatible with the PS5, with the most notable title being Assassin's Creed Syndicate. But strangely enough, Ubisoft pulled their article soon after, leaving a lot of people wondering — are these nine titles compatible or not? To be fair, outside of Assassin's Creed Syndicate, the other eight titles weren't doorbusters or even games that people would play at a discount. But if this news is indeed true, it does make you wonder what other titles aren't compatible with the PS5. Although most games won't be fully compatible in regards to experiencing next-gen features such as haptic feedback, PS5 owners should still be able to play the game. If other games aren't compatible at all, this could lead to serious backlash from PS5 owners and trolling from Xbox fans.

Best Buy + Black Friday: Best Buy has gotten in on the Black Friday fun early this year, as they released information and started ads revolving around the yearly event. But unlike previous years, Best Buy is promising consumers a chance to purchase a PS5 or Xbox Series X/S during the event. Both consoles, and particularly the PS5, have been hard to pre-order. Many consumers believe that it'll be nearly impossible to find a unit for the first month or two when these next-gen consoles are released. So this opportunity comes as a pleasant surprise to many, but it also comes with some challenges. To help reduce health and safety risks, Best Buy is limiting this opportunity to online only. Along with that, there isn't any additional information on what time this will be live, leaving consumers to guess. With that said, I'm sure Best Buy will announce the specific time relatively soon, but make sure to act quickly. Both next-gen consoles were sold-out mere hours after pre-orders went live, so there's no telling how long these consoles will be available.
---
Does politics have a place in gaming?
Over the last few months, we've seen politics creep its way into gaming.
It started with Joe Biden, as he had his staff create signs that players could post around their Animal Crossing island. He eventually took it a step further, as Biden's team actually created a full-sized island that players could visit and walk around. The island had numerous references to Biden's preferences and history, as well as propaganda encouraging people to vote.
Then came Alexandria Ocasio-Cortez (AOC), as she started an Among Us stream as a way to get people out to the polls. It was one of the most popular streams all-time, as it came in third in total viewership, only behind Shroud's return and Ninja's collab with Drake. The New York representative is known to be an avid gamer (apparently she's great at League of Legends), and her stream succeded in what many other politicians have struggled to accomplish:
Seem normal.
But these situations have brought up an age-old question:
Does politics belong in video games?
It's an argument that has Twitter fighting, especially with the upcoming election in the United States. From fans to journalists, everyone has had their take on whether politics should be in games, and it's been a near split in terms of opinion.
So, does it have a place?
---
My Thoughts
Admittedly, I was a bit torn on this thought, and I've had a lot of conversations to help me shape the opinion I have now.
For additional context, my thoughts around this issue really started when I saw this tweet by @AnchormanV2 back in October: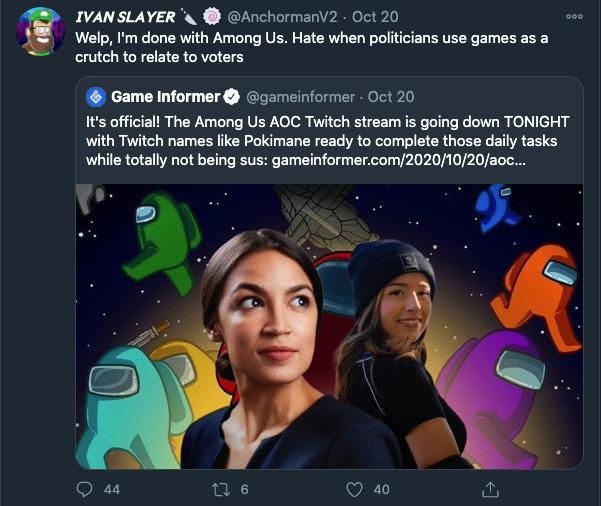 At the time, seeing this opinion left me immensely frustrated.
Why punish the developers for something they have no control over? They had no influence over whether or not AOC would play this game (she's rumored to be a bigger gamer), so is this response fair?
It was frustrating to see, but I routinely asked myself if my frustration was even valid.
At that point in time, I wasn't too educated on politics within video games. I knew that some games like Assassin's Creed or Watch Dogs had political themes baked into its experience, but I hadn't seen anything like what Joe Biden or AOC have done.
When first doing my research, I actually thought it was kind of cool. Video games have become a popular medium for people, especially during the COVID-19 pandemic. Why not meet voters where they are? To me, it was clever, and I thought that the way they approached it was tasteful.
But seeing the negative responses to Biden's island and AOC's stream was shocking. Many people like AnchormanV2 expressed frustration over these politicians using popular video games as their "political weapon." Others went as far as to say that they wouldn't support the game anymore, much like what AnchormanV2 proclaimed.
It was confusing, and I needed to understand the other side before fully forming my own opinion.
For these people that are frustrated about real-world politics in video games, it's because of the way they view gaming — as an escape.
For many people, including myself, video games have been a great way to get away from the day-to-day grind. They want to immerse themselves in a different universe. So when real-world political themes are integrated into their experience, their "escape" is suddenly disrupted. Even if politicians like AOC are just playing games (instead of being part of the game), they feel that it's enough of a disruption.
It certainly makes sense, and I'm sure it's frustrating to see for those that have particularly difficult jobs or have jobs within politics already. When you want to escape, and your main form of escaping isn't much of an escape, that can be overwhelming.
With that said, I do think that politics have a spot within video games, especially if it's done in the way that Biden and AOC executed it.
What Biden and AOC did was provide gamers with a quality but optional experience.
Gamers didn't see ads while they gamed. They weren't forced to watch a short 15-second video. They even weren't withheld certain objects or "level-up" opportunities.
Gamers had the choice to opt-in, and they didn't see any type of propaganda trying to convince them otherwise.
The only thing that may have inconvenienced gamers is what they saw on their social media feeds, and that is easy enough to avoid and block.
This, in my eyes, is how politics can be done when it comes to video games.
Make it an optional experience.
If you don't like a certain politician playing your game, don't watch it. If a game has a certain person or political theme that bothers you, don't play it. You shouldn't be punished for it.
And for those that opt-in, make it a good one.
Provide some cool benefits for those that decide to watch. Make sure that the experience fits the audience you're reaching out to. Most importantly, make sure you share why you've decided to be a part of a game or stream. Make your intentions known early, so gamers can decide whether or not they want to be a part of it.
Granted, it does help when you have someone like AOC gaming, as she came off more "normal" than any other politician (maybe except for Obama) did over the last two decades. But the approach can always be tailored to fit the politician, and that's on the politician's campaign team to make it happen.
As gaming continues to grow in popularity, especially during COVID times, more politicians will look for ways to integrate gaming into their campaigns in an effort to meet and connect with voters "where they are." Like most things, it's about how you plan and execute your approach, and if politicians are aiming to utilize video games as a platform to reach voters, they should approach it how Biden and AOC did it.
Quality, personable, and most importantly, optional.
Do you feel a certain way about this topic? I certainly understand if so, as politics is always a polarizing topic.

With that said, I'd love for you to share your thoughts by replying to this email. I greatly enjoy hearing the various opinions people may hold, as these conversations help continue to shape my own.

I make sure to reply to your thoughts within the same day you send the email, and I may even highlight you in my next newsletter.
---
Into The Spiderverse Suit
You gotta love the creativity of developers nowadays.
In an awesome nod to the award-winning movie, Spider-Man: Into The Spiderverse, the developers of Spider-Man: Miles Morales actually included the suit Miles Morales used in Into The Spiderverse.
But it's not just the suit that has people talking.
Whenever the suit is equipped, the movement of your character changes as well, mimicking the style you see in Into The Spiderverse. It's a neat trick the developers did with the frame rate, as it's slightly altered to maintain the overall feel of the game, while still bringing in the style of the movie.
Spider-Man: Miles Morales is slated for release at the time of the launch of the PS5, so make sure you get the Spiderverse suit.
Definitely one of the cooler things I've seen so far.