Discover more from AFK
Insight and analysis on all things console gaming.
Our First Letter!
A look into what's to come
Read Time: 8 Minutes
Let me be the first to say welcome and thank you for reading AFK, a newsletter dedicated to all things console gaming.
For those that don't know me, my name's Michael Avila, and I work as a freelance content writer, copywriter, and video game journalist. But even before my writing career in this industry (or in general) took off, I was and still am an avid console gamer.
But as my love for the industry grew, the more I learned about how frustrating coverage revolving video games were. From politically-charged and sponsor-pressured reviews to console news that left out key pieces of information, the content created wasn't consistent with what I, or other readers, wanted to see.
Something was lacking, and I created AFK with the hopes of filling in the gaps and offering a better place for console gamers to stay-up-to-date, educated, and entertained.
Oh, and for those that don't know, AFK is short for "Away From Keyboard."
Clever, right?
---
Console Updates
This section will be formatted to address news from each of the current console manufacturers in our industry: Sony, Microsoft, and Nintendo. This may change in the coming months and years based on what new consoles come out but for now, these three reign supreme.
Sony
The first ad of Sony's presumably aggressive marketing campaign for the Playstation 5 is out. Currently marked as a holiday release, the hype around the PS5 continues to gather steam. Although this latest ad doesn't showcase any of the graphics (unlike what we saw at the reveal), it does make mention of some of the console's features: haptic feedback, adaptive triggers, and 3D audio.
The latest ad has also brought in some hilarious comments, much of which is directed towards the consoles assumed price tag of $500.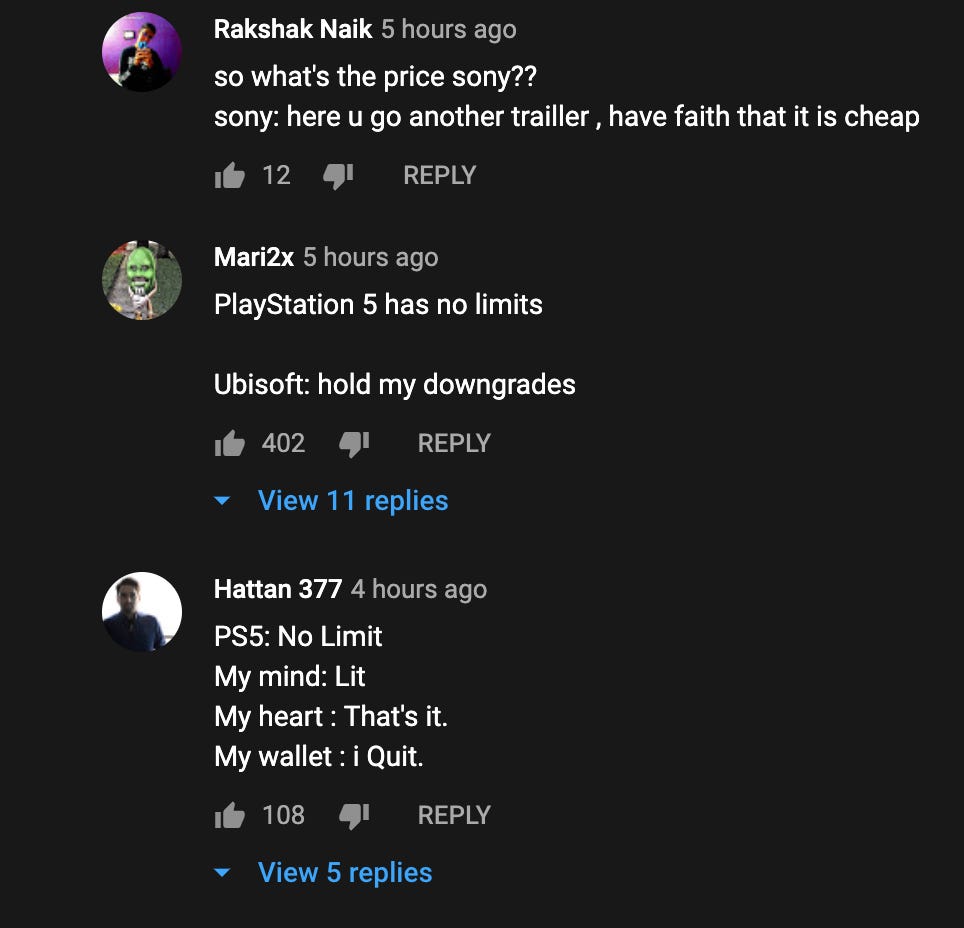 Microsoft
The Microsoft team continues to slowly put out more information on the Xbox Series X. This time around, we got to see a little bit more of the UX design behind the system, their thought process, and what players can expect. A lot of what was mentioned was quality of life changes, with big highlights including faster game loading speeds and the ability to get clips from your Xbox straight to your phone.
It's obvious that Microsoft has been strategic with what they're putting out into the community, as they continue to "punch and counterpunch" with Sony and the PS5. But overall, this is another great look into the main competitor to the PS5 this holiday season.
Nintendo
For any gamers in the UK, you're in luck. Nintendo has officially kicked off its "Share The Fun" sale for all UK gamers starting August 20. Over 100 games, including Dragon Ball FighterZ, Luigi's Mansion 3, and Splatoon 2, will have up to 75% off its original cost.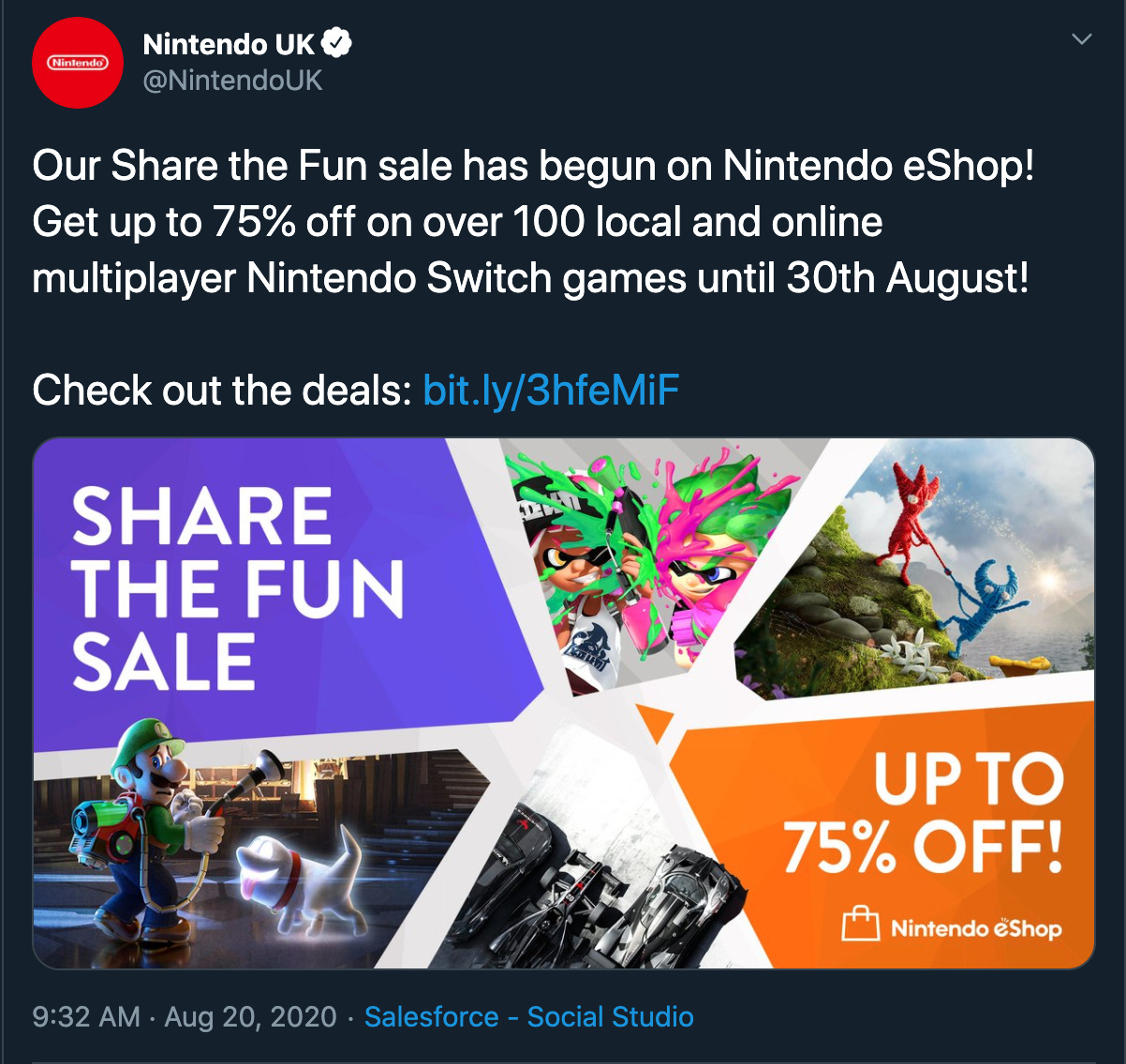 The sale lasts until August 30, so you have a little over a week to capitalize on this awesome deal. You can find it here.
---
What's Being Discussed
After a hilarious leak via a Dorito's bag and numerous teasers sprinkled throughout Warzone, it's official: there's a new Call of Duty game coming:
Call of Duty Black Ops: Cold War.
The 122-second video showcases various clips of the Cold War while Yuri Bezmenmov (an actual KGB informant and defector) voices over. In it, Bezmenmov discusses active measures that are taught by the KGB for ideological subversion. These four steps — demoralization, destabilization, crisis, and normalization, — are paired with clips that accurately portray the desired outcome of the KGB (all of which are actual clips from U.S. history). His voice-over is paired with text that warns of a sleeper agent codenamed "Perseus" (who is supposedly real but never identified) who has infiltrated "Western Intelligence."
Alongside the video, the cover for the game was released a day later: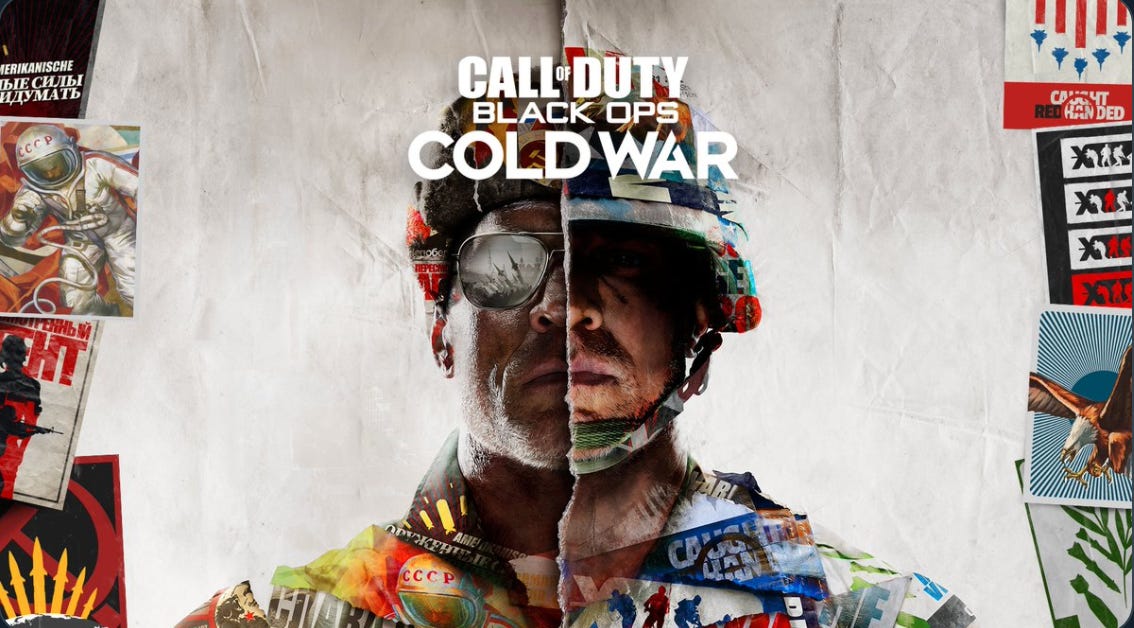 ---
My Thoughts
I'm pumped.
The last time I was this excited about a Call of Duty game was Black Ops II (which was alright). Not even the rebooted Modern Warfare excited me, even though it proved me completely wrong.
Over the last decade, Call of Duty burnout has been real for myself and thousands of other gamers. Each year, Treyarch, Infinity Ward, and EA pumped out game after game, with some of them not offering the polish and feel that we wanted or expected from Call of Duty.
But recently, the developers have been making a comeback, hitting a sweet spot with the release of the rebooted Call of Duty: Modern Warfare and it's battle royale mode, Warzone. Why? Because the developers are returning to their roots, focusing their efforts on established time periods, instead of branching out into the "what ifs" of the future (looking at you, Infinite Warfare).
Call of Duty Black Ops: Cold War continues this trend, and we're finally getting a game set in the Cold War era. The Black Ops series has been known for its intense character arcs and psychological twists and turns (THE NUMBERS MASON), so I fully expect to see the same themes in this latest game. And with the KGB and "Perseus" involved, we might FINALLY see what was hinted at the end of Black Ops, where it was strongly implied that hundreds of sleeper agents were embedded throughout the United States.
I just hope that we don't see any more of what we saw in Black Ops III and IV. Matter of fact, I don't see even consider those games canon.
Oh, and I really hope we get a zombies mode again. Would love to survive against Russian zombies with my gaming group (don't stray too far away, CJ…).
---
Two Games You Should Play
I've been playing these two games A LOT, and if you're looking for something new to spice it up, I suggest you give them a try.
Fall Guys: Ultimate Knockout
My partner actually recommended this game and I gotta say, I'm a big fan. Considered a battle royale, Falls Guys puts you in the shoes of what I can only describe as a jellybean like figure as you navigate obstacle courses and challenges to win the "crown." The game comes with unique map designs, game modes, and character customization options, all of which lends to its unique art design and platforming gameplay.
This game is FUN, and my partner and I have taken longer lunch breaks just to play this game. It's also hard to win, as neither of us has won, and we've only made it to the final once.
If your partner loves gaming, this is a fun date night game that you need to try out soon (it's been great for us). Unfortunately, the game is available to Playstation only, but it is free on the Playstation Store for the foreseeable future, so make sure to take advantage of it!
Cuphead
This game is a few years old now, with the original release for Xbox coming in 2017. So, why am I bringing this game up again? Well, this artistic, side-scrolling masterpiece has finally made its way to the Playstation, with its release coming back in late July. Nothing about the game has changed though. It's still fun to play (solo or co-op), it's still beautiful to look at, and it's still incredibly difficult.
If you're looking for something to refresh your pallet after playing intense shooters like CoD or Apex, Cuphead is a game you must try. You'll find it at the Playstation store for $19.99.
---
He Finally Did It
If any of y'all have been following the hype around Falls Guys, you likely know the story of Twitch streamer TimTheTatMan. For several days, Tim has been trying to win a game in Fall Guys…and has been sharing his progress along the way. It has led to some truly hilarious moments that had me gasping for air.
Well, I'm happy to share that he's finally won. But alongside that win, he's also gotten some major press for it. Along with ESPN covering the event, he had impressively high streaming numbers during his win. Here's a look at the stats he shared via Twitter:

Whether you actively follow streamers or not, you must admit that these numbers are INSANE.
So, congrats Tim, and here's hoping that this win continues to propel your career forward.
---
Thank You
I've been toying with creating a video games newsletter for the last four months, so the fact that this is actually coming to fruition is, in a sense, a dream come true. For those that are reading now, and for those that'll be reading in the future, thanks for taking the time to read through my very first newsletter. I'm excited to see where this journey goes and how this letter (and myself) evolves during the process.
I do have a few ideas coming down the pipe, so make sure to keep your eye out for that. And if you have any questions, thoughts, concerns, or comments, please feel free to reply to this email.
Thanks again, and we'll chat soon.