Discover more from AFK
Insight and analysis on all things console gaming.
Is Amazon Luna the real deal?
Amazon throws its hat into the lucrative arena.
The Last of Us, documentaries, and a look into Amazon's newest venture — Luna.
---
Read Time: 11 minutes
Quick Tidbits
Here are small and developing stories you should keep your eye on.
Video game museum in trouble: first built in 2011, the Museum of Arts and Digital Entertainment (MADE) was a vision by Alex Handy to preserve the numerous historical artifacts that came from the video game industry. The Nintendo NES, SEGA Dreamcast, and many more were all on display, and the museum even allowed patrons to play on these systems and provide a taste of a time before. The museum is home to over 10,000 titles spanning multiple consoles and generations, and it's been quite resilient too. From floods to robberies, the museum has been able to withstand even the toughest of challenges. Unfortunately, it might not be able to withstand the force that is the COVD-19 pandemic. Thousands of businesses and industries across the country have been rocked by this once-in-a-generation type of event, and the MADE is no exception. Currently, all of its employees are furloughed and they've announced a relocation. They've been able to get by via Kickstarters but Handy is unlikely to do another one, as he believes to should go towards more "pressing issues." The MADE is only one of the dozens of other video game museums across the country that are struggling. And with the social-distancing aspects of this pandemic that is sure to carry-over if and when it's over, it's unknown how much traction these types of "hands-on" businesses will get. We'll have to wait and see but, for their sake and ours, I hope they make it out alright. Our industry doesn't do a great job documenting our creations, and these museums do a wonderful job doing exactly that. Check out The Washington Post for a complete look into this museum and more.

Gaming can help memory: anytime I see an article linking to potential health benefits that come from video games, one of my first instincts is to put it in this newsletter. I don't always follow that instinct, but I definitely did today. A study conducted by the Universitat Oberta de Catalunya in Barcelona showed that playing video games as a child showed "greater improvements in their working memory than those who did not." In this article written by Medical News Today, they detail the methods of this study, which includes an interesting fact: even after people who played games in their adolescence stop playing, they still retain the cognitive benefits. This could be years after the last time they picked up a controller, and these individuals would still be a greater ability with "working memory tasks." We love to see it.

The Last of Us Day: Since 2013, Sony has dedicated September 13 to The Last of Us, the post-apocalyptic game that places you in the shoes of Joel and Ellie. The games, which are the masterpieces of Naughty Dog, continues to see thousands of players each day, whether they're replaying the story (I fall into this category!) or trying out the multiplayer. Last Saturday marked the eighth time The Last of Us Day was held and, like events before, had a lot of awesome news, features, and items to share. From board games to premium statues, the event had something for every The Last of Us lover, and it was a great homage to a generation-defining series. But one of the more notable things about this event was the 50% off you save on The Last of Us games. For the original game and its DLC, Left Behind, all you'll need to pay is $15 (taxes not included). It's an incredible deal, and you'll be spending hours playing these two games. Whether you're playing it for the first time or you're on your second (or fifth) run-through, make sure to take advantage of this awesome deal! These two games are worth your time and attention, and they've aged beautifully.
---
Amazon Luna is live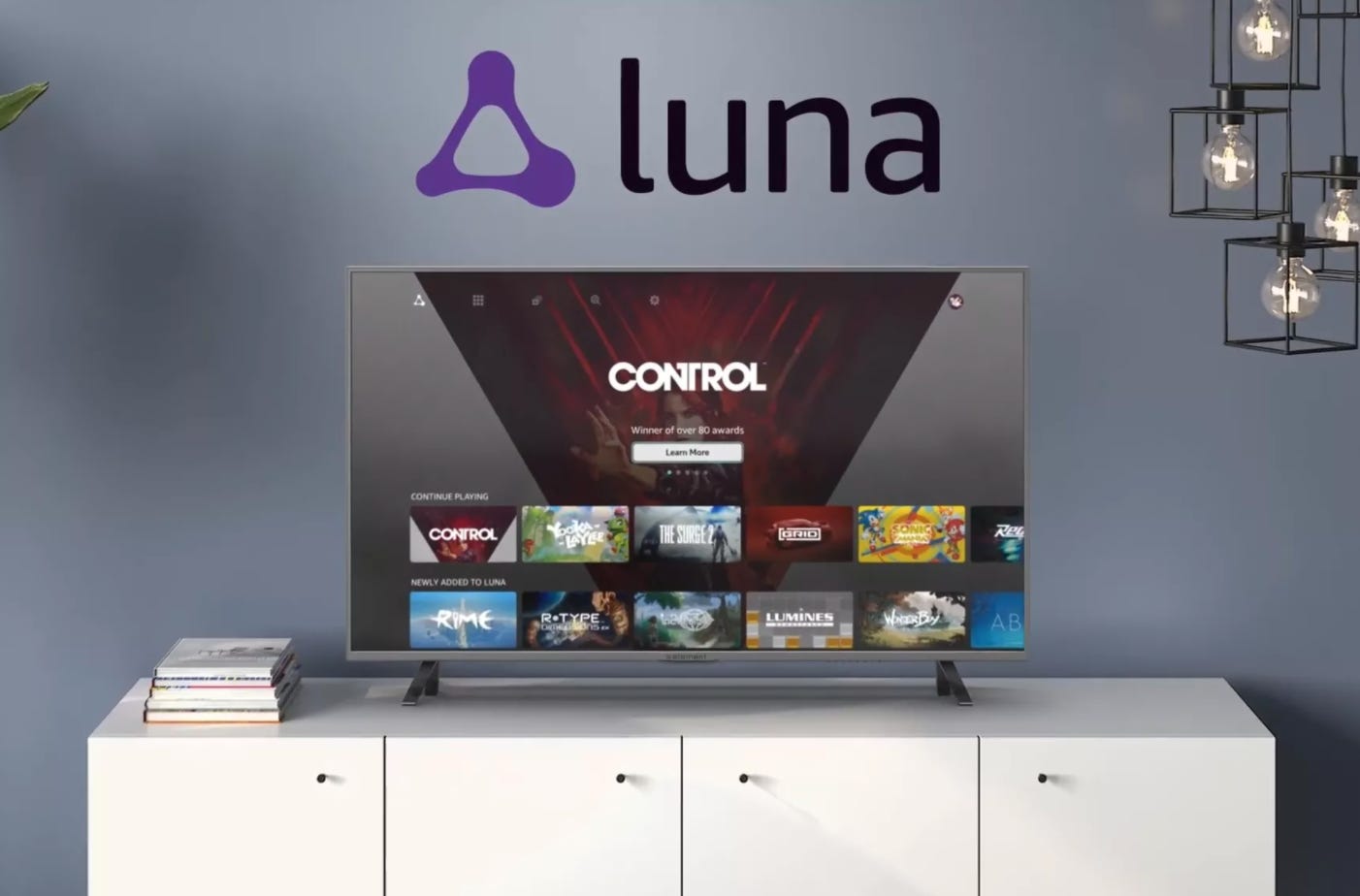 Credit: Amazon
Last Thursday, Amazon announced its latest project and first official venture into the gaming industry — Luna.
The announcement came during its hardware event, and it isn't too surprising considering Amazon has been expressing interest in the industry over the last year. And with their acquisition of Twitch back in 2014, it makes their entry into this industry all the more real.
Amazon Luna is quite similar to what we see with the xCloud (currently in beta) and the struggling Google Stadia in that it's a cloud gaming streaming service. The service is currently available invitation only, but interested parties can submit an application to try the service on the official site.
At $5.99 a month, subscribers will be given access to Luna Plus and will be able to play select titles at 4K /60FPS resolution. Players will also be able to play on two devices simultaneously. And through a partnership with Ubisoft, players will be able to play numerous titles from the developer and publisher including Far Cry 6 and the upcoming Assasins Creed Valhalla.
But, that's not all.
Since Twitch is a part of Amazon's services, they've made sure to include the streaming platform within the program, and they're hoping to make it an easy and seamless experience. Users will be able to go on Twitch and watch games that are also available within the service. If the user wants to play the game they're watching, they'll be able to do exactly that, and they'll start up the game instantly.
Oh, and the Luna came out with a controller, which is eerily similar to the Nintendo Switch Pro.
Along with using it to play your favorite games, users of the Luna controller will also be able to switch screens and platforms (i.e. TV to tablet) with ease and without need to re-pair the controller.
The cloud gaming market continues to look more lucrative with each passing week, and Amazon is hoping to take advantage of this growing interest before more established brands such as Sony take a crack at it.
---
My Thoughts
A new challenger has emerged!
You remember seeing this in the Super Smash games? When you had to beat a new character to unlock them?
Ok, maybe that's just me.
But this is what I thought about when I saw the news about Amazon Luna.
It's obvious that Amazon wants a chunk of the profit that's coming from cloud gaming. It's a growing market that is increasing in demand, especially during COVID times where more people are inside and looking to gaming as a way for social interaction. And with more established companies like Microsoft throwing their hat into this "arena," I'm sure it'll gain attention from interested consumers and brand loyal fanatics.
Let's look at the actual announcement.
When I mentioned this news on Friday, I stated that the timing was "interesting," and for all the wrong reasons. This came relatively soon after the price and preorder announcements for the next-gen Xbox and PlayStation, so my thought was that the excitement around these consoles would drown out any news and hype generated around Luna.
After a little more reflection, I do still think that the timing was odd, but I don't view it as a negative. Announcing it during their hardware event, instead of holding a completely separate event, was smart. It makes their service known, without generating too much hype and expectations around it. Amazon announced it was "another venture" and, while they're excited about it, clearly understand that Luna is still a work-in-progress. They only double-downed on that thought process by announcing the service was available via "invitation-only" and that it would be priced at an extremely affordable rate of $5.99 per month.
And when you request an invitation, it even states on their sign-up page that consumers who are granted access are helping Amazon refine the product. This is brilliant, as people love two things:
Making their opinions known

Contributing to the growth of a product
Amazon hits those points with this "beta" testing method, and it allows people to grow with the service and places a certain level of investment. This can lead to other things down the road, especially if the service ends up doing well, including word-of-mouth marketing from invested consumers and favorable reviews from "testers."
With that said, the timing was awkward, but I do think it was the best time to do it. If Amazon did it earlier, they would've been quickly forgotten due to the next-gen Xbox and PlayStation price and pre-order announcement. And if any later? The same result, but because of the launch of the next-gen consoles instead.
They picked the best choice from a tough timetable, and they're doing the most with it.
Now, we look at the offerings.
At $5.99, consumers who are approved by Amazon are getting quite a bargain.
Along with getting a quality selection of games (with the help of its partnership with Ubisoft), a neat Twitch streaming service feature, and a convenient controller, consumers will also have access to something that Google and Microsoft don't — Apple products.
How? Well, instead of creating an app for Apple to review, Amazon has decided to work around that and provide its streaming service on the web via a progressive web app (PWA).
Basically, Luna has created an app that won't be available on the app store and can run separately from your web browser. Consumers will even be able to have Luna appear on their tablet, phone, or MAC home screen, making it look like a traditional app (The Verge does an awesome job of breaking this down even more).
Hilariously, this idea was introduced by Apple itself, when it posted its regulated rules two weeks ago:
"Streaming games are permitted so long as they adhere to all guidelines — for example, each game update must be submitted for review, developers must provide appropriate metadata for search, games must use in-app purchase to unlock features or functionality, etc. Of course, there is always the open Internet and web browser apps to reach all users outside of the App Store."
It gives Luna a leg up on the competition, but it's unknown for how long, as competitors such as Microsoft and Google are sure to take advantage of this loophole at some point.
This leads us to the final point — Luna's competition.
A lot of people have dubbed Luna the "Stadia killer," but I don't think that's necessary. Why?
I think the Stadia is already dead.
With their lackluster titles, the next-gen Xbox and PlayStation around the corner, and its abysmal launch last year, I just don't see the Stadia recovering.
When launching a service like this, especially as a company that isn't known for gaming, you need to stick the landing, and Google didn't do that. Now, they're fighting hard to recover, and I think that's an uphill battle they won't win.
The real competition for Luna is xCloud, Microsoft's gaming streaming service.
Both are currently operating within the shadows, as xCloud is currently in beta testing and Luna is in "invitation-only" mode, but both are paying attention to each other.
Of course, the edge is with xCloud because of their list of titles and a more established gaming brand around them in Microsoft. And with 23 (!!!) studios under the Microsoft name, it'll be hard for Amazon to snag titles that'll separate them from the pack. With that said, Microsoft has stated that their developers and publishers would work semi-independently, so these studios may do what's best for them, instead of Microsoft (unless Microsoft steps in, of course).
With that said, I think Amazon is approaching it the best they can, and they do have solid titles under their belt as well. How they develop and respond over these next few months will be key, and we could be seeing an early "battle" similar to what we saw with Hulu and Netflix.
---
"Console Wars"
For the last two decades, we've been immersed in the "console war" between Xbox and PlayStation. But before this time, two different consoles dominated the industry, and it wasn't either of these generation-defining systems.
It was SEGA and Nintendo.
In the '90s, these two systems dominated the industry, and it's detailed in the CBS All Access documentary, "Console Wars."
Originating from the book of the same name, "Console Wars" dives deep into the back-and-forth battle between Nintendo and SEGA to garner the attention of gaming consumers. It also dives into the unique corporate cultures of each company that manufactured these game-changing systems via interesting interviews from professionals that worked there.
I'm a huge nerd when it comes to gaming history, so I'm looking forward to watching it sometime this week.
Hope some of y'all can join me!
"Console Wars" is streaming exclusively on CBS All Access.
---
AFK Update
Wow.
Thanks to everyone on their feedback on this section! As I mentioned, this will be the first of my more exclusive content that comes out on this newsletter, and it was great to see the positive reaction to this!
Over the next few months, you'll be seeing a couple of changes to this newsletter, including this section. If there's anything that you enjoy or don't enjoy, please let me know. As always, I love hearing from you, and your comments help shape the direction of this newsletter, especially during its early stages!
Oh, and I'll make sure you're always given a heads-up before any big changes come your way. Don't want to change anything without giving you time to prepare (looking at you, Sony).
Remember, I'll be giving away a free copy of Call of Duty Black Ops: Cold War, Spider-Man: Miles Morales, or Cyberpunk 2077 on the system of your choice if AFK can get to 150 new sign-ups and subscribers by January 1, 2021!
Yes, that also includes anyone who games on PC.
Here's how you can help:
Subscribe or Sign-up: subscriptions and sign-ups are the best way to help support the newsletter. Whether you sign up for free or you opt for a paid subscription, you'll still get everything, but paid subscriptions do help in supporting the longevity of AFK.

Share: if you enjoy what you've read, please consider sharing this to five of your friends, family, and co-workers. The growing readership is another great way to support AFK's long-term growth.
Thanks again to everyone who has supported AFK so far. The reception and feedback to this newsletter have been incredible, and I'm so appreciative of everyone who's joined me on this journey so far.
See ya Wednesday!