Discover more from AFK
Insight and analysis on all things console gaming.
Feature Friday: Your Controllers
Understanding what's new with the PS5 and Xbox Series controllers
Hacks, streaming, and a look into the DualSense and Xbox Series controllers.
---
Read time: 10 minutes
Quick Tidbits
Here are small and developing stories you should keep your eye on.
Clever Watchdogs marketing: if there's one thing you must know about me, it's how much I appreciate clever marketing. Ubisoft takes today's title, as they promoted the launch of Watch Dogs Legion later this month by having some characters from Watch Dogs "hack" the Xbox store. Not only was the cover art for the games changed, but the "hackers" also dramatically reduced the costs of some notable Ubisoft games. Titles such as Far Cry 5 and Assassins Creed Odyssey dropped from $59.99 to $14.99 and the cover art was altered to where a pig's head was on the shoulders of the characters. Although there has been skepticism around the upcoming hacker game (which I disagree with), this move has certainly caught the attention of gamers leading up to the release, which is exactly what Ubisoft wants.

Unskippable ads: although gaming has been building to this climactic high, with the peak being the release of the next-gen consoles, gamers have also been subjected to some really awful business practices. This has come in the form of microtransactions, and it's something that can be found in some of today's most popular games. But there's been a new trend in gaming that I hope ends soon, and that is the addition of actual TV ads. Games like NBA 2K have made this commonplace, but the most recent release, NBA 2K21, has taken it to a whole new level. Players are now unable to skip these ads and must sit through them before they start playing. It's one thing if a game is completely free, and in a sense it's understandable. The game devs have to make money somehow, right? But when you're paying full price for a game, this should not be an issue you expect to see. 2K did release a statement saying that the ads were operating in a manner that they "didn't intend" and there will "be a fix in future episodes," but I call BS. I understand having to make ends meet and break-even, especially when the costs of game development is rising, but there are definitely better ways to go about it, especially when concepts such as microtransactions are starting to become more accepted (reluctantly so) by the gaming community.

Video streaming comes to the PS5: it looks like gaming won't be the only thing you can do on your PS5 console. Yesterday, Phil Rosenberg wrote and released a post on the PlayStation Blog sharing the PS5 capabilities to utilize specific streaming services. Apple TV, Disney+, Netflix, Spotify, Twitch, and Youtube will all have their own native apps on the console. The additions of Spotify and a more robust Twitch app is especially exciting, as gamers will now be able to play music while streaming. This has become a standard practice for a lot of streamers, but console players had to get more creative with how this was executed. Now with native and refined apps available, console streamers will have easier access to both services. Plus, with the PS5's ability to "stick and play" certain things to your screen, using an app like YouTube while you're playing will likely be easier as well. No, it won't be a big selling point for the majority of people, but it'll still be a cool feature to enjoy for PS5 owners.
---
The DualSense and Xbox Controllers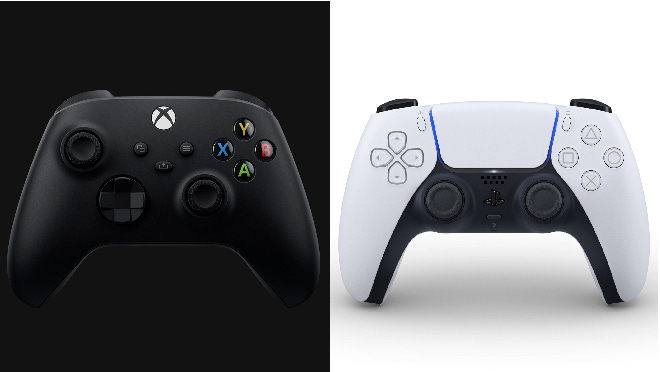 Credit: Microsoft/Sony
In the weeks leading up to the release of the PS5 and Xbox Series X/S, I'll be dedicating my "Feature Fridays" to answering consumer questions you may have. Gaming can be expensive, and nothing's worse than investing your money in a console, game, product, or service that you find no value in. If you have any questions on what you should get or if you're stuck between two choices, feel free to let me know, and I'll make sure to answer it in this section.

Remember, you can reach out to me at anytime, and I make sure to reply to every message I receive. Simply reply to this email, and that ensures your message gets sent directly to my inbox.
Over the last few weeks, I've discussed products and services that should be at the forefront of your mind when it comes to purchasing a PS5 or Xbox Series console.
This week, we'll be chatting about controllers. And although it's important to consider these things when it comes to your buying decisions, I do want to make this clear:
Do not let a controller dictate your buying decision.
It's strange that I need to say that, but I've seen numerous people online making comments on how a particular feature on a controller is why they're opting for a completely different console.
Look, I get that the "feel" of a controller is going to differ when it comes to an Xbox or a PlayStation but, to be honest, it's something that you can grow used to. Things may change with the introduction of concepts such as haptic feedback (more on that later), but for the most part, you can adjust to it.
So although I'll be mapping out each controller and its features, please don't let a controller be the reason you get a PS5 over an Xbox Series X and vice versa.
Having conversed with a lot of you, I don't think that'll be the case, but I just wanted to mention it just in case.
Let's get started.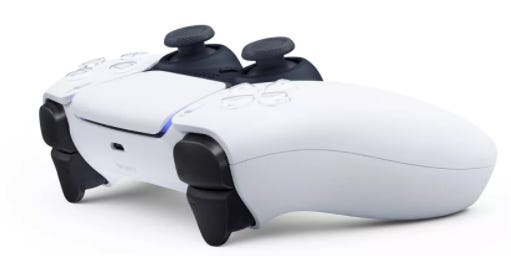 Credit: Sony
Of the two new next-gen controllers, the DualSense has been getting a lot more of the attention, and understandably so.
Gone is the iconic DualShock design that's become a PlayStation staple, as the controller now looks a lot similar to what we see with the Nintendo Switch Pro. It's definitely a little chunkier when compared to the DualShock design, but it's not enough to really alter how you play.
The core components of the controller are still around. All of the buttons and triggers are still in the same place. You still have the multi-faceted touchpad and the light strip in front of it, but the light strip now surrounds more of the touchpad, giving you a better visual of the colors it'll display. You'll still get the six-degrees of motion, as per usual for a PlayStation touchpad. The "Share" button has also been replaced with the "Create" button, which Sony hopes will be an easier method in regards to posting gameplay content on your social channels.
There is still a USB charging port as well, but it's been altered from a mini-USB to a USB-C, which has quickly become the standard within tech. The great thing about this is that many people own USB-C chargers due to their phones, tablets, and other electronic devices. So if for some reason you don't have or you've lost the charging cable that will come with the DualSense controller, you can simply plug in your iPhone cord and use that. It's a great, subtle adjustment by Sony that makes owning a DualSense controller a lot easier.
The D-pad has been slightly altered as well to help adjust for more complex inputs it would typically get within fighting games. Not the biggest change, but it is something to keep in mind, especially for those of you who enjoy playing titles such as Mortal Kombat and Street Fighter.
Oh, and you'll still have a speaker on the controller, and Sony is hoping to utilize this feature a little more when it comes to player immersion.
And speaking of immersion, the biggest changes in the DualSense controller come in the form of haptic feedback and adaptive triggers.
Gone are the typical rumbling sensations you get when using the DualShock controller, and it's been replaced with haptic feedback. The goal of the feature is to help improve immersion within games and allow players to feel the subtle differences their character or vehicle may experience while playing. For example, if your character reaches and grabs a shaking object with its right hand, only the right side of the controller will begin to rumble. And in a demo, gaming journalist Geoff Keighley shared there was a distinct feel with the controller when it came to navigating terrains such as sand.
As for the adaptive triggers, this is Sony's second part in improving immersion within its controllers. Unlike before where you could easily pull down on a trigger, adaptive triggers can make the experience harder depending on the situation you're in. A good example would be when your character is pulling back an arrow. Before, you wouldn't feel the tension that comes with pulling an arrow, but the adaptive triggers aim to fix that. When using this controller, you should technically feel the pull and resistance that comes with pulling back an arrow or loading a crossbow. I'm sure that game devs may start creating games with this feature in mind, which I imagine will lead to some cool moments.
I'm sure some people won't enjoy these new features at first, and Sony will likely provide players options to turn off these features.
The controller will be priced at $70, which is a lot more expensive than any other controller we've seen so far. It's still unknown whether or not a PS4 controller will be compatible with the PS5, but it's something to monitor moving forward.
$70 is a lot of money, and if you can save money by using a PS4 controller, I highly recommend that and getting the DualSense controllers over time.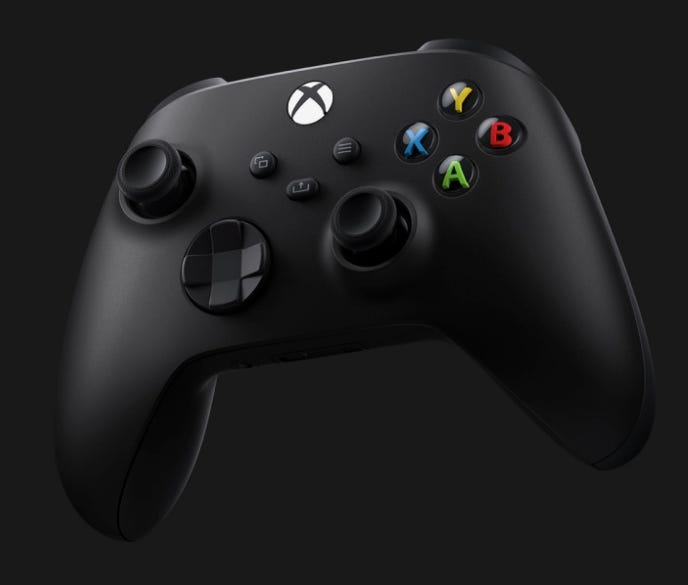 Credit: Microsoft
Unlike Sony who has redesigned its controllers, Microsoft and the Xbox are doubling down on an already great design.
The Xbox team aimed for smaller improvements to its controllers, as the current design has been a fan favorite since the Xbox 360 was released. Although subtle, a lot of the smaller changes will have Xbox fans happy and should improve playability and immersion.
The buttons and analog sticks are placed the same. You still have the multi-faceted Xbox button. The "Customize" and "Options" buttons are still located in the same areas and operate in the same way as well.
At first glance, the biggest change comes from the d-pad. The newly designed d-pad looks a lot smaller than the original Xbox One design, as it has a deeper well and a square inset in the middle. It's a nice change from the traditional d-pad design we've seen in the past, and this likely changed because of the more complex inputs players we'll perform and the popularity of the d-pad design for the Elite Series controllers.
Alongside that, the triggers and bumpers have been slightly adjusted. The triggers have been "shallowed out" to help make it more usable for a majority of the population, and both features have added a tactile dot pattern to improve feel and performance.
And in the end, the d-pad, bumpers, and triggers are completed with a matte finish to make it easier to use regardless if you're hands are wet or dry. Although no one expects a person to use a controller while their hands are wet, this was added to get rid of the "sweaty hands" feel that comes with long gaming sessions.
Oh, and they've added a Share button that's reachable with both thumbs, so you'll be easily able to capture and share footage to your social media accounts when you want to.
There are smaller and more nuanced changes to the controller as well, including Dynamic Latency Input (DLI) and compatibility options. The latter was likely introduced due to Microsoft's xCloud service, and users should be able to use the Xbox Series controller across multiple Microsoft devices while using xCloud. As for the former, the improved DLI should help reduce the response time from when you make an input. It's only by a few milliseconds, but it's these small changes that can really alter your gaming experience.
Controllers are currently on sale at the Xbox store for $60, which is the same price as the Xbox One controllers. Also, Xbox One controllers will be compatible with the Xbox Series X and S, so if you don't want to invest in a newer controller, you won't have to! And with the subtle changes made, you won't be missing out on too much in regards to performance, feel, and immersion.
"Don't fix what isn't broken" is the approach Microsoft is taking with their controllers, and it's a good strategy to have.
And if I'm being honest, I've always preferred the Xbox over PlayStation when it comes to controllers.
*shrugs shoulders*
---
Have a good weekend!
To keep read times down, I'll be opting out of today's good/strange gaming story. But if you want to see what I would have written about:
Check out this awesome story of Gears of War creator Cliff Bleszinski contemplating a return to video game development (PLEASE comeback).
But don't worry, these stories will still be making their regular appearances moving forward. As always, you're free to let me know your thoughts on the decision, and you can do so by replying to this email.
Have a great weekend and, for my U.S. readers, go vote!