Discover more from AFK
Insight and analysis on all things console gaming.
Feature Friday: Understanding cloud gaming
Why it's considered the "future" of gaming
Our first correction, an OG release, and why cloud gaming is the future of video games
---
Read time: 12 minutes
Whoops.
In an effort to stay transparent with my readers, I like to share any blatant errors I may have made in previous newsletters.
Well…we just had our first error, and it has to do with the release of the remastered versions of Super Mario 64, Super Mario Sunshine, and Super Mario Galaxy.
In Wednesday's newsletter, I stated that these three remastered titles were delayed and that we wouldn't be seeing them until we got closer to the holiday season. Well, Nintendo was quick to debunk that theory, as they released more information on the Super Mario 3D All-Stars package.
Turns out that we will be getting those remastered games after all, and we'll get them on September 18…two weeks from today. Along with that, Nintendo has also decided to make the release a limited-time promotion, meaning that digital and physical copies will only be available until March 2021.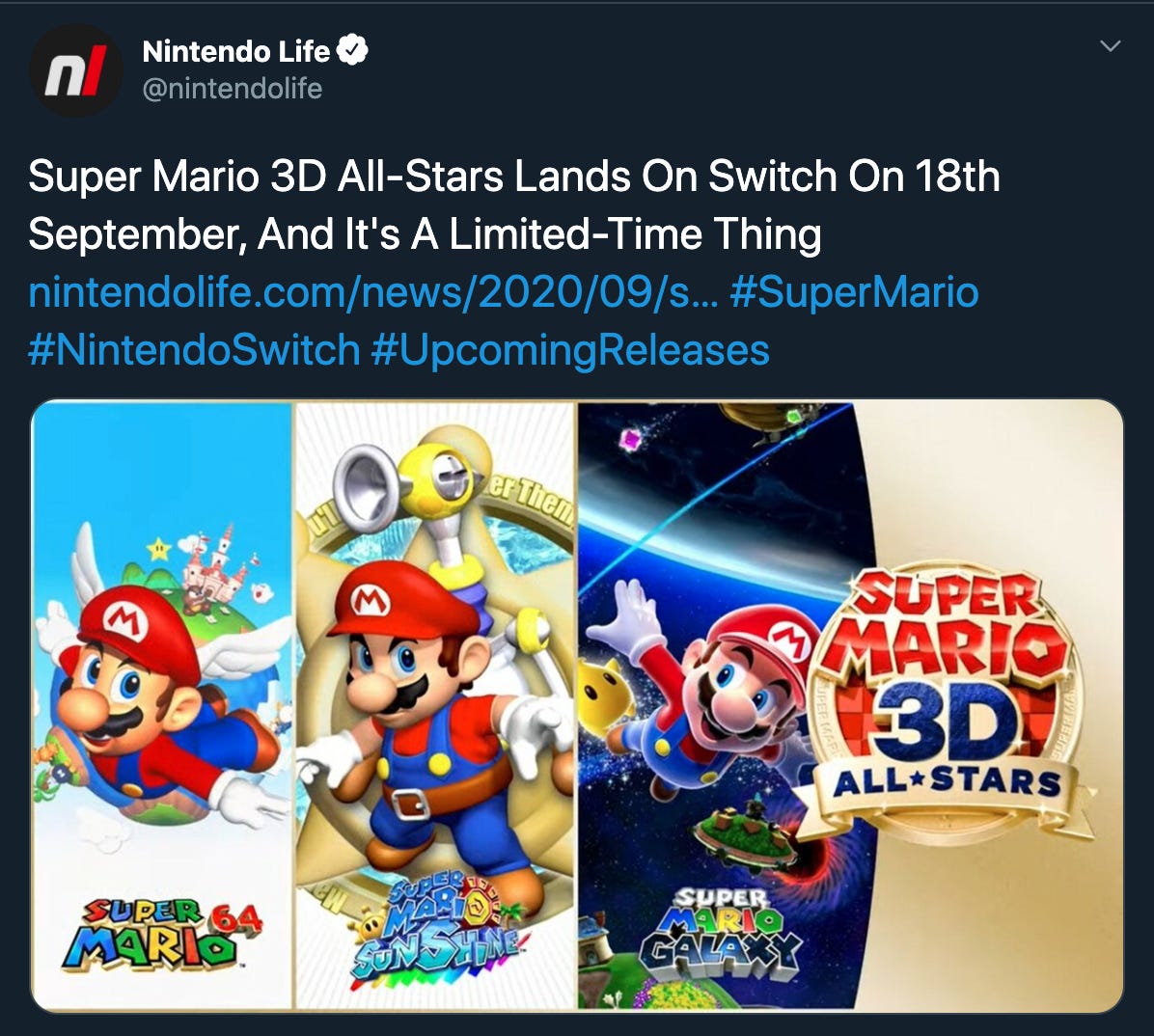 When I read that Super Mario 3D All-Stars was being delayed, I cried tears of sorrow.
And then when I learned that I was wrong and that it would be coming out very soon, I cried tears of joy.
I've never been happier to be wrong, and I can't wait to give them my money.
---
Quick Tidbits
Here are some small and developing stories you need to keep your eye on.
Cheater apologizes…kind of: if you've been on Call of Duty Warzone, you've likely encountered a cheater in your lobby at least once. It's a real problem in the game, and it's something Activision has been working hard to stop. The game developer has already come down hard on cheaters, suing a professional cheat site that sells cheats to players. So you'd think after reading this, Activision came down on another cheater, right? Not exactly. Twitch streamer MrGolds was recently caught cheating after…showing his cheating program during a live stream. The streamer was subsequently banned from Twitch, but only for a meager seven days. During this period, MrGolds released an apology video where he states that he "regrets his actions" and "is truly sorry." He must have not been that sorry, as he pulled down his video shortly afterward, which left the Twitch and CoD communities furious. The now infamous streamer has been tied to other controversies, one involving PUBG, so it'll be interesting to see what he does after his seven-day ban is up. Let's hope he gets hit with a permanent ban sometime soon.

Transgender lead: one thing that gamers, especially this generation of gamers, have been asking more of is better representation in video games. Over the last few years, we've seen exactly that, with games such as Horizon Zero Dawn, The Last of Us Part II, and Apex Legends, offering a list of playable characters from diverse backgrounds. Apex Legends in particular has been fantastic with this, as the roster is littered with characters from different nationalities, genders, and sexual preferences. Well, I'm glad to say another title has added to the growing pool of representation, and this time it comes from Tell Me Why. The three-part narrative game places you in the shoes of Tyler Ronan, a transgender male. It doesn't center around his gender identity, but the game isn't afraid to make it known that Tyler is transgender and the challenges he faces because of it. Personally, I'm so happy to see this, and it's something that I want to see more of, as the lack of representation in video games has been lackluster. Part I and II of Tell Me Why are already out on Xbox One, with part III coming on September 10.

Booming industry: I've alluded to this a handful of times in other newsletters, but it's worth mentioning at least once: the video game industry is thriving. During a once-in-a-lifetime pandemic where numerous industries, particularly the service industry, have been hit hard, not only has the video game industry been able to maintain their pace, they've been able to grow. It's not surprising, as many people are looking to online services and digital mediums for everyday tasks and entertainment. Much of the popularity stems from the growing need for entertainment and socializing, something that's blended into the fabric of video games. Two companies in particular — Activision Blizzard and Take-Two — are well-positioned to succeed during the pandemic once it's over. Much of their success comes from popular, established titles including Call of Duty, Overwatch, Grand Theft Auto 5, and Red Dead Redemption, but it also comes from their ability to set higher budgets for their AAA releases. They have more money to polish and refine their products, which means they'll likely have a better product, and that can lead to higher sales numbers. It does negatively affect small and indie game developers, but we'll chat about that in a future letter.
---
It's Getting Lengthy
Due to the extended length of today's feature, we will be holding off on today's console updates. Moving forward, expect this to be the norm as our letters can push closer to 20 minutes with these typical sections included.
---
Cloud-gaming is the real-deal and the future of gaming

(Credit: Google and Bungie)
Last week, I had an interesting conversation with a friend and reader of the newsletter.
Parker from Durham, North Carolina, shared his thoughts on cloud-gaming after learning more about Microsoft's statement on looking at Google and Amazon (instead of Sony and Nintendo) as their primary competition within video games. In it, he shared that "it feels a little short-sighted from a gaming perspective, but [it's] probably the best business decision [long-term]." He also shared that in regards to cloud-gaming, Google's Stadia would "be a good benchmark [for how the industry can move forward with the idea]."
As someone who wasn't sold on the concept, there was a part of me that rolled my eyes at the thought of cloud-gaming. In my mind, I viewed cloud-gaming as another inefficient method to further monetizing the industry but this time, it would be via subscriptions. In an era where we're already subjected to micro-transactions and "pay-to-win" games, I simply viewed cloud-gaming as another form of this god-forsaken system. I scoffed at the idea, refusing to look past the established way of gaming:
Buy a system

Buy an online pass

Purchase a game

Play

Repeat
It wasn't until recently where gamers were exposed to the milder versions of cloud gaming in the form of Xbox Game Pass and Playstation Now. If you asked me about these programs, I would've responded with pure joy and excitement. I viewed this much more favorably, not knowing that the concept was almost exactly the same. And looking back, it's hilarious to think about, as I was much more receptive to the concept of cloud gaming than the actual term. But never the less, I'm fully onboard this growing train:
Cloud gaming is the future of gaming, and this next decade will be the final years of gaming in its current state.
But why?
At a certain lense, gamers have already been exposed to the concept of cloud gaming, but in a more primitive sense.
No, we couldn't stream games, but we did have the ability to rent and even buy games. First, we did it in person with Blockbuster, Redbox, and Gamefly. As the industry started to advance, digital rentals became a more popular option, and Redbox and Gamefly adjusted their distribution strategy to offer just that. Companies that didn't adjust (RIP Blockbuster), quickly disappeared, but this wouldn't be the norm for very long.
Gamers and companies started to look away from the traditional model of gaming and started viewing models established by other entertainment brands such as Netflix, Hulu, and more. These services offered something different than what current video game companies offered: an ability to consume and re-consume any and every show available on the platform instantly.
People with Netflix and Hulu subscription plans didn't have to return the movie or show they watched. All they had to do was purchase a subscription, and consumers were free to watch the same show every day if they want to.
It's a concept the video game industry wanted to dive into, and it's something that we're slowly starting to see now.
The approach
Some may say that cloud gaming really started to form in the early-to-mid 2010s with platforms such as Gaikai and OnLive, but in my eyes, it wasn't until the late 2010s where the idea started to become more of a reality.
When Google's Stadia was announced back in 2018, the hype became real. Finally, a legitimate video game streaming service from a reputable brand. At least that's what we initially thought. The service's release in 2019 was met with harsh criticism and frustration, and it had some believing we were still a few years away. But the attempt of the concept caught the eye of certain competitors, and people knew that it was mostly execution that held back the Stadia, not the concept itself.
Google's Stadia not only allowed players to play on a TV via controller and a Chromecast Ultra unit, but it also allowed players to play on almost any device that could run Google Chrome. If the device was able to load up the browser, it could stream games (although you need a Pixel to play on phones). It's an incredible concept, and it's something that other companies are starting to take part in. Both Microsoft and Sony have a similar service in the form of Xbox Game Pass and PlayStation Now, and both concepts do quite well. Both passes offer two free games each month, and these aren't just small indie games either. One of the first free games Xbox offered was Gears of War 5, and Playstation just offered the remastered version of Call of Duty Modern Warfare 2's campaign.
The concept had companies excited, and Microsoft even declared Google and Amazon as their main competitors before they released a service comparable to what they offer. Although many people rolled their eyes at that statement (not only did I roll my eyes at this, I actually wrote about it), it was a subtle announcement of how Microsoft planned to alter their offerings. They've only double downed on this, as there are plans to announce a streaming service, code-named xCloud, sometime this month.
Who'll come out on top?
It's tough to say, but there's been a race among console manufacturers to become the first "Netflix of gaming."
As of this writing, Google's Stadia is the closest to achieving this goal, as they technically have the service up and running. What holds them back is the lack of AAA titles and brand recognition. When people hear Google, gaming isn't what comes to mind. What comes to mind is their search engine, internet browser, and email service. And with the initial launch of the Stadia being a flop, it'll be a lot harder for Google to convince gamers that their product is what they should pick, as there are better options available with the upcoming PS5 and Xbox Series X, along with the already established and popular Nintendo Switch.
Then we have Sony and the Playstation. Many (including myself) consider Sony and the Playstation to be the winners of this upcoming next-gen launch, and some would say the winners of the "console wars" as a whole. But, if gaming does take a turn towards streaming services, Sony may be in trouble, at least early on.
The company already squandered a golden opportunity to dive into cloud-based gaming when they purchased Gaikai in 2012 and OnLive in 2015 (two companies with an early vision of cloud-based gaming). During that time, Sony could've built on each companies ideas and convinced numerous developers, product manufacturers, and distributors to try their streaming service. They could've included products and games that would be available via the streaming service with little to no competition. It was sadly squandered, as the company opted for a lackluster version of Playstation Now (which has since been refined and is a great deal). Along with that, the portfolio of products that Sony offers isn't as diverse compared to Microsoft or Google, and it could be hard for them to sell a "streaming service" to other product manufacturers and game developers that are trying to dive into game streaming themselves (i.e. Ubisoft).
This all leads us to Microsoft and the Xbox. It's no secret that I've been critical about the company, their approach, and their failings over the years. But if there was ever a time to turn the ship around and not only take control of the industry but push it forward with innovation, it's now.
Microsoft is currently in a "perfect storm" situation:
The Stadia has flopped and is working to refine their product post-launch

Their Game Pass is popular

Xbox Series X and S will be compatible with most Xbox One games and every Xbox 360 and original Xbox game that was compatible with the Xbox One

Sony has wasted a golden opportunity to break into the cloud-based gaming market first

They have numerous products readily available for native streaming (phones, tablets, laptops)
They've made a few mistakes along the way with the marketing and hype around the Xbox Series X, it could be forgiven if the system is paired with an innovative streaming platform that allows gamers to play any game from the Xbox library.
At this point, it's Microsoft's lead to lose. If they can pull it off, we may be looking at the first "Netflix of gaming" company in the video game industry very soon.
---
Game & Watch
Buried underneath the hype that came from Super Mario 3D All-Stars was the announcement of a long-time favorite for old school gamers.
A brand new version of Nintendo's very first console — the Game & Watch — will be released to the public, and it'll come with a full-color version of Super Mario Bros. It'll also come Super Mario Bros 2: The Lost Levels and Game & Watch: Ball (featuring Mario). The console can also tell time, and it has a unique way of going about it as well, with little Marios and Yoshis crushing block to display the time.
It's a cool release that's sure to bring some nostalgia to older gamers and a better appreciation for what we have now for newer gamers.
You can view the full announcement on IGN.
---
Short Break
With Labor Day and our official launch coming up, we'll be using Monday as a day of rest and as a way to prepare. No newsletter will be coming out on Monday, but you can expect us to be back on Wednesday (our official release day).
Have a great Labor Day weekend, and we'll see you next week!