Discover more from AFK
Insight and analysis on all things console gaming.
Feature Friday: The Games
Why games can and should dictate your console buying experience
Game of the generation, generation comparisons, and why launch titles and upcoming games should dictate your buying decision.
---
Read time: 10 minutes
Quick Tidbits
Here are small and developing stories you should keep your eye on.
The future of PlayStation: PlayStation boss, Jim Ryan, had a chance to sit down and chat with multiple people within the gaming industry to give fans some insight into what's coming next for the beloved console. It's safe to say that we weren't disappointed, as Ryan provided some great quotes that people will be talking about and journalists will be dissecting for the next few days. One of his biggest quotes was when he claimed that the PS VR, which is their virtual reality system, wouldn't be a part of the PlayStation's future for the next three years. Although it's something "that they believe in immensely," the industry isn't at the proper point to utilize it. In a separate interview, he stated that he was proud of the work PlayStation has done to highlight female protagonists and that the launch lineup for PS3 and PS4 "couldn't compare" to what the PS5 had in store. It's another great look into a brilliant mind, and it'll be interesting to see how his comments age over time.

Far Cry 6 delayed: it's actually been a little surprising that we haven't seen more video game delays this year. Despite the pandemic, video game developers have still been able to produce and publish games on-time. Although there are some notable exceptions (Halo Infinite and Cyberpunk 2077), the industry has been able to weather the storm that is COVID-19. But sadly, it seems like we're seeing a lot more delays this holiday season. Along with the announced delay of Cyberpunk 2077, it looks like Ubisoft titles Far Cry 6 and Rainbow Six Quarantine will both be delayed well into 2021. In a released statement, it seems as if the Ubisoft team ran into production challenges resulting from the COVID-19 pandemic, and if that's the case, it's completely understandable. With that said, these games were still months away from release prior to the delay, and many people are primarily focused on what's on the horizon. With the launch of next-gen consoles only two weeks away and a plethora of new titles to come with them, I think it's safe to say that Ubisoft can make these delays and expect little to no backlash.

Game of the generation: gaming media outlet Press Start recently announced their Game of The Generation, which encompasses all games within gaming. They considered titles from the Xbox One, PS4, Nintendo Switch, and PC, and they even released a top ten list to highlight other generation-defining games. But despite being littered with quality titles such as Super Mario Odyssey and The Last of Us Part II, it was God of War that took home the title of "Game of The Generation." The 2018 reboot of the beloved franchise has been taking home award after award since it's release, and this is just the most recent award to be added to its trophy case. In their breakdown, Press Start shared that the game "had no right to be as good as it was" and praised the team at Santa Monica Studios. This award is a great nod to a wonderful game that's already getting a next-gen upgrade. Fortunately, that wasn't the only adventure we'll share with Kratos and Atreus, as God of War: Ragnarok was already teased earlier this year, with hopes of being released sometime in 2021.
---
PlayStation and Xbox Games: What You Should Know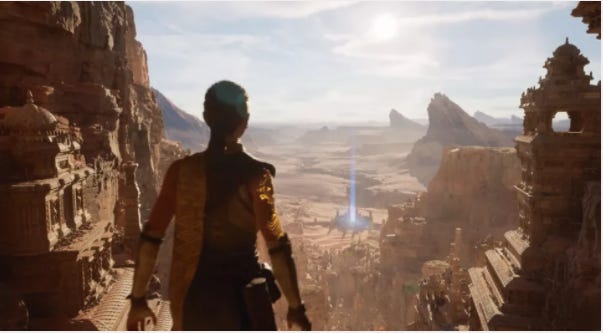 Credit: Epic Games
In the weeks leading up to the release of the PS5 and Xbox Series X/S, I'll be dedicating my "Feature Fridays" to answering consumer questions you may have. Gaming can be expensive, and nothing's worse than investing your money in a console, game, product, or service that you find no value in. If you have any questions on what you should get or if you're stuck between two choices, feel free to let me know, and I'll make sure to answer it in this section.

Remember, you can reach out to me at anytime, and I make sure to reply to every message I receive. Simply reply to this email, and that ensures your message gets sent directly to my inbox.
Over the last few weeks, we've been discussing a variety of factors when it comes to breaking down your console buying decision. And outside of knowing whether you should buy a digital or traditional console, a lot of what we've discussed has been non-consequential.
Sure, you'll have pros and cons when it comes to the Xbox Game Pass or PS Plus, and maybe you'll have certain preferences when it comes to the controller scheme, but these aren't factors that you should heavily consider when it comes to your buying decision.
But what we're talking about next should almost certainly guide your buying decision, as games are the lifeblood of the console. You can have the most powerful console in existence, but that won't really matter if the games are crap.
Games sell consoles, and it's this mindset, along with understanding your preferences, that should guide you towards what console you should get.
Let's getting rolling.
Xbox Games
When it comes to Xbox games, here's what you can expect as soon as the Series X and S is released:
Assasins Creed Valhalla

Watch Dogs Legion

Dirt 5

Yakuza 7: Like a Dragon

Tetris Effect: Connected

Gears Tactics

Fortnite

Call of Duty Black Ops: Cold War

Bright Memory

Devil May Cry 5: Special Edition

Enlisted

Evergate

NBA 2K21

Observer: System Redux

Warhammer: Chaosbane Slayer Edition
Of all the titles currently available, ten of these games have already been released. Alongside that fact, none of these games are true, next-gen exclusives for the Xbox Series X, as Assassin's Creed, Black Ops: Cold War, and Watch Dogs Legion are all third-party titles.
So, if you're basing your buying decision solely on the games being released, it's safe to say that Microsoft is providing you with a mediocre set of games. With that said, the appeal of an Xbox Series X isn't in the games that are coming now, it's the games coming in the future. I've mentioned this a lot, and I'll likely mention it a lot more in the future:
You buy a Series X because of the potential it has.
The Series X is, in my eyes, geared more towards the patient gamer. The one that sees the potential of what the console can offer and can live off the third-party games and the older, backwards compatible games made available through Game Pass.
With the announcement of the Zenimax acquisition and as a result, the purchase of Bethesda Studios, Microsoft has made it quite clear that future games such as Fallout and The Elder Scrolls are more than likely to become Xbox exclusives. This presents a golden opportunity for the Microsoft and Xbox team, as they now have a chance to reposition the Xbox Series X as the go-to console for all things RPG. And with titles like Halo Infinite and Fable coming soon, next year could be an amazing year for games for all Xbox owners.
Another thing to think about when getting a Series X or S console is the number of games you receive on Game Pass. If you opt for a subscription immediately, that means you'll have thousands of games available to you on day one. Granted, all of the games provided are games that have been previously released, but with the sheer volume of games available, it's likely you haven't played all of them.
I won't go too in-depth regarding the Xbox Game Pass, but you can always check out my breakdown on it here.
When it comes to Xbox Series X games, a big question you need to ask yourself is:
"Am I patient enough to wait for these exclusives?"
Although you'll have a variety of previously released titles and next-gen third-party titles available to you, that can only hold you over for so long.
At some point, you'll want something new.
PlayStation Games
As for PlayStation titles, here's what you can expect:
Assassin's Creed Valhalla

Astro's Playroom

Borderlands 3

Bugsnax

Call of Duty: Black Ops Cold War

Demon's Souls

Devil May Cry 5: Special Edition

DIRT 5

Fortnite

Godfall

Maneater

Marvel's Spider-Man: Miles Morales

Marvel's Spider-Man: Remastered

Mortal Kombat 11 Ultimate

NBA 2K21

No Man's Sky: The Next Generation

Observer: System Redux

The Pathless

Planet Coaster: Console Edition

Poker Club

Sackboy: A Big Adventure

Watch Dogs: Legion

WRC 9
Like the Xbox Series X and S, the PS5 has a handful of previously released titles that have been upgraded to fit the demands of the next-gen console. There are seven total titles that have been previously released, with the rest of the games being true next-gen launches. Of this list, there are eight third-party titles that will be released on the PS5 and Xbox Series X and S.
But the big thing I wanted to highlight is the amount of true next-gen exclusives that will be coming to the PS5. Of the games listed above, there are four next-gen exclusives that will be available for gamers on day one. Two of the titles — Spider-Man: Miles Morales and Sackboy: A Big Adventure — are games that build off the foundation of previously successful games (Marvel's Spider-Man and Little Big Planet).
Unlike the Xbox, the PS5 will offer a quality list of next-gen exclusives for gamers, which is something that's very big on people's lists. And if players have a PlayStation Plus account, they'll also have access to the PS Plus Collection, which is a curated list of generation-defining titles for the PS4.
(Yes, God of War is on that list).
Like I mentioned above, I won't go too into detail about the PS Plus Collection and PS Plus in general, but you can find my breakdown here.
So all of this leads me to this point:
You're going to get a PS5 because of what it can provide you right now.
Sony truly believes in the concept of "games sell consoles," and they've made sure to deliver on that by providing a list of quality games for gamers right from the get-go.
The future of the PS5 looks pretty great too, with games such as God of War: Ragnarok, Ghostwire Tokyo, and Rachet and Clank: Rift Apart all slated to come out this holiday season or in 2021.
With that said, the PlayStation does lack in the sheer volume of games available, as it does not have the same backwards compatibility settings as the Xbox Series X, nor does it have a service similar to the Game Pass.
Granted, you will have access to almost all of the PS4 games available (besides ten small and obscure titles), but that still can't compare to the number of games available with an Xbox Series X or S.
Another thing to keep in mind is the price of the games.
Sony and the PS5 team have confirmed that their next-gen games will cost gamers around $70, which is a $10 increase from what PS4 games used to cost. There hasn't been any confirmation or indication that Xbox Series X and S games will cost that much, so it looks like this will only be limited to PS5 owners.
This can get expensive over time, especially if you own a PS5 Digital, as you won't be able to purchase used titles.
With that said, the PS5 is still a wonderful option for gamers that are looking for quality titles and exclusives right at launch.
If you're a PlayStation fan, you'll certinaly be happy with this news. And if you're an Xbox fan that's not as patient or sold on the Series X potential, you may want to reconsider your options.
---
Every Xbox and PlayStation launch console
Despite their differences, Microsoft and Sony have been responsible for some truly iconic gaming systems. Many people glowing look back at the times of the PS2, while others love to reminisce about the memories they had with the Xbox 360.
Except for the red ring of death. F**k that issue.
Twitter user Shinobi 602 gave us a chance to relive some of these memories, as he provided all of Twitter with some awesome side-by-side comparisons of all the Xbox and Sony launch consoles.
It's a cool thing to see, and it's incredible to think how far gaming has come since the release of the original Xbox and the PlayStation. It'll be really fun to see how the Xbox Series X and the PS5 look like, and what we think of them, whenever the next-generation of consoles hit.