Discover more from AFK
Insight and analysis on all things console gaming.
Feature Friday: So, what should you get?
With all next-gen consoles revealed, we break down what console works best for you.
God of War, pre-order chaos, and a deep look into what console works best for you.
---
Read time: 11 minutes
Quick Tidbits
Here are small and developing stories you should know and keep your eye on.
Ragnorok teased in 2019: arguably the biggest highlight of Wednesday's live stream (even more than the actual PS5 price announcement) was the teaser of God of War: Ragnorok. Ever since the God of War reboot was released in 2018, fans have been clamoring for a sequel. So to see a teaser of the game was extremely exciting, even if the only "action" we got was Kratos saying two phrases and the Greek symbol for "god of war" with Nordic runes were displayed (the runes spelled out Ragnorok FYI). But it turns out we actually got a teaser for the much-anticipated sequel last year. God of War's Creative Director, Cory Barlog, actually tweeted out the words "Ragnorok is coming" in a Twitter thread recapping his last six years working on the series. No, he didn't tweet that out specifically, but the first letter of each tweet within the thread spelled out the phrase. If you're interested in seeing this yourself, you can check out the thread here.

PS5 pre-order chaos: despite all the hype and excitement the PS5 has generated, it was quickly forgotten by the absolute mess that is their pre-ordering date. The live stream ended with no confirmation on when consumers could pre-order the console, which naturally led to people searching online for answers. Well, they found it, as Geoff Knightly tweeted shortly after the event that pre-orders would be accepted THE NEXT DAY. What's worse about this shadow-announcement is some retailers like Gamestop were blindsided by this news and accepted pre-orders on the same evening of the event. It was chaos, as thousands of people flooded the online stores of Walmart, Amazon, and Target, as well as visit stores like Gamestop in person, to pre-order the system. The console quickly went out of stock, and it left many people frustrated, and Xbox even took a slight jab at their competitors.

It's impossible to see the negative impact on sales Sony will have based on this experience alone, but it's sure to be a lot. We'll talk more about this on Monday.

Nintendo 3DS discontinued: pour one out for a real one. Yesterday marked the official end of the Nintendo 3DS and 2DS, as Nintendo has stated they will no longer make the handheld console and has marked the products on its site as "out of production." This means that anyone who wants to purchase this device will need to go through a third-party vendor. Although I'm sure there will still be units available around the web, prices will certainly shoot up with this knowledge. With that said, its existing library of games will still be available for consumers via the Nintendo eShop, so you'll still be able to play titles such as Pokemon X and Y and New Super Mario Bros. 2 on the Switch.
---
Xbox or PlayStation: What Should You Get?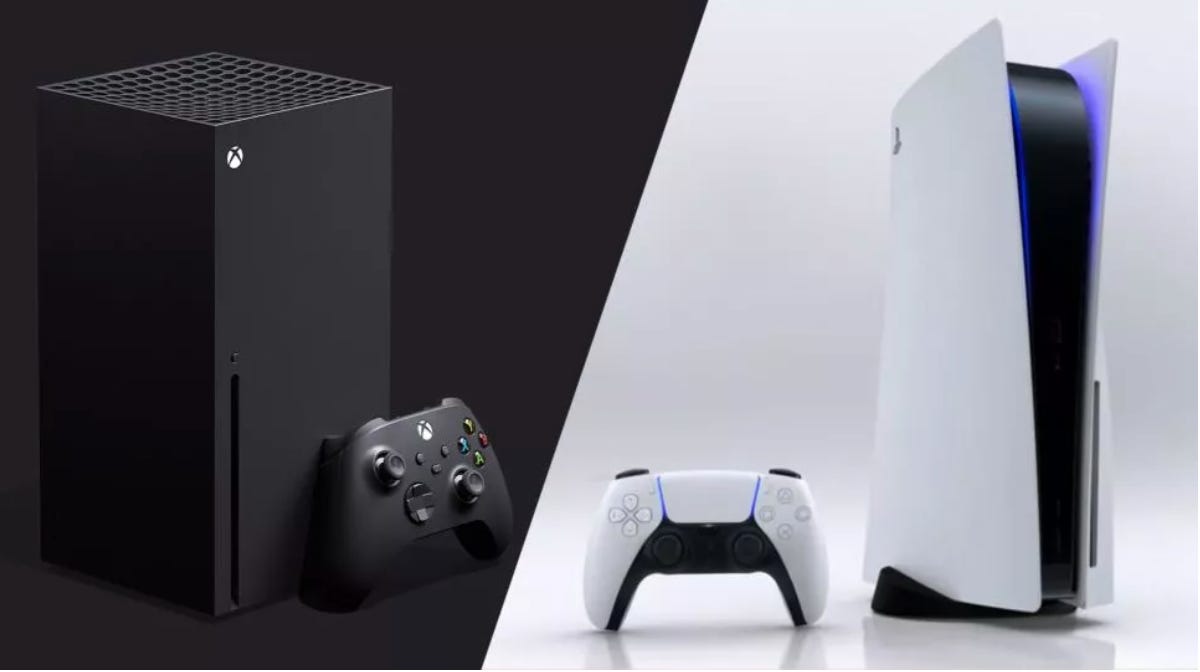 Credit: Microsoft/Sony
Well, the Xbox Series X and S and the PS5 and PS5 digital are officially out.
No more speculation. No more guessing. No more rumors.
We finally have a full view of our console offerings and what we can expect this holiday season.
It's been a long time coming, with some saying it took a little too long for each console to be announced. But with COVID-19 complications, as well as the "punch-and-counterpunch" method each company adopted, it's no surprise that we're just getting the full-view.
And despite the please-let-this-be-over year that is 2020, this is one of the few bright spots:
Two next-gen consoles that push the industry forward, with room to push it even further in the months and years after launch.
I'm so excited for this holiday season, and there's a strong bet that I end up with both consoles sometime in 2021. But now with everything out on the table, it begs the question: what console should you get?
The next-gen Xbox and Playstation both have pros-and-cons, and it'll ultimately come down to personal preference (or even *gulps* brand loyalty) in the end. With that said, there's still a lot to think about, and we're hoping to make that decision easier for you.
So, what console should you get?
PlayStation 5
If you're opting for a PS5 or PS5 Digital, you're getting exactly what you expect and all the value upfront (even if Sony's marketing tactics don't line up with that statement).
All year, Sony has leaned on its robust gaming collection, and it's no surprise. The Playstation has some of the best exclusive titles out there, from the aforementioned God of War and Uncharted to Crash Bandicoot and Ratchet & Clank. In Sony's eyes, the best way to sell consoles is to do so through your games, and they're doing exactly that.
They're coming out with some great exclusive launch titles too. Here's what you can expect:
Astro's Playroom

Demon's Souls

Destruction AllStars

Godfall

Just Dance 2021

Marvel's Spider-Man: Miles Morales

Sackboy: A Big Adventure
It's also worth noting that titles such as Call of Duty Black Ops: Cold War, Assassin's Creed: Valhalla, and Cyberpunk 2077 are all planned for release shortly after, but these are not PlayStation exclusives.
PlayStation users will also have access to the PlayStation Plus Collection, which gives players access to free downloads to "generation-defining" PS4 games including Bloodborne, God of War, and Persona 5. The curated collection is filled with amazing titles and will give PS5 owners multiple options. It's likely that owners will not have played all the games in that collection, so this just adds to the potential "new exclusives" PS5 owners will get to try (I'm excited to finally play Persona 5 and finish Bloodborne).
On to the techy side.
Consumers will get a chance to purchase either a traditional PS5 with the disc drive or the PS5 Digital, which comes without it. At $499 and $399 respectively, these consoles are fairly priced and "match" what Xbox is currently offering. With that said, Sony and the PlayStation do have a slight edge over Xbox's consoles, specifically the Series S.
The cheaper next-gen Xbox is currently advertised as an "entry-level" console and has specs that back that fact. It currently has less storage and a less powerful GPU compared to the Series X. Now compare that to the PS5 Digital, which is nearly identical to the traditional PS5 outside of a disc drive. The PS5 Digital has more storage and a stronger GPU, but it also has Wifi 6 and USB-C.
For $100 more, you get everything you'd get from the traditional PS5 sans disc drive. It's a pretty good deal when considering console longevity. Consumers want a console that'll last, and although the Series S is built for that (it's still a strong console, no doubts there), it's easy to look away when you can get something better for $100 more.
But with all this said, it's not all "sunshine and rainbows" for the PS5.
It's recently been confirmed that the PS5 won't natively run any games from consoles older than the PS4. Along with that, Sony's snobbiness on trying to keep games next-gen exclusive was also a lie, as many games including the anticipated Spider-Man: Miles Morales and Horizon Forbidden West will be available on the PS4 as well (which isn't a bad thing for me, but it has other consumers furious).
Along with that, PS5 games will be transitioning to a $70 price tag. It's no surprise, and we were headed in this direction for a while, as more and more resources are poured into games now more than ever. But this still has many fans furious, as some still haven't gotten over the transition from the $49.99 to $59.99 price tag a few years ago.
Oh, and if you're trying to pre-order a PS5 or PS5 Digital? Good luck. There have been multiple reports of stores going out of stock within SECONDS of making pre-orders available. It's been an absolute shit show, and people are looking for any and every opportunity to pre-order, even if that means staring at their screens for hours and hitting F5. Sony claims that this was to prevent people from buying their consoles and reselling it at a higher rate, but anyone that's not a diehard fan can see that's "fake news."
But despite all the negatives and shady business practices by Sony, the PS5 is looking like it'll be dominating sales and populating homes once again.
Xbox
If you're buying an Xbox, you're doing so for its potential and long-term value. The strength of the Xbox is in its console and Game Pass.
There's no doubt about it:
The Xbox Series X is the most powerful console to ever hit the market, and it'll be on par with some of the higher-end PC rigs you may see today.
Incredibly, Microsoft is willing to sell this console at a $499 price tag. That's a steal, and Microsoft is more than willing to eat the cost.
Although PCs will quickly outpace the Series X in terms of performance within the next year (or even the next six months), the fact that Microsoft is even achieving this benchmark is still incredible. They are leading with incredible value in regards to console performance, and it's something that I highly respect.
Microsoft will also be releasing the Series S, which is considered the "entry-level" model of their next-gen offerings. Although people may view that term with negative connotations, I ask them to look past it. The Series S is still an impressive machine and is stronger than any current-gen console on the market. And at a $299 price point, it's the cheapest next-gen console on the market as well. When that's paired with their Ultimate Game Pass and their xCloud system (more on that later), it's an incredible value.
Oh, and let's not forget about their payment plans. As a reminder, here's what they look like: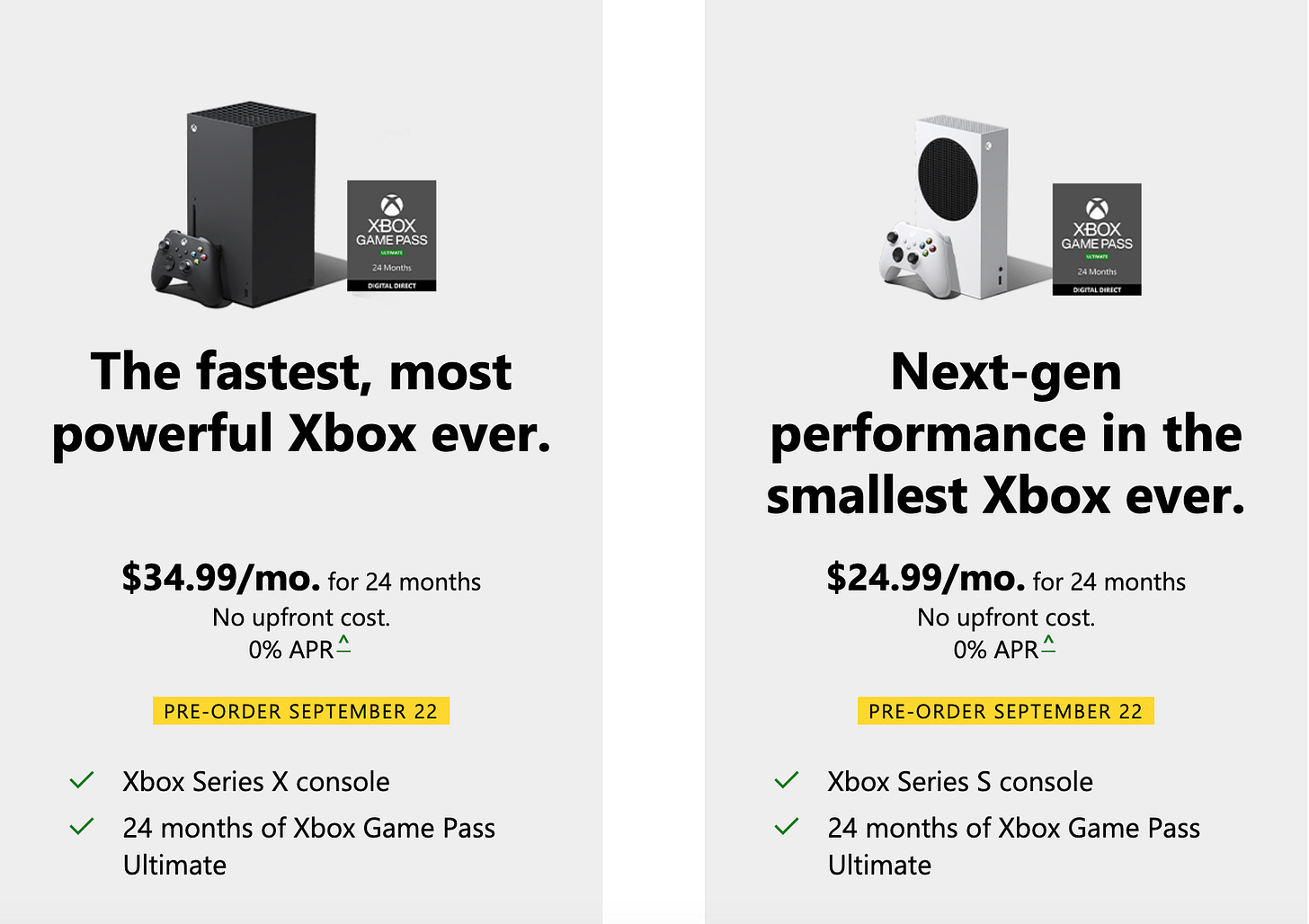 Let me be clear: nothing like this has ever been introduced and is currently on the market.
Again, Microsoft is leading with incredible value and they are making entry to gaming easier and more affordable than ever. Not only do consumers have an option to get a cheaper Xbox, but if they aren't happy with that, they can still afford the Xbox Series X via their payment plan.
And with no upfront costs and 0% APR, that's better than what most credit cards will give you. Granted, you'll only save around $60 and $20 respectively when you compare buying upfront versus payment plans, but it's still amazing that Xbox is offering this option and lowering the financial barrier.
Gaming should be enjoyed by all, and that's something Microsoft is standing by.
Now we take a look at the xCloud and Ultimate Game Pass.
Although the xCloud is currently in Beta, it has a chance to revolutionize the gaming industry. Having the ability to play AAA titles on your phone or tablet (unless you're an Apple user) is incredible, especially for those of us that travel a lot and can't access our console as easy. People scoff at this idea because of the current lockdowns and curfews going on around the world due to COVID, but if things go back to normal, I hope people recognize the value.
Cloud-gaming is the future of our industry and having access to high-quality games right from our phones aligns with what people want today:
Instant access to all their favorite tools and apps.
As for the Ultimate Game Pass, this is another point where the Series X and S shines. Having full backward compatibility is amazing, and the fact that owners can access thousands of titles that spans generations is wonderful. Although Xbox's exclusives list isn't as robust as the PlayStation, it still has some great games. I'll love the opportunity to play Gears of War, Halo Reach, and Jade Empire, and I'm sure this will be one of the first things owners jump into instead of their launch titles.
Xbox is leaning on its history of great games, and providing access to them decades from their original release is a big plus.
Oh, and you'll know exactly when the Series X and S will be available for pre-order (September 22) and where to pre-order it.
I never thought this would be a plus considering how simple this is, but considering how bad Sony dropped the ball, here we are. Transparency is always key to building and retaining fans, and Microsoft has been doing exactly that.
But, like the PS5, it's not all "blue skies."
A big knock on the Xbox is its lack of exclusive titles and lackluster launch lineup. Here's a look at their offerings:
Destiny 2: Beyond Light

Dirt 5

Gears Tactics

Tetris Effect: Connected

Watch Dogs: Legion

Yakuza: Like a Dragon
When you subtract Assassin's Creed, Black Ops Cold War, and Cyberpunk 2077, this list isn't something that excites a general consumer. And with Halo Infinite delayed until 2021, it leaves consumers begging for more. People have countered that Xbox technically has more exclusives, but the amount of exclusives doesn't equal the quality of exclusives.
As for pricing, the Series S has been taking some hits. Many people, including myself, have asked if the console is worth it, especially since the PS5 Digital gives you a lot more for an additional $100. Granted, features will likely become available to narrow the gap, but do people want to buy additional features? For most people, they want something ready to play straight-out-of-the-box.
Oh, and it remains to be seen how xCloud pans out. It's still in Beta, so people will likely find some problems along the way that'll need to be fixed. And if people aren't as receptive to the concept over time, it could be a disaster for Microsoft, as they're putting a lot of "eggs in the basket" regarding this concept.
But with all this said, Microsoft has provided a wonderful product, and I think this will be the best launch they've had since the Xbox 360.
We'll have to wait and see what else is announced and released leading up to each console's release, but one thing is for sure:
Watching these companies "duke it out" for consumer attention will be fun.
---
Video games help refugees
God bless this industry and the people who use it for wonderful causes.
Back in 2007, Lual Mayen stumbled upon a computer for the first time while at a refugee camp and immediately had a love and interest for it. His mother then proceeded to save for three years, doing anything to get $300 and buy Mayen a computer. And once he got the computer? He took off.
Mayen walked six hours a day to work on this computer for only two hours, and he made the most of it, teaching himself how to code and develop.
Fast forward 13 years later, and Mayen is now the CEO of Junub Games and the creator of Salaam, a mobile game that has players guiding a refugee from a war-torn environment to a peaceful one.
And the best thing about this game?
In-game purchases such as water and food go towards buying water and food for actual refugees.
Yes, you read that right. Your in-game microtransactions don't line the pockets of Mayen. It fills the stomachs and quenches the thirsts of refugees fighting for something more.
I don't even care if this story isn't related to console gaming. It's incredible, and you need to see and hear this for yourself, which you can do so here.
---
Have a great weekend, and we'll see you on Monday!