Discover more from AFK
Insight and analysis on all things console gaming.
Feature Friday: Are Microsoft and Xbox back on track?
How the Xbox Series X and S announcement may have redeemed the brand.
Deals, memes, and why Microsoft is looking like a legit competitor again.
---
Read time: 10 minutes
Whoops.
In an effort to stay transparent with my readers, I like to share any blatant errors I may have made in previous newsletters.
In Wednesday's newsletter, I stated that the Xbox Series S was $299, only to make this comment a few sentences later:

This is clearly incorrect, as the Series S is $299 as mentioned earlier.
Shout out to CJ from Pittsburgh, PA, for pointing this out.
---
Quick Tidbits
Here are small and developing stories you should know.
Ubisoft Forward: European publisher Ubisoft held their second-ever Ubisoft Forward Livestream yesterday, and there was a lot to see. Along with highlighting their latest game, Immortals Feynx Rising, the show also gave us a look at Watchdogs, a remake of the original Prince of Persia (YES), and a list of other titles. The publisher has already been making noise with its first-person battle royale, Hyperscape, and it's great to see what other titles they are releasing this year and next. The timing of the live stream comes at a great period too, as I'm sure they'll be looking to have their games launch with the PS5 and Xbox Series X.

Give $90, Get $100: nope this is not a typo. Yes, you are reading this right. There is currently a deal on Newegg that allows you to pay $90 to get $100 of Xbox store credit. You'll need to use this code to claim the deal — EMCDRGD34 — and you'll need to act fast, as the deal ends today. The deal is only limited to two per customer, so you could pay $180 and get $200 back in store credit. Oh, and I'm not affiliated with Microsoft or Newegg in any way. This is just a great deal I found. You can find the link here.

BLOPS Cold War Multiplayer: anyone that knows me knows that I love Call of Duty. Since the pandemic started, I've been logging serious hours on Warzone, so you can only imagine the excitement I felt when Treyarch released multiplayer footage of their upcoming title, Call of Duty Black Ops: Cold War. The event, which was over four hours long, not only showcased actual gameplay, but it also had some great interviews with lead developers on the thought process behind the upcoming title. Even if you aren't a big nerd about CoD like I am, it's still fun to watch the gameplay and see the subtle (and not so subtle) changes they've made. You'll find the live stream here.
---
We don't want you here forever.
Due to the extended length of today's feature, we will be holding off on today's console updates. Moving forward, expect this to be the norm as our feature letters can push closer to 20 minutes with these typical sections included.
---
How Xbox may have pivoted forward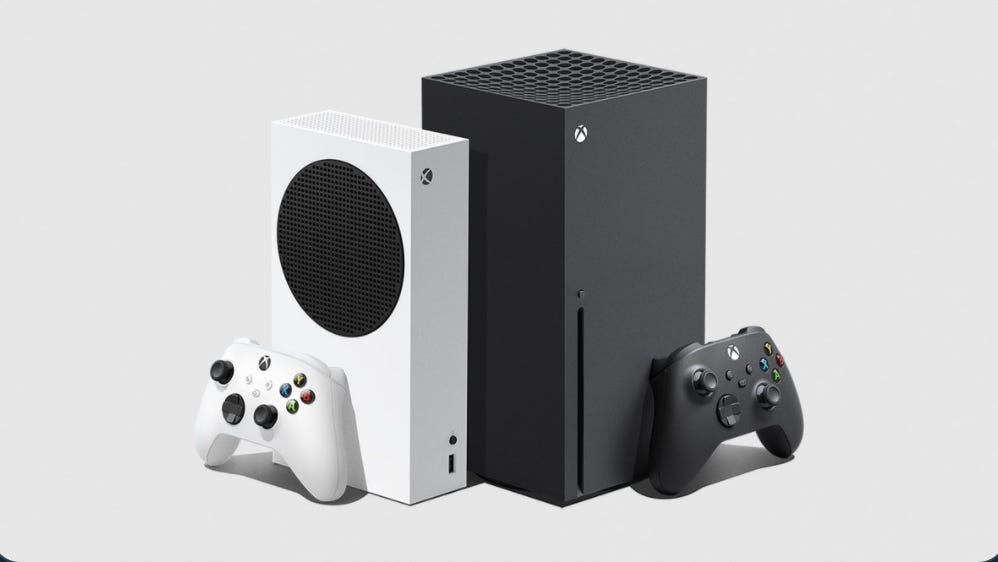 Credit: Microsoft
Earlier this week, we were treated to an "official" reveal of the Xbox Series S and its costs, as well as the costs for the Series X.
I put quotations around that because, let's be honest, everyone knew about the Series S for quite some time. Microsoft has been exceptionally bad at keeping their second console a secret, from game vendors leaking info to selling controllers that mention the console on the packaging. It's ruined a lot of the hype they could've built up, and what was supposed to be a robust marketing campaign ended up with them putting out fire after fire. I won't add all the leaks here but Googling "Xbox Series S leaks" will give you some humorous results.
For those that don't know, I've been pretty critical about the way Microsoft has handled their next-gen Xbox. From lackluster launch titles to controversial statements made from their C-level executives, Microsoft has been getting attention for all the wrong reasons.
With that said, I do think that this official announcement has pivoted them in the right direction. People who once mocked the console *raises hand* are now excited about it, and truthfully, it does have me second-guessing whether or not I want to purchase a PS5.
Let's take a look.
The official announcement and price of the Xbox Series S were first leaked by tech news and reviews site, Thurrot, on September 7, and it quickly spread to other outlets including The Verge, Gamespot, and Tom's Guide. Considering their responses in the past, you'd think Xbox would just stay hush until their designated announcement date, right?
Nope.
They tweeted this out shortly afterward: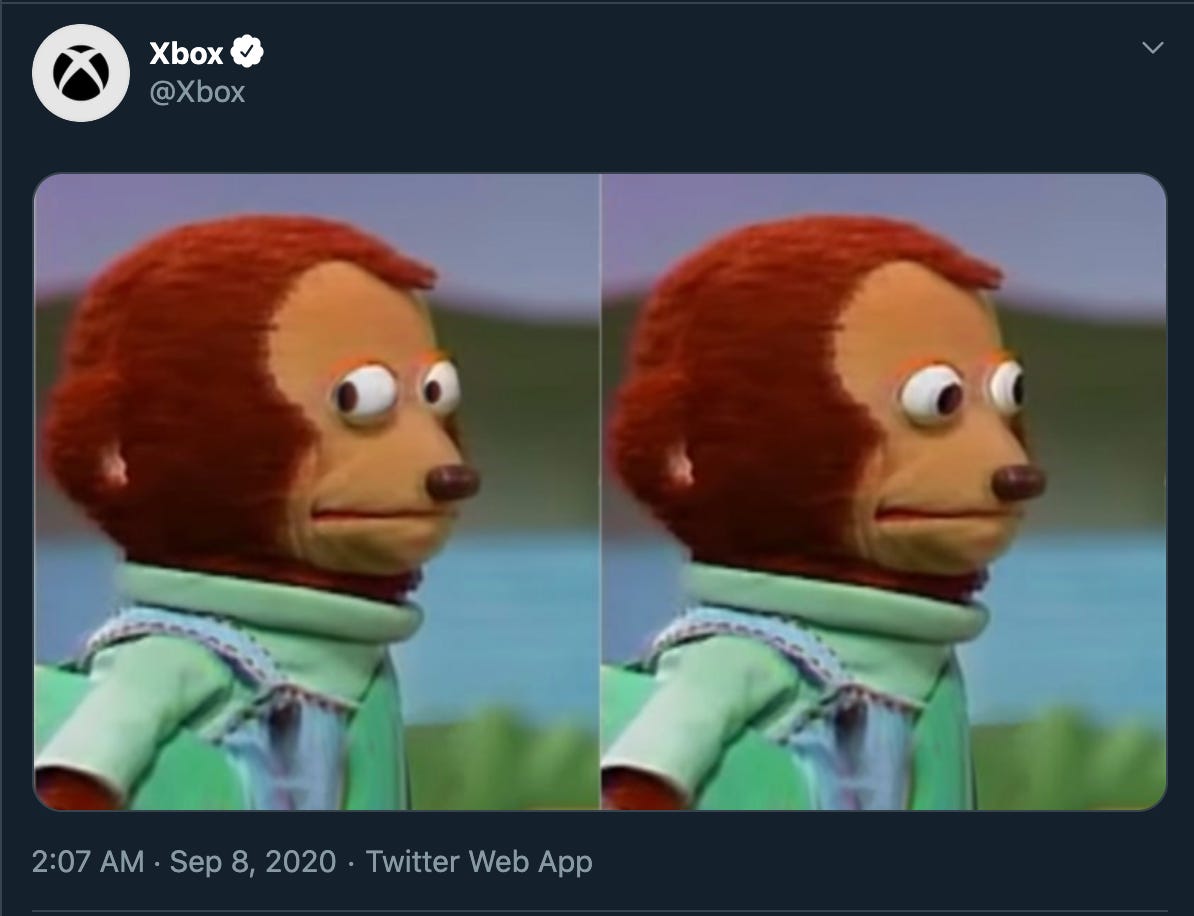 As well as this in the replies: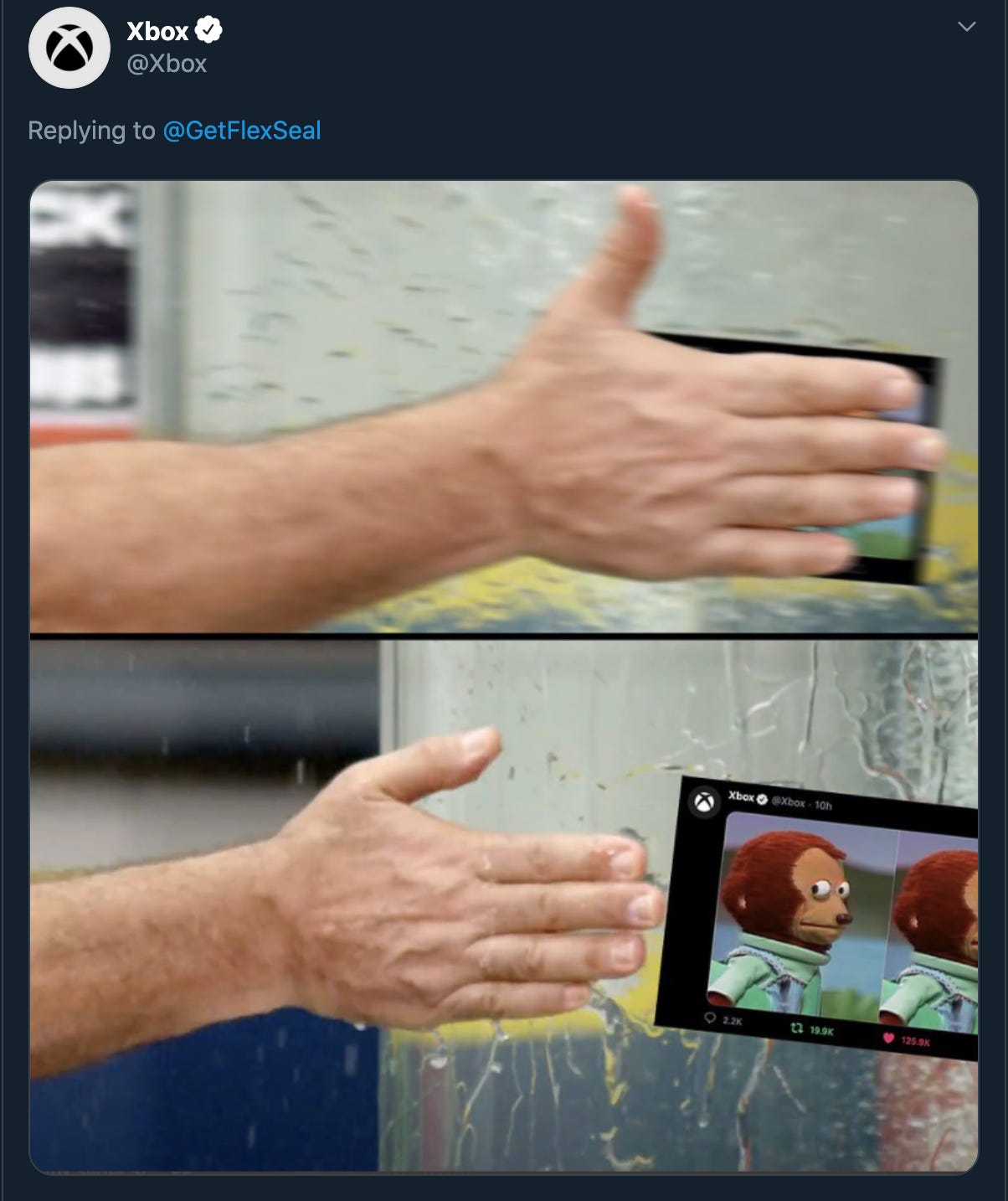 This was BRILLIANT by their social team. Instead of just ignoring the noise, Xbox decided to address the leaks with memes. Not only are they self-aware, but they don't themselves too seriously either, which people love to see.
This was only the beginning of what ended up being a phenomenal social media response, as Microsoft moved forward with officially announcing the Xbox Series S, its costs, and what you can get with it. This, understandably, led to trolls and memes, which they handled beautifully: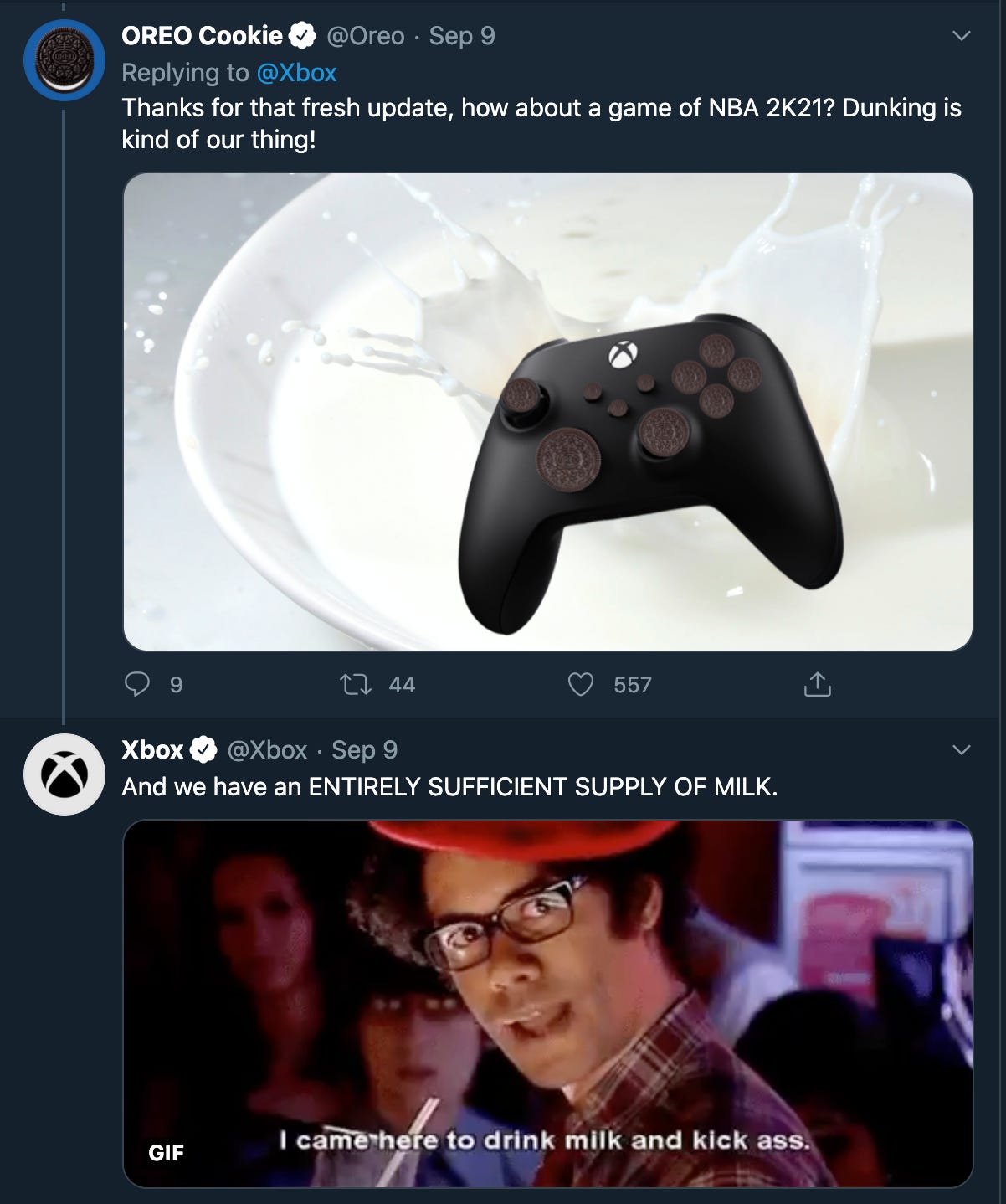 Interactions with other well-known brands like this are always great for business, as it helps Xbox expose themselves to other markets they may not have intentionally targeted. I'm not going to show all of their responses (there's a lot), but I highly recommend looking through the Xbox Twitter account. It's a gold mine, and it had me laughing at their replies for a solid 30 minutes.
Anyways.
Clever marketing and social media posts can only get you so far. To actually "stick the landing," you need to wow people with your product and the offerings behind it.
Again, Microsoft nailed it.
The Xbox Series X and S are, by far, the most powerful consoles to ever come to console gaming consumers. I'm not much of a techy person, but looking at the chart below, it's easy to see that these consoles (especially the Series X) are beasts: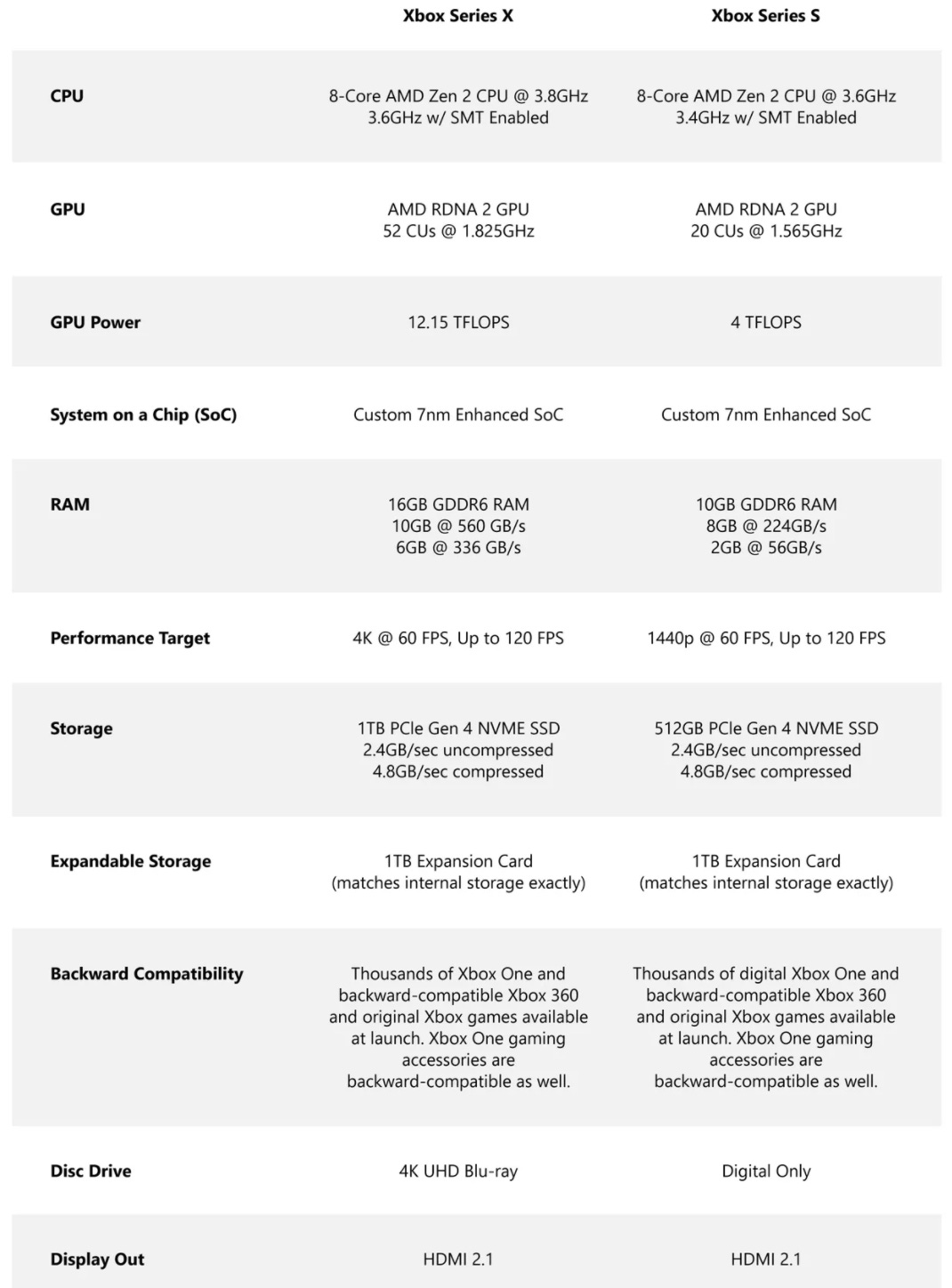 Credit: Microsoft
Polygon writer Samit Sarkar does a wonderful job making sense of what you see, so if you'd like a more in-depth analysis on the technical side of the system, check out his article here.
The most notable thing here is the backward compatibility. Sony and the PS5 have been ripped for not offering backward compatibility for any console older than the PS4. So for Microsoft to offer compatibility with not only Xbox One games, but also Xbox 360 and original Xbox games are huge and could be another reason why people sway their way.
You'd think that after all this, Microsoft would be done and just leave it at that, right?
Nope.
As a cherry-on-top, Microsoft has given players a fair price point and multiple ways to pay.
The Series X will cost $499, while the Series S will cost $299. Don't get me wrong, that's still a lot of money, but considering what you're getting from a purely technical standpoint, it's a great price. The Series X is the same cost as the Xbox One during its initial launch, and the Series S costs the same as a Nintendo Switch during its launch. The only difference is that these two next-gen consoles are much beefier. With all this tech installed, you'd think that both Xbox consoles would be a lot more expensive. But nope, Microsoft is maintaining the price point and betting big that its subscription model will boost sales (more on that later).
And as an additional option (and people love having options), Microsoft has added payment plans for both consoles. For $34.99 a month for 24 months, you'll be able to enjoy the Series X, while you'll need to pay $24.99 for 24 months to get the Series S. Both plans come with 0% APR, which is a great plus considering most credit cards won't offer that unless you took advantage of a promotional period or recently signed up.
Along with that, Microsoft has baked in 24 months of its Ultimate Game Pass with each payment plan. This is huge, as Microsoft has recently discontinued their Gold plans in favor of this new subscription system. Now along with online support, subscribers will also be able to download free games every month, take advantage of discounts and deals, enjoy in-game perks, and play their downloaded games on any Android phone or tablet device. Microsoft has claimed they want to make a move into cloud-gaming, and this is another step towards that goal
The differences between buying a console upfront and opting for a payment plan isn't much (around $20 in savings for the Series X and around $60 in savings for the Series S), but the fact that Microsoft has still offered all of this is great. Getting into gaming can be expensive, and it's why many people have opted for other modes of entertainment. By not only offering a cheaper version of a high-quality console but also providing a solid payment plan, it gives people options to "jump in" and get involved.
Announcing the Xbox Series X and Series S before the PS5 was extremely risky for Microsoft, but right now it's paying off. Instead of trying to clear the bar that Sony would've set by announcing first, they've set the bar, and it's Sony's turn to answer. Microsoft and the Xbox are in a great position to leverage the hype and personability they've established during this period into sales this holiday season…if they can keep it up.
But…
This could all go down the drain if they don't respond properly to Sony and the PS5. There have already been rumors that Sony plans on undercutting the Xbox Series X by giving the PS5 a $399 price tag, which isn't surprising. How they handle that news will be important, and they'll need to continue offering reasons why the Xbox is worth it at that price point to keep this positive momentum going.
As of this writing, the PS5 has a more robust set of titles coming out, which has been a huge criticism of Xbox in the past. This, of course, could change in the coming months, as more titles are expected to be announced, but Xbox will need to leverage their backward capability features, Xbox Ultimate Game Pass, and partnership with EA Play to even the playing field.
After a rough few months, Microsoft and Xbox are finally on the right trajectory, and I hope they continue it.
It's going to be an exciting holiday season.
---
*Facepalm*
In my effort to better understand the industry, I've come across some interesting videos, articles, and tweets.
This time, I was introduced to the highly-cringy, not-worth-the-$5-subscription Twitch streamer that is InvaderVie, who plays games such as Animal Crossing and Breath of The Wild. Back in April, she streamed a video of herself subscriber shaming viewers that have yet to subscribe to her channel (a $5 subscription).
Mocking people who don't subscribe, she said:
"I'm so irresponsible with my money, I can't support the entertainment that I enjoy."
Yes, that quote is verbatim.
It's a terrible take that drew a significant amount of controversy from the streaming community, and it's a great example of what not to do if you want to make it as a streamer. InvaderVie already has a history of emotionally manipulating her viewers, and this just adds to an already infamous reputation.
With that said, I did find a podcast that reacts to what she said, and it's hilarious and well worth the watch. You can find it here.
---
Thank you
Since my official announcement of AFK on Wednesday, we've had a flood of new signups and subscribers. I just want to express my gratitude for those that have decided to join me in this endeavor, and for those that have stuck around. This newsletter is something I've wanted to do for a while. To see it come to fruition and to see so many people receptive to the idea leaves me happy and humbled.
If you've enjoyed what you read and are interested in supporting, here's how you can do it:
Subscribe: subscribing is the best way to help support the newsletter. Whether you sign up for free or you opt for a paid subscription, you'll still get everything, but paid subscriptions do help in supporting the longevity of AFK.

Share: if you enjoy what you've read, please consider sharing this with five of your friends, family, co-workers, and more. The growing readership is another great way to support AFK's long-term growth.
But regardless of what you do, I just want to say thanks and that I really appreciate you.
We'll see you on Monday!