Discover more from AFK
Insight and analysis on all things console gaming.
Diversity in Video Games
A look into the people behind a billion dollar industry
Welcome to our first feature! Every Friday, we'll be taking a deep dive into certain verticals of the video game industry. As this is a special newsletter, we will be mixing up our formatting, so don't be alarmed if you don't see a section you enjoy. It'll be back on Monday.
Oh, and let us know what you think by replying to this email! Good, bad, or neutral, we want to hear what you have to say.
---
Read Time: 11 minutes
Quick Tidbits
Here are some small and developing stories you should keep your eye on.
BLOPS Cold War: Call of Duty Black Ops is back, and it's now taking us to the 1980s and the Cold War. On Wednesday, Warzone held an in-game event titled "Know Your History," where it had players perform several tasks eerily similar to the Vorkuta missions in the first BLOPS. I won't detail the specifics of the in-game event here, but the result was a full announcement trailer for Call of Duty Black Ops: Cold War. This title is a direct sequel to the first Black Ops and will be released for next-gen and current-gen consoles. Players can now preorder the game directly through the Call of Duty store, and Treyarch has some great gifts for those that preorder. You can expect Call of Duty Black Ops: Cold War on November 13, 2020, right around when the PS5 and Xbox Series X are expected to come out.

Gamescom 2020: this will be the last time I mention it, but Gamescom 2020 is happening right now! Make sure you're signed in to watch one of the top video game trade fairs in the world. Today is the Future Games Show, which will discuss not only upcoming games but the PS5 and Xbox Series X, the only day where that will happen. Gamescom will be hosting live virtual events on its site and Youtube.

Fall Guys Success: the indie battle-royale game that has you controlling a jellybean like figure has sold 7 million copies on Steam alone. The numbers have yet to be released for the Playstation, but considering this game (along with Call of Duty Modern Warfare 2 Campaign Remastered) was offered for free because of Playstation Plus, we're sure the number will be much higher. The developers — Devolver Digital — released more information on Season 2 of the game, so it'll be interesting to see if they're able to maintain their enormous success. Falls Guys: Ultimate Knockout is free on Playstation Plus till September 1st.
---
Diversity in Video Games
On Wednesday, I briefly mentioned my efforts to better understand the community within the video game industry. It's taken me on an interesting journey so far, as I've come to learn a lot of interesting nuggets that disproved preconceived notions while confirming a handful of assumptions.
What're some "nuggets" that I've learned? I'm glad you asked:
Women ages 65 and up prefer to play on PC (60%)

Men ages 18 - 34 prefer shooter games such as Call of Duty, Apex, and Fornite (80%)

The most owned gaming system is a console (73%)

Over half of families prefer to play video games as a way to socialize with their kids (65%)
(Source: Entertainment Software Association)
Pretty interesting right?
It's cool to learn about the people that play video games and why they do it, and the odds of my 65-year old neighbor playing Warzone is just as high as my partner playing it (which she does).
And with more games such as Apex Legends, Horizon Zero Dawn, and Hellblade: Senua's Sacrifice providing playable characters that represent different genders, races, and backgrounds, I was interested to learn more about the people behind the games. But what I found was different than what I pictured, and I stumbled upon a growing concern within the working community of the video game industry.
As I shared on Wednesday, Ryan Brown of CNBC shared a fascinating story that detailed the struggles the video game industry had over its lack of diversity among developers. Here's what you should know:
Almost three-quarters of game developers in the industry are male (71%)

Almost three-quarters of game developers in the industry are White Caucasian/European (69%)

Only 3% of developers identified as non-binary

Black/African-American/African/Afro-Caribbean and West Asians only made up 2% each
Source: IGDA Developer Satisfaction Survey 2019
Considering that these stats cover both race and gender, I'll be separating my thoughts as so.
Race
I'll be honest, this surprised me. Although I had an inkling that the majority of developers were White Caucasian/European, I didn't recognize how big the gap was between those individuals and the second largest group (Hispanic/Latinx were at 7%).
Although video games didn't do a wonderful job representing different BIPOC (Black, Indigenous, People of Color) when I was younger, this trend has certainly shifted in the last few years. What was originally viewed as taboo to play a female lead is now normal, and those boundaries have been pushed further, if not broken. Now we get to play characters such as Bloodhound from Apex Legends (a non-binary hunter), Ellie from The Last of Us and The Last of Us Part II (gay post-apocalyptic female), Baptiste from Overwatch (Caribbean combat medic), and Lee from Telltale's The Walking Dead (Black post-apocalyptic male).
My naive self was under the assumption that if the games being produced were improving and showcasing their diversity, the companies developing them must be diverse too, right?
It's unfortunate to see just how wrong I was, and how much growing the industry needs to go through. And, in a sense, I get why many BIPOC professionals decide not to dive into video games. Starting in an industry where you don't feel represented and seen is nerve-wracking. As an Asian-male, there have been many times I've started a job where I wasn't the only Asian, I was the only BIPOC individual within the company. I can't even begin to describe to you how I felt in these moments, especially in a racially-charged space that is 2020, where African-Americans have to worry anytime they leave the house to do a simple task.
It's scary, and it's up to employers to make it less so.
How exactly can employers do this?
Do less talking, do more doing.
Companies love to showcase the diversity in their games, and it's something that has even been highlighted by major news outlets. But just because the games are starting to offer a more diverse roster, doesn't mean the companies are.
I'm not an expert in this subject matter by no means, but a strategy I've seen companies use outside of video games, such as IBM (love you, Kofi), is to establish a diversity and inclusion strategy. Not only that, but it should be helmed by a BIPOC professional. Too often have I heard companies provide "a safe space for minority groups to speak," while not generating legitimate change. These statements are superficial and a way to "save face" among their customers, community, and investors. By placing a BIPOC professional in a role that allows them to shape the diversity and inclusion recruitment strategy, you're "putting your money where your mouth is" and paving a path towards legitimate change.
But it'll take more than that to diversify the industry. Along with these short and medium-term changes, there needs to be a long-term change, and that comes in the form of the next generation. Companies need to showcase BIPOC professionals in the field, whether they're developing the next AAA hit, reporting a live event like Gamescom, or being a voice actor for a character lead. Younger BIPOC professionals need to see video games as a legitimate career option, instead of something that they do after school or before bed. Don't just highlight your BIPOC employees in short videos, actually have them attend job fairs, do interviews, participate in industry events, and share their stories on how they helped push the company and industry forward. Increasing the exposure of BIPOC video game professionals is key to inspiring the next wave. When a younger person of color sees a professional that looks like them, they start to think and believe they can do it too.
Gender
Almost three-quarters of gaming developers are male.
To me, that is insane, especially in 2020 were more female professionals are starting to break into male-dominated industries.
With that said, I can't say I'm too surprised by this. Even among players, we still get the word "gamer girl" tossed around like it's a foreign concept, despite the gap being extremely tight between male and female gamers. Even though the past decade has introduced us to great female industry professionals and gamers — LuLuLuvely (Twitch streamer), Oliva Munn (former G4 host), Captain Typho (Twitch streamer), Tina Amini (Editor-in-Cheif at IGN) — the representation of women is still lacking.
It's hard to pinpoint why representation is poor, but two things keeping women away from the industry is the justification that "men do it better" and the lack of benefits within the industry.
Let me explain.
Although video game companies are viewed as a fun place to work, the benefits (healthcare, pay, retirement) provided aren't up-to-par with what other industries offer. When that is combined with the lack of equal pay women face in all industries, you're left with women looking for more beneficial positions or opting for something less than that. It's fair to say that most would opt for the former.
This leads to my second point. With other companies like Facebook or mobile game developers offering better opportunities, it's led female game developers straight to their company. Unfortunately, some companies consider these developers as "fake" and "not taking part in real game design." This mindset impacts employment, as recruiters can justify not taking a female game developer because "she doesn't have the right qualifications or titles under her belt."
It's a horrible Catch-22 for women, and this mindset (and arguably overall structure) needs to shift.
But it's not only the lack of representation of working women in the video game industry that's concerning, but it's also the treatment of women as well. Here are some comments made towards Laura Bailey, a voice actor for The Last of Us Part II: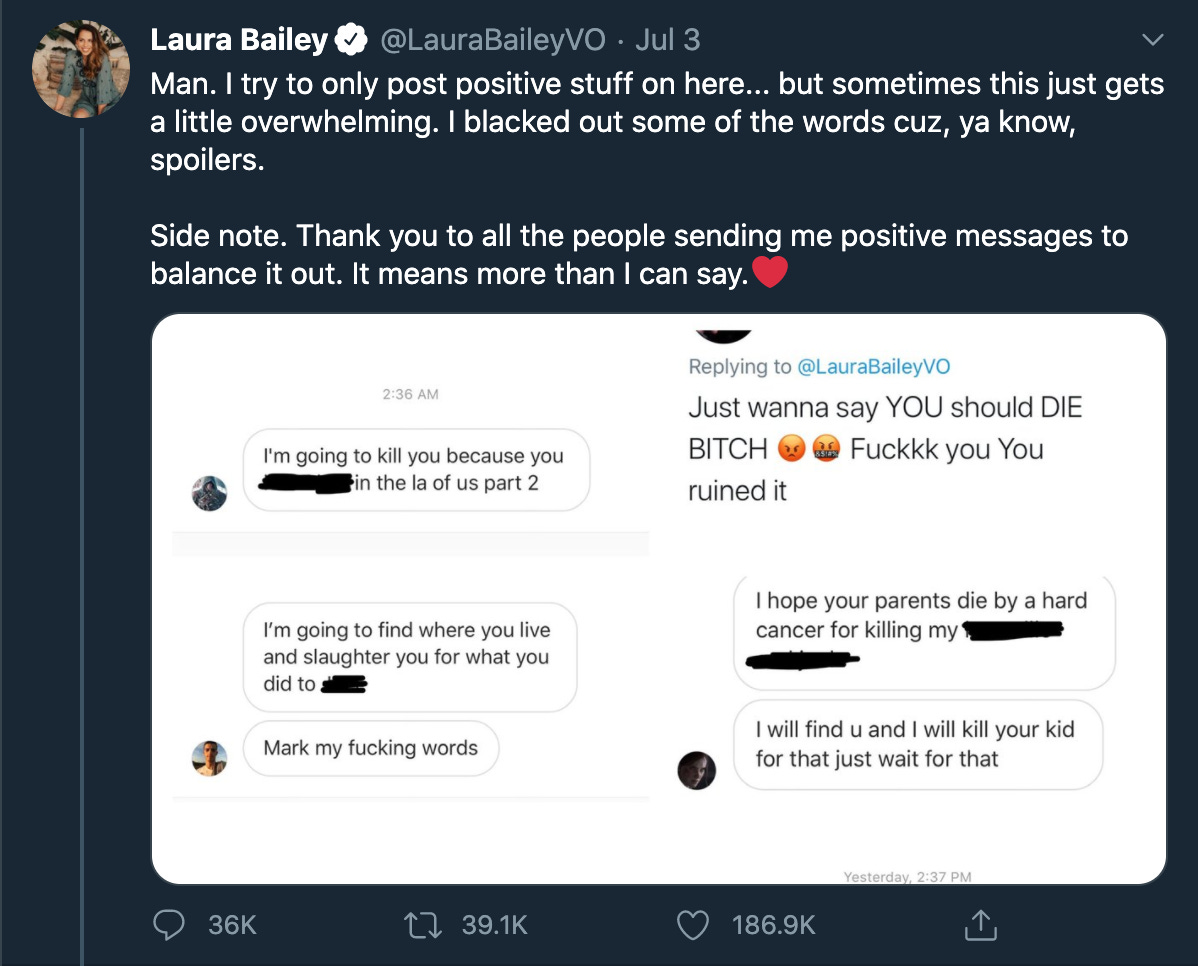 And this is just a glimpse of what's happening on the outside. Women face these types of comments all the time, and I can't count how many times these types of things are said when I would load up into a Call of Duty lobby.
But not only are women facing troubling individuals outside of work, but they are also having to deal with these same individuals inside the workplace as well.
In 2018, the women of Riot Games (developer of League of Legends) filed a class-action lawsuit against the game developer for gender-based discrimination. The lawsuit states that along with a lack of growth and unequal pay because of their gender, women in the company had to deal with bias, misconduct, and sexual harassment from not only other employees but C-level executives. It's a picture-perfect example of what any company, video games or not, should not do for their employees. If you're interested in learning more, Kotaku did an in-depth look at the poor culture at Riot Games.
So, for those of us who want to implement change, what can we do?
On a more surface-level approach, start promoting female content creators in the video game space. Do you have a favorite digital artist? Or maybe you have a favorite streamer? If so, share her work with your friends and network. Share why you like her work and help increase her exposure. Along with that, if you're watching a stream or you're scrolling through an Instagram post and you see a misogynistic or hateful comment, hold these people accountable. No, you don't need to "defend the honor" of the streamer (they can do that themselves), but letting these people know they're wrong and why they're wrong carries weight.
At a deeper level, start advocating for your female co-workers. If you see them creating great work, highlight that in your team or even company chat. If your co-worker expresses interest in a project, chat with your manager and see if she can contribute to it. If they initially refuse, present facts with why she's right for the project. And if you see a co-worker being creepy or rude, don't be afraid to pull them to the side (or call them out) and explain why what they're doing is wrong.
For change to happen, action needs to come from the people that not only consume video game products, but from those that produce it as well. Creating a BIPOC video game character is great, but it isn't enough. With so many other industries working hard to increase gender and racial diversity within their ranks, it's time for the video game industry to catch up and fully embrace this change.
I'm sure I've left out numerous other instances of poor treatment and representation within the industry (with one of them being Gamergate in 2014), as well as suggestions to move the industry forward. If I did, make sure you let me know by replying to this email.
---
Let's Wash it Down
Detriot Lion Cornerback (CB) and the third pick in the 2020 NFL Draft, Jeff Okudah, credits Madden for not only teaching him concepts about football but getting him started in the game as well.
"…if I had grabbed a baseball game, I might have never been introduced to football."
It's incredible to think a top-tier athlete such as Okudah could've easily been swayed by picking a different title. The ESPN article does a wonderful job detailing Okudah's start and how his original Madden interest eventually manifested into him not only getting a job in the NFL but being in the very game that got him started. You can read the article here.