Discover more from AFK
Insight and analysis on all things console gaming.
Are video games a waste of time?
Revisiting an old argument
Compatibility issues, our first thread, and a look back into Joe Rogan's controversial statement.
---
Read time: 10 minutes
Quick Tidbits
Here are small and developing stories you need to keep your eye on.
Biden/Harris in…Animal Crossing?: one of 2020's interesting storylines is who will end the year as the president. Since Biden announced Kamela Harris as his VP, they've ramped up their marketing materials for their campaign, and they've decided to bring these materials to Animal Crossing: New Horizons. First reported by The Verge, players will now be able to set up actual "Biden/Harris 2020" and "Team Joe" signs in front of their homes. Players will be able to download four different signs to show support for the Democratic nominee, all of which was made available yesterday. It'll be interesting to see what they'll do next, and what Donald Trump may do to respond.
Tesla video games: more and more companies are starting to dip their toes into the video game industry, and it's looking like Tesla will be next. Electric transportation and sustainable energy website, Electrek, recently found job openings on Tesla's website that showcases their goals of getting into the industry and incorporating it into their vehicles. But despite this recent listing, the company has been working towards this goal for a while, as they've been building out their video game experience team in Bellevue, WA. It shouldn't be too surprising, as the company has already created Tesla Arcade within its vehicles, which provides titles such as Beach Buggy Racing 2 and even Cuphead. It's going to be interesting to see how the electric car company adds video games to the driving experience while keeping their cars safe.

Ratchet & Clank…and the PS5: since it's official announcement back in June, players have been hyped about the PS5 exclusive, Ratchet & Clank: Rift Apart. It shouldn't be too surprising, as the game is just one of a handful of other popular titles in the storied franchise's history. Fortunately, we were able to get more footage of the game as Insomniac Games released a gameplay demo during Gamescom 2020. Although the gameplay looks awesome, the star of the demo could arguably be its graphics. Not only does the demo showcase what we should expect from the game, but it also gives us a look into what we can expect from other PS5 titles in the future.
---
Console Updates
The current major console manufacturers are Sony, Microsoft, and Nintendo. With that said, we've added Google's Stadia to the list, as it continues to gain popularity and add new titles to its library, including the upcoming Marvel's Avengers.
Sony
"Backwards compatibility will be available for supported PlayStation 4 titles, but will not be possible for PlayStation 3, PlayStation 2, or PlayStation games."
Well, we may have just seen the first "slip up" from Sony and the Playstation. Despite requests from fans to include backwards compatibility for all Playstation consoles, it's looking like the PS5 will only be compatible with select PS4 titles.
At this stage, this is merely speculation, as this information comes from Ubisoft's support page. It seems like developers will approach cross-gen play, upgrades, and adaptation differently, so it'll be difficult to pinpoint what games will be compatible or not.
With that said, Sony stated that almost all of it's 100 top-played PS4 titles will be available by launch. They only reinforced this statement by saying that the "majority of its 4,000+ PS4 titles will be playable on PS5" in a later blog post.
Unfortunately, nothing was mentioned about the older consoles.
Quick thoughts: Although it's understandable why Sony and the Playstation are opting for backwards compatibility with the PS4 only, it's still disappointing. The PS3, PS2, and the original Playstation all had great titles tied to them, and not being able to play games like Killzone 2, Sly Cooper and the Thievius Raccoonus, and Castlevania: Symphony of the Night without the original console is heartbreaking.
Microsoft
With the millions of dollars Microsoft makes from just their consoles, it's surprising that they've struggled this much to hide details about the Xbox Series S.
We've just received another leak about the "worst kept secret" in the video game industry, and this time it's from Twitter user @BraviaryBrendan: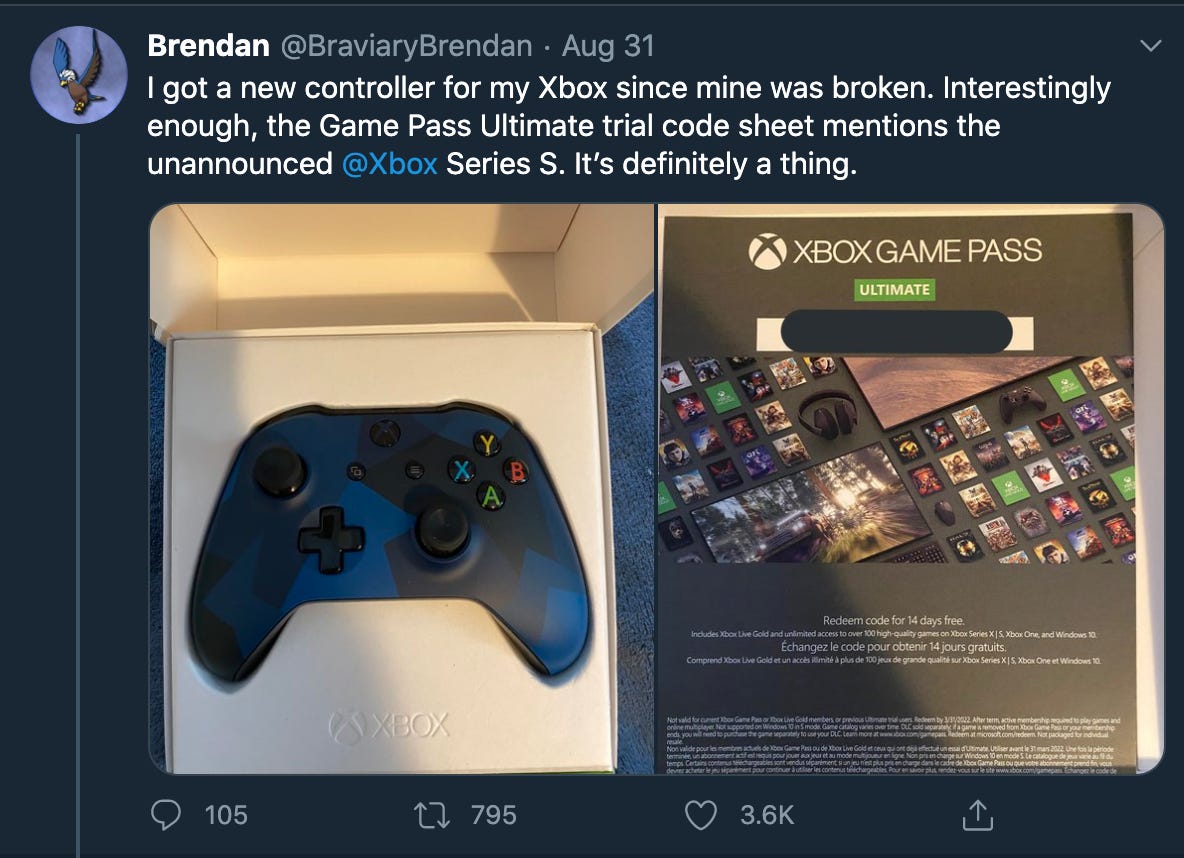 You want to know the funny thing about this whole situation? Brendan didn't just buy this controller from a random third party. He bought it directly from the Microsoft store.

And Brendan isn't the only person to have received an Xbox controller, as another person purchased an Xbox controller with the same packaging in Australia.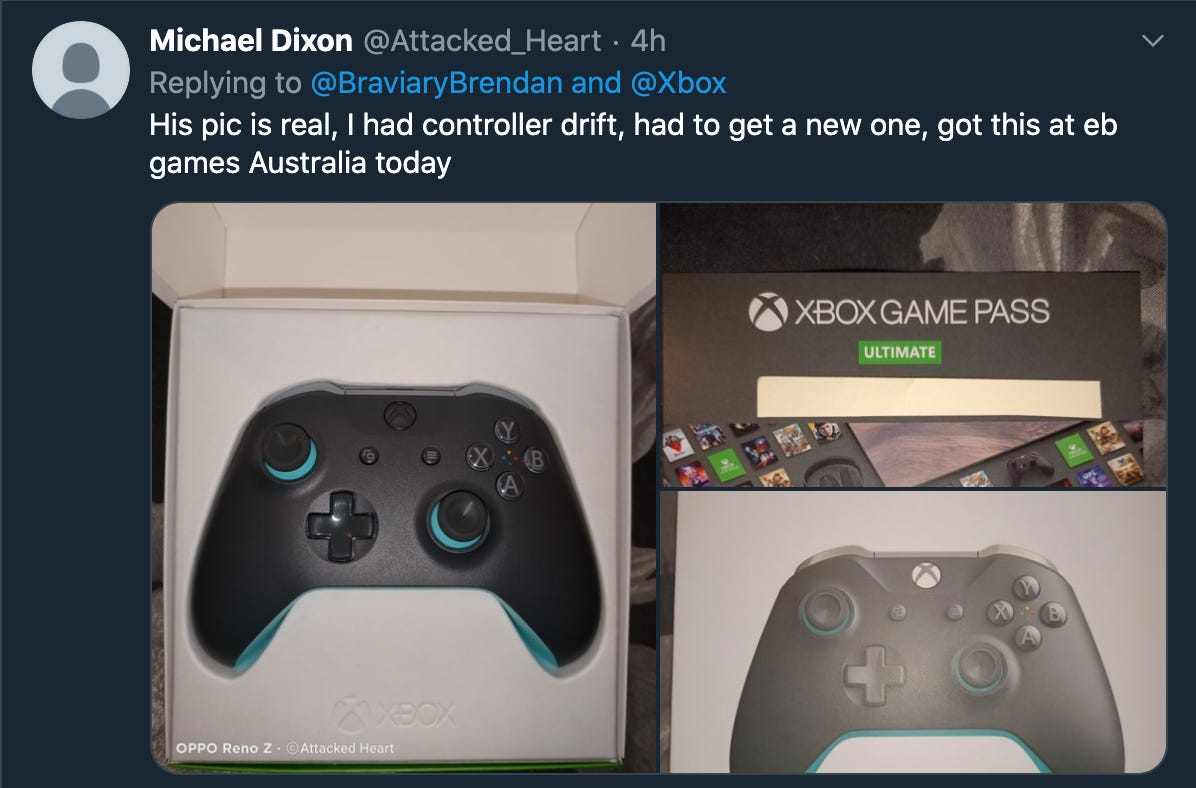 Codenamed "Lockhart," the Xbox Series S has seen numerous leaks for months, and it's only a matter of time before the cheaper version of the Series X is officially revealed.
Quick thoughts: it's truly incredible just how sloppy Microsoft has been with their packaging. It's a bit of a shame too, as hyping up the Xbox Series X as the only console available, only to reveal the Series S later on, would've been a wonderful marketing tactic had they been able to keep it hush.
Nintendo
In 11 days, we'll celebrate the 35th birthday of one of the most beloved video game characters ever — Mario.
We've seen some great titles over the last 35 years, including. the original Super Mario World, Super Mario Sunshine (my personal favorite), and most recently Super Mario Odyssey. Nintendo planned to celebrate the occasion by releasing remastered versions of Super Mario 64, Super Mario Sunshine, and Super Mario Galaxy for the Switch…but it looks like that's going to have to wait.
According to Nintendo insider Nate the Hate, the remasters have been pushed back due to the COVID-19 pandemic and the complications of remote work. This is only one of many planned projects and events to have been delayed due to the pandemic, as their Universal Studios theme park opening was also postponed.
But there is some good news, as it looks like we will still be getting the remasters this year.
"I think now it's going to be positioned more as a holiday game than as they had originally planned," said Nate the Hate.
Quick thoughts: when I learned that a remastered version of Super Mario Sunshine was coming out, I almost cried. And when I learned that it was delayed, I actually cried.
But on a more serious note, it's interesting to hear the struggles of Nintendo, despite the success they've experienced with the Nintendo Switch. It's been a tough year for the beloved brand, and I hope better things are waiting for them this holiday season and in 2021.
Stadia
Let's welcome the Google Stadia to the list!
Although the console/streaming platform will likely take a backseat to the PS5 and Xbox Series X this holiday season, it's still gaining popularity among the gaming community. The cloud-based gaming platform already has some stellar games in its lineup, including Red Dead Redemption 2, NBA 2K21, and Mortal Kombat 11, and more titles have just been added.
As of yesterday, six games were made available on Stadia Pro:
Embr

Metro Last Light Redux

Hello Neighbor

Gunsport

Super Bomberman R Online

Hitman
For those that don't know, the Stadia Pro is the platform's streaming service. For $9.99 a month, you'll be able to play a select list of games for free and get discounts on certain games.
Quick thoughts: there's still a lot I need to learn about Google's Stadia and its complete offerings but, at first glance, I see why some people consider this the future of gaming.
Having a streaming service dedicated to gaming is a bold idea, and similar concepts have been attempted by companies such as Gamefly, Green Man Gaming, Redbox, and most recently Xbox and it's Series Pass. In a year that's brought us extreme limitations both personally and professionally, it's difficult to gauge the full potential of the platform. We may have to wait until everything is over to get a better look.
---
Are video games a waste of time?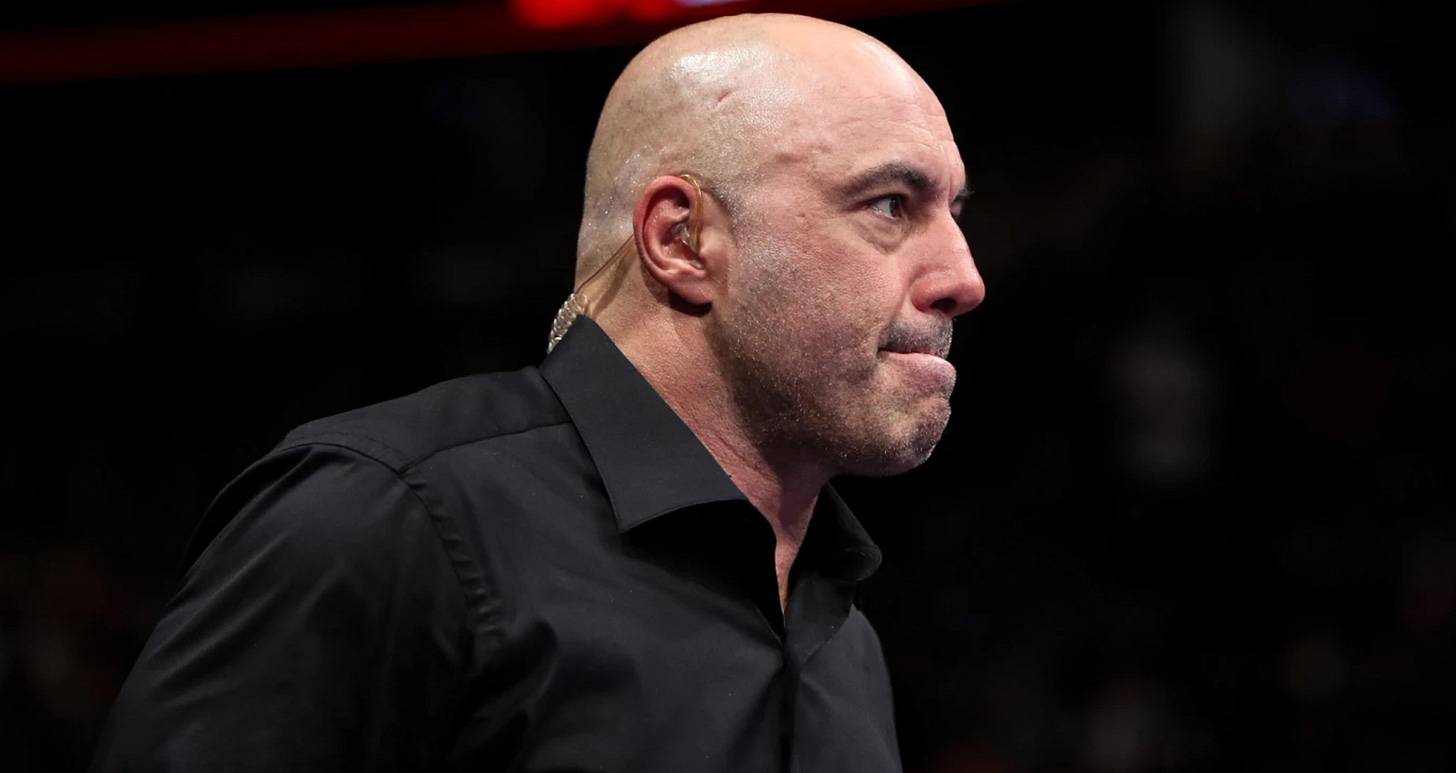 Credit: Getty/Dylan Buell/Stringer/Complex
Today we're going to revisit a controversial statement that Joe Rogan made back in July during his podcast, The Joe Rogan Experience:
"Video games are a real problem." "They're a real problem. You know why? Because they're f***ing fun. You do them, and they're real exciting, but you don't get anywhere."
The statement lit a fire under the video game community, and it elicited responses from well-known figures and companies including Ninja, Screen Rant, Dextero, Complex, and more.
A lot of the community countered that Rogan's comments are only based on his past addictions and that video games have actually led to fruitful careers. This includes streamers, eSports athletes, developers, and more. They also pointed to the helpful benefits of video games, as it has been used as a destresser for the everyday working person and as a coping mechanism for those with anxiety, ADHD, PTSD, and Alzheimer's.
The statement vilified Rogan within the gaming community, and his statement is the first thing many gamers think about when they hear his name.
---
My Thoughts
So, why am I bringing this topic back up?
Much of it has to do with this wonderfully written article by Jared McCarty, who shared it on Medium. In it, he not only broke down Rogan's statement, but he also expanded on why he believed he was wrong. He didn't just point to previous arguments made, he also expanded on those arguments and added his own — that video games are an art form that is used to express and experience emotion.
It's a great read, and what Jared shared aligns with my thoughts and feelings on video games.
When Rogan makes his statement, many people assumed that he directed it towards the gaming community as a whole. People heard it and assumed that he thought EVERYONE in the community was wasting their time on video games, and I don't think that was the case.
As Jared mentions in his article, Rogan is likely directing his comments towards the 3% of gamers that actually deal with gaming addiction (Source: The Washington Post). It's this part of the community that he relates to, as he admitted to dealing with gaming addiction himself.
In this instance, I agree with Rogan in that video games can be a huge waste of time. When I was younger, I would almost classify myself as a video game addict. During the summers, I'd play from sunrise to bed, only taking a break when I needed food, had to use the restroom, or went to play golf with my family. Playing for nearly 24 hours every day is bad, and I'm sure many people would agree with that.
But I also get why some people do those long sessions. I had serious social anxiety in middle school and high school. When I would play World of Warcraft or Gears of War, I felt like I could be myself. I loved being immersed in that universe and forgetting my fears and anxieties in the real world.
It was therapeutic.
With that said, it also wasn't healthy, and I see where Rogan is coming from when he made that statement. It's something that many parents fear and currently see with their kids when they play games such as Fortnite. And if a person doesn't get control of it, life can quickly pass by without you ever achieving much in the real world.
That's why, like Jared mentions, moderation is key. Anything, even the things that are deemed healthy for us, can become harmful if they are done in excess. By finding a balance, people will be able to enjoy video games while maintaining strong levels of productivity in their personal and professional lives.
On a separate note, I hope people take the time to understand where Rogan was coming from. Gaming addiction is a legitimate thing that people with anxieties and disabilities struggle with (knowingly and unknowingly). Although his comments could've been delivered with a little more thought and empathy, it's important to understand why he made them in the first place.
---
What system will you be getting?
As we get closer to the release of the Xbox Series X and the PS5, people are starting to weigh their options. Should I stay loyal to this brand? Or maybe I should crossover?
At AFK, we want to hear and be a part of those discussions with you. It's why we've started our very first thread!
Feel free to share your thoughts below with other readers, we'd love to hear what you think.
---
SpecialEffect + Fall Guys = Magic
If Joe Rogan wanted to see proof as to why video games aren't a waste of time, I think the team at SpecialEffect has a strong case.
The UK based charity is determined to help "level the playing field" within video games for children who struggle with physical disabilities. This time, they helped 8-year-old Theo by setting him up with a special joystick and button combo, as he wasn't able to use a traditional controller or keyboard.
So what does Theo do with this new controller? Kick some butt in Fall Guys, that's what. The charity's assessment team actually took the time to know Theo and his struggles and optimized a controller to his unique situation.
The video is fun and heartwarming to watch, and it showcases the power and impact video games can have on people.