Discover more from AFK
Insight and analysis on all things console gaming.
A Potential Pushback?
Why the PS5 and Xbox Series X could be delayed.
Apologies for the first email sent. I had a few issues with Substack, but everything seems to have cleared up. This is the correct and final version of today's newsletter.
Corporate reports, size comparisons, and a look into why Sony and Microsoft should reconsider their "holiday release" timeline.
---
Read Time: 10 minutes
Quick Tidbits
Here are small and developing stories you need to keep your eye on.
Video games are booming: although many other industries are suffering due to the on-going COVID-19 Pandemic, the video game industry is not. Over 10.2 billion dollars have been sold in content over the last few years, and hardware sales haven't been too far off that number as well. The Nintendo Switch has especially been a hit this year (big credit to Animal Crossing: New Horizons), as the company was able to sell 5.7 million units from April to June. And with a 7% improvement from last quarter, the industry is going strong heading into its peak season. Summer has traditionally been a slower time for the industry but, due to the pandemic, more people are looking to video games to stay connected. We're sure to see more of that in the last few months of 2020.

Upcoming games: September brings us the start of many things — fall, cooler weather, pumpkin spiced lattes, college football, and the start of peak season for video games. During this time, not only will we see a higher volume of video game releases, but we'll also be seeing more information and marketing materials on upcoming titles and projects. And because we're in a year were a next-gen console will be released, that only heightens the excitement levels for the fall and winter. We're now starting to see that, as Forbes has released a list of all the games to be released next month, and it's a good list, filled with anticipated titles including Marvel's Avengers, Crysis Remastered, and Tony Hawk's Pro Skater 1 and 2. You can view the entire list here.

Amazon…Gaming?: after the flop of its initial release title, Crucible, back in May, Amazon is trying to make its way into gaming once again, and they've rebranded. Originally known as Twitch Prime, the company has now renamed that into Prime Gaming, which offers similar benefits to what players got from Twitch Prime. Players will be able to claim rewards if they activate and sync their Prime Gaming account, with more rewards coming out in the next few weeks. It's no surprise Amazon is making a big push. The video game industry is booming amidst the pandemic as more and more people are opting for video games due to lockdown and stay-at-home orders. Amazon's gaming vertical is already considered "the fastest-growing part of its business," and it'll be looking to capitalize on that with Prime Gaming.
---
Console Updates
The current major console manufacturers are Sony, Microsoft, and Nintendo. This list may change as new competition arises but, for now, these three reign supreme.
Sony
In their annual corporate report released on Friday, Sony committed to doubling down on what's arguably their biggest strength and advantage on Microsoft and the Xbox: first-party platforms. In a stated effort to separate themselves from the competition, Sony wants to "…reinforce content IP, [Sony Interactive] will accelerate the enhancement and rollout of its portfolio of exclusive PlayStation titles."
The console and video game developer was already making steps towards this goal before the announcement was ever made, as they also mentioned within the report that they were open to purchasing more game companies. Their number is already at 14 after the purchase of Insomniac Games last year (which is a lot), so I'm curious to see what studio they are eyeing on next.
Quick thoughts: another strong, self-aware move by Sony. The developer has learned from its flop that was the PS3 launch and has come out strong with exclusive titles including Marvel's Spider, Uncharted, God of War, and most recently, The Last of Us Part II. The hype only continues to grow with each passing day for the PS5.
Microsoft
From the pictures we've seen, many have assumed that the Xbox Series X will be on the thicker side when it comes to size. That has, more or less, been confirmed, as a Polish Youtuber — Maniak Gaming — was able to get his hands on a prototype/dummy unit of the upcoming console. The Series X looks tall, and its normal position appears to sit vertically (although we're sure you can lay it down horizontally). Alongside that, the model is thick, but it isn't as big as we may have thought. The width of the system is comparable to that of the Nintendo Gamecube but is roughly the same size as the current PS4. And when compared to the Xbox One, the Series X looks a lot smaller and compact.
The aesthetics of the console look great, and it's a cleaner and cooler design compared to its clunkier older brother. Even if we didn't get a chance to see how it performs, this is still a great glimpse into what's to come for Microsoft and Xbox.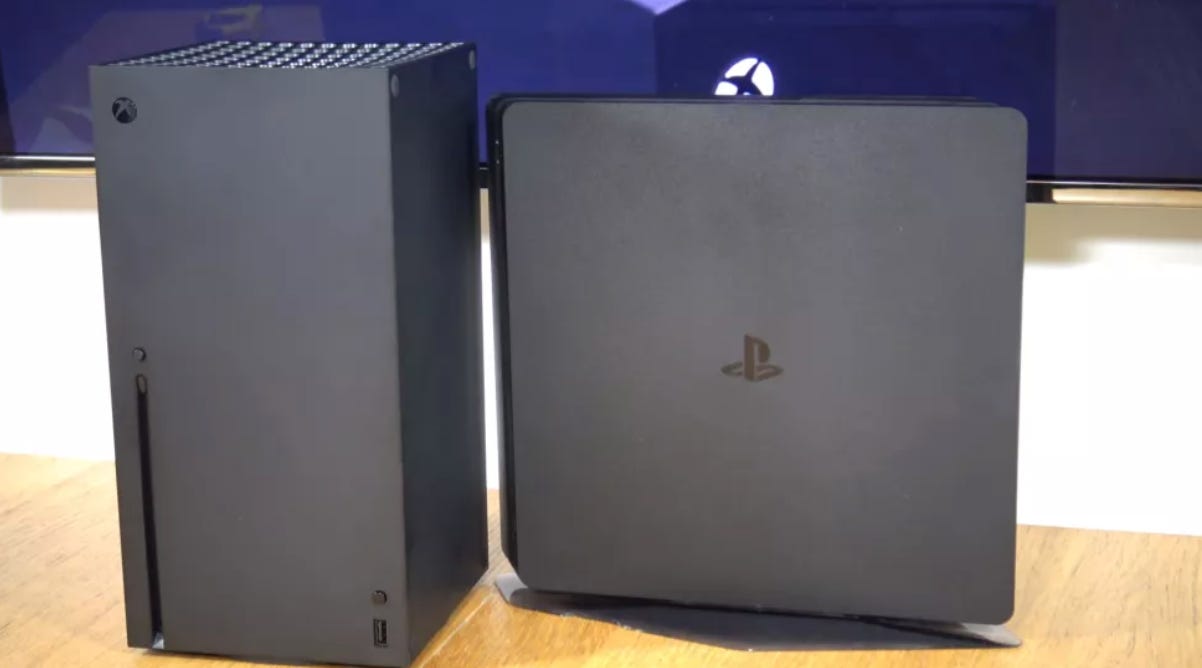 Credit: Maniak Gaming
Quick thoughts: Whether or not it's legit, it's great to see a copy of the next-gen console actually being held and examined. Not only can players get a sense of the system in general, but it also allows prospective buyers to imagine where exactly they can place this system in their home. Visualization is a great tool for sales. Hopefully, this only furthers the excitement of the Xbox Series X.
Nintendo
If you're looking for a video game company to invest in, you're not the only one. As previously stated, the video game industry is booming due to the unique circumstances of the COVID-19 pandemic and stay-at-home orders. A lot of companies are booming as well, but a particular brand caught the eye of the financial and investing advice company, The Motley Fool.
In an article published over the weekend, writer John Ballard discussed why, despite Nintendo's incredible year, the brand's stock still has more room to grow. It highlighted some interesting facts, which include an abnormally low valuation and a continuing (and growing) interest in the Nintendo Switch platform. I'm not an expert on this material, so I'll let John and The Motley Fool discuss everything in detail, but it's a great read and provides some interesting insight into the business analytics of the industry.
Quick thoughts: *runs to buy Nintendo stock*
A Potential Delay?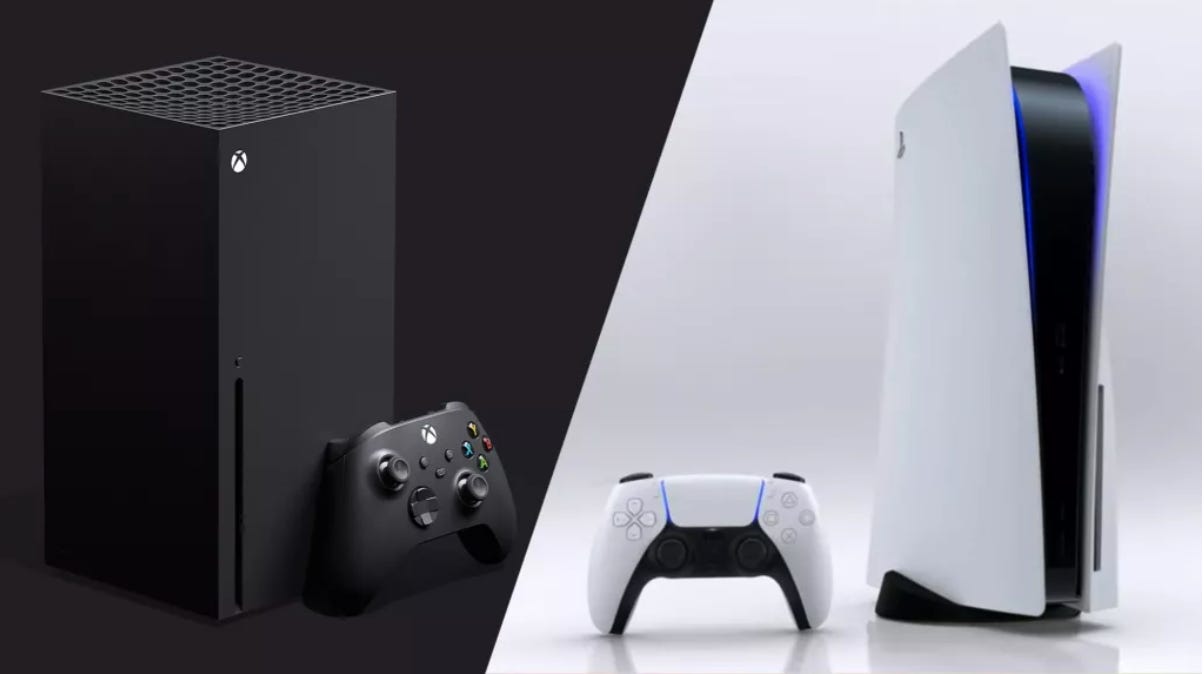 Credit: Microsoft/Sony
Last week, two editorials came out that challenged the idea of the "holiday release" timeline that is currently set for both the PS5 and the Xbox Series X. The first one was written by Kotaku while the second was written by Forbes (and was a response to Kotaku's original post).
In each article, they listed out why planning for a holiday release was both difficult and frustrating for consumers and producers alike. On the producer side, they had to deal with challenges such as delayed timelines, canceled projects, releases not syncing with console launches (think Halo Infinite), and competitor actions. On the consumer side, we have to deal with unclear pricing, undetermined release dates, lack of income to spend because of the pandemic, and game delays.
Along with that, each article stated why the marketing materials for both consoles didn't necessarily showcase why players need to invest in a next-gen console now. Kotaku detailed each console as showing "incremental improvements" to its predecessors, and neither console had a groundbreaking launch title to support it (like the Switch did with Breath of The Wild).
The endpoint of each article? Delay the release of the PS5 and Xbox Series X.
If you have the time (10 min max), I highly recommend giving each editorial a read.
---
My Thoughts
Each article shared some great points, and it's interesting to think about the pros and cons that come with delaying the launch of a next-gen console.
I'll be echoing many of the ideas shared in the Forbes article, mostly because it's the same thoughts I had surrounding this topic.
I don't think the Xbox Series X or the PS5 will be delayed. We will be seeing these consoles this holiday season.
Why?
Counter-punching.
Since this all began earlier this year, Sony and Microsoft have been watching and responding to each other. We're seeing it already with Sony and Microsoft refusing to announce the costs of its console first in hopes of undercutting the cost of its competitor. We've even seen Sony announce a list of exclusive titles shortly after Halo Infinite was delayed.
Each company is paying attention to each other, and they're not shy about it.
So, what exactly happens if one company decides to delay its console?
The other company will simply release its console on time to secure early commitments from players who are on the fence between the PS5 and Xbox Series X or are just too impatient to wait for their preferred console. Depending on the length of delay, this could cost millions of dollars to the developer that decides to delay the console launch, and it will affect who is winning the "console wars" early on (I hate the concept that is "console wars" FYI).
I will say that this decision is going to be a lot harder for Microsoft and Xbox though.
Along with the extremely lackluster lineup of launch titles, Microsoft and Xbox have already gone through two generations of consoles where they've been bested by Sony and the Playstation. When that's paired with the early success and eventual "fall" of the Xbox 360, that's a lot of pressure to get this next launch right.
On one hand, an argument can be made that by delaying the Xbox Series X, it gives Microsoft more time to improve its launch title lineup as well as refine and promote smaller details about the console (the video on their UX was awesome). But doing so opens the door for Sony and the Playstation, allowing them to take a stranglehold on the industry early on.
On the other hand, if Sony delays the PS5 launch and the Xbox Series X comes out on time, it gives Microsoft a headstart in the market and could significantly boost their sales. But the downside to that is their poor launch titles, and the bitterness from gamers could have them switch over to the PS5 or even *gulps* PC.
And then if both systems come out on time? Well, as of this writing, I'll have to give the nod to Sony and the PS5 because of the launch title lineup. Let's be honest, from what we've seen, neither console has shown much to separate one from the other performance-wise. So unless we see something new, it's the games that will be available that will help each console shine.
I know I've been a bit hard on Microsoft and the Xbox on this newsletter, but I'm pulling for them (even though I'll be getting a PS5).
I would love to see them return to the glory days of the Xbox 360.
---
PORGS. IN. A. JEDI. ROBE.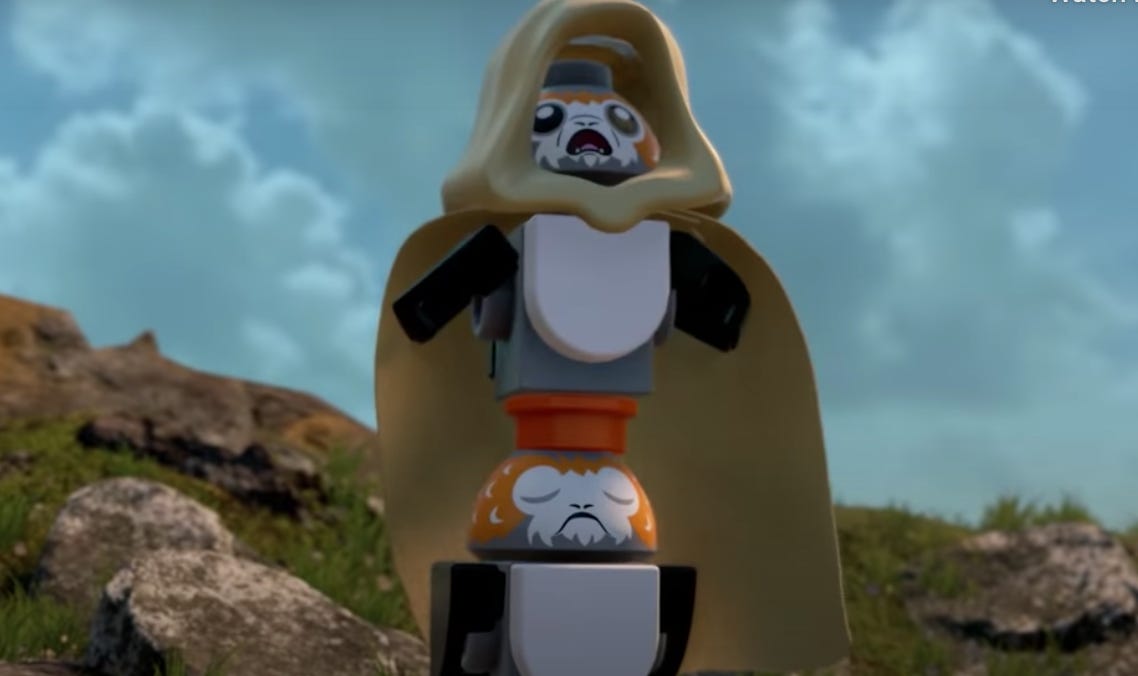 Oh, man. This is the content I live for.
In all seriousness, Gamescom 2020 gave us a chance to look through some great titles coming out soon. One of which was Lego Star Wars: The Skywalker Saga, which allows players to be a part of every single movie in the Skywalker saga.
All jokes aside, this game looks really good, and the Lego games have shown to not only be funny (their silent humor is great) but also fun to play. I used to play these games back in college when I was taking a break from more hardcore platforms like Call of Duty or Gears of War, and I'd play them for hours.
And now that we have Porgs in Jedi robes? Well, they can have my money.
Lego Star Wars: The Skywalker Saga is due for release in Spring 2021.